An Aberdeen Gulf war veteran with post-traumatic stress disorder has turned his life around thanks to an unexpected bond with horses.
Former Royal Engineer Stevie Carle fought in Iraq almost 30 years ago but turned to drink and drugs after leaving the forces.
The 49-year-old still experiences flashbacks to the horrors he witnessed during combat but is now rebuilding his life.
"I was drinking more because my nightmares were becoming so intense and so vivid," he said.
"Some nights when I closed my eyes it was like being in a cinema, I'm there again, I'm back in the battlefield.
"It was a downward spiral. There was a few occasions where I was quite irrational.
Mounting mental health problems caused his marriage to collapse and he tried to take his own life.
When Stevie was eventually diagnosed with post-traumatic stress disorder it was, he described, like a "eureka" moment.
"Things suddenly began to make sense," he said. "Why I had destroyed my marriage, why I had lost various jobs because I just couldn't care and why I had been that wild individual."
It was only after a doctor referred him to a veterans charity that he began to piece his life together by finding solace in an unlikely place.
Stevie said: "I was visiting Combat Stress and found a leaflet for a charity called Horseback UK. I saw where it was and it was on my doorstep.
"I went along and had a horse given to me on the Monday and I thought 'no, it has a biting end and it has a kicky end', but by the Friday I was so emotional because I didn't want to leave.
"I didn't want to leave the horse. I had fallen in love with horses at the age of 42."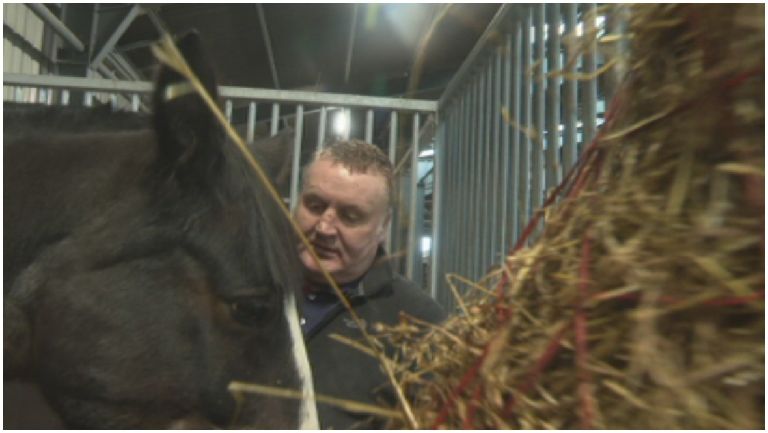 Despite living with PTSD, he says the support he has received both from war veteran charities and horses has helped him live with and understand the condition better- rather than self destruct.
"When you strike that bond with horses, it is massive," Stevie said. "It really does make your heart melt.
"It is very empowering, they all have their own individual personalities and empathy."
Stevie is now a mentor for the Horseback UK programme and volunteers with Aberdeen Riding Club.
He has been speaking out about his ordeal in the hope that it will encourage others to seek help.
"There are about 60,000 war veterans in the dark place where I have been, sitting in the dark, telephones off, totally disengaged and to these guys I would say – it's okay not to be okay.
"Go and speak to the GP and they will send you to the charities which are available to you.
"Then they will get the help they deserve because they have served their Queen and their country."