Yaman Tawalkn's precious two wheels are his lifeline.
The refurbished mountain bike helped him find his feet when he first arrived in Edinburgh two years ago.
With very little money, Yaman who is a Syrian refugee, searched for a way to travel on budget and began to search for a second hand bike.
"When I arrived in Edinburgh I found a bike on Gumtree, but it was really damaged," Yaman says.
"I took the bike to a shop to get it fixed then I phoned a friend, Steven, to ask if he knew someone who could fix a bike cheaply."
Steven McCluskey, a mental health charity worker from Edinburgh, saw how much a bike would help the young refugee and was able to find someone who would either mend the broken bicycle or find him a new one for free.
Now studying Business Administration and Marketing, and working as a baker, Yaman's bicycle has helped him integrate in the local community and gain his independence as he builds a new life in Scotland.
"I use my bike to get around the city from my home in Fountainbridge to my work on Leith Walk and to my college in Tollcross. For lots of journeys, even shopping, I use my bicycle," he says.
"Refugees have only very limited funds available so having a bike can help people like me access employment and their local community."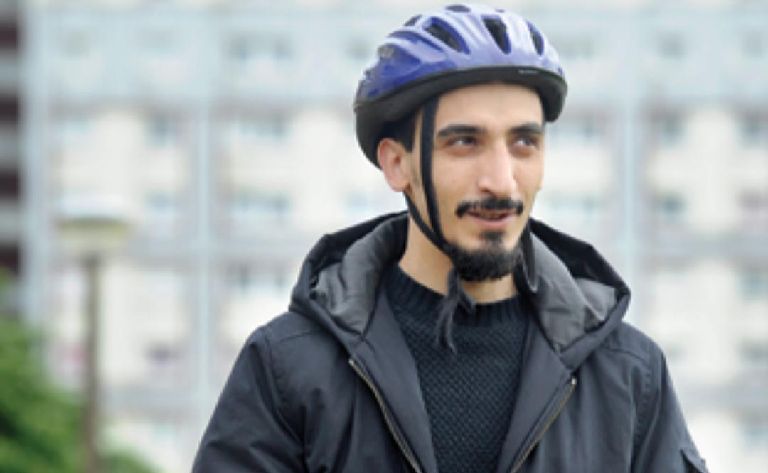 The story of Yaman and his bike inspired Steven McCluskey to help others in similar situations, launching Bikes for Refugees (Scotland) two years ago.
The grassroots initiative was founded in response to the increase of refugees and asylum seekers coming to Scotland from Syria, but also from other countries such as Iran, Iraq, Afghanistan and Eritrea in Africa.
Steven says: "Scotland has a reputation as a welcoming country and if a simple thing such as having a bike can help people to access services and support to help deal with these many issues then it's worth doing.
"Bikes have many benefits for new Scots as highlighted by a few of the people who have received them."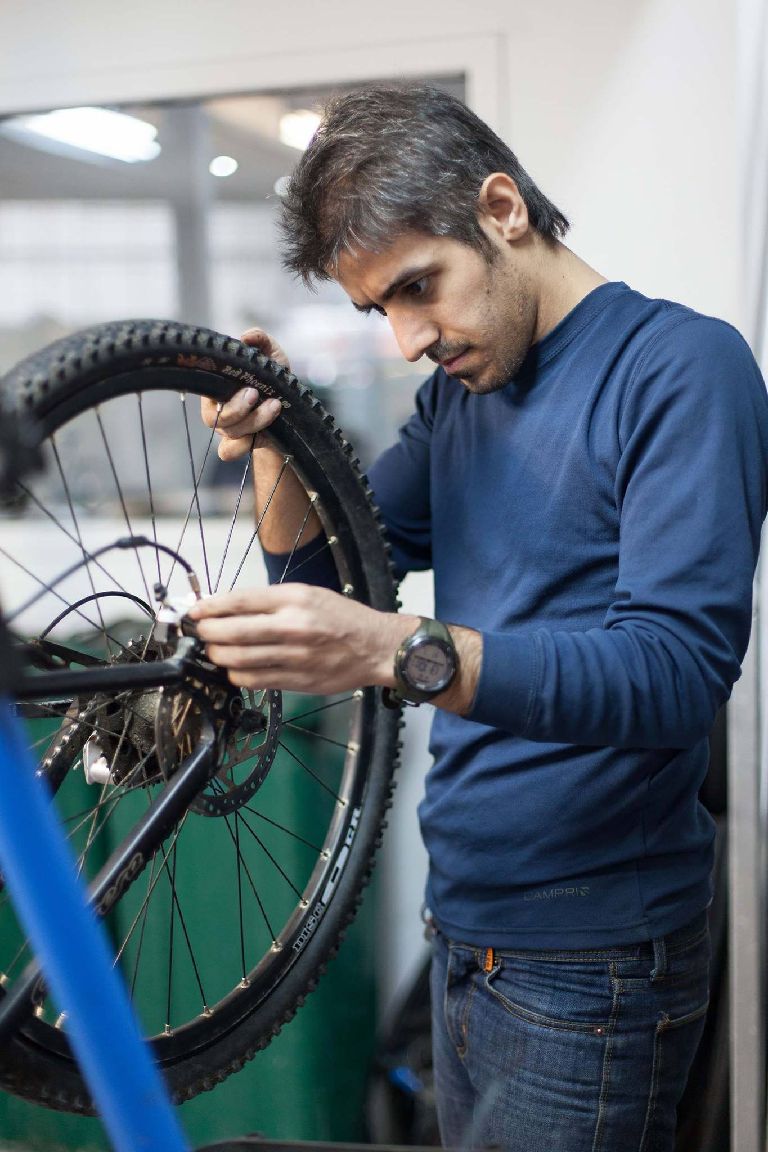 One refugee explains: "I use the bike to go to the institute to meet people and learn the language and it will reduce some of the transportation expenses.
"It was really amazing to have it, saving time for waiting buses and it is a good exercise."
A Syrian family have expressed joy to the Bikes for Refugees (Scotland) project for helping their children to enjoy bike rides in their new home.
"I would like to thank you from my deepest heart to bring happiness and joy for my kids, you are doing a great job by giving the refugees a chance to enjoy cycling in different beautiful places in Scotland.
"You give them a chance to explore with a bike and they don't worry about the cost of it."
Bikes for Refugees hit an important milestone at the end of 2017.
As Scotland welcomed its 2000th Syrian refugee three years ahead of schedule, the organisation had distributed its 300th bike to someone in need.
Scottish councils have pledged to resettle 10% of the 20,000 Syrians due to arrive in the UK by 2020.
Despite hitting that target early, several local authorities are expected to continue taking in refugees.
"Giving someone a bike is an important gesture to people who are now often referred to as 'new Scots'," Steven explains.
"It says to refugees your welcome here by extending a hand of friendship and solidarity from the people of Scotland who have been kind enough to donate a bike or much needed funds to support their repair and distribution."
Refugees and asylum seekers have spoken of how a bike can help them access essential services such as language lessons often located miles away.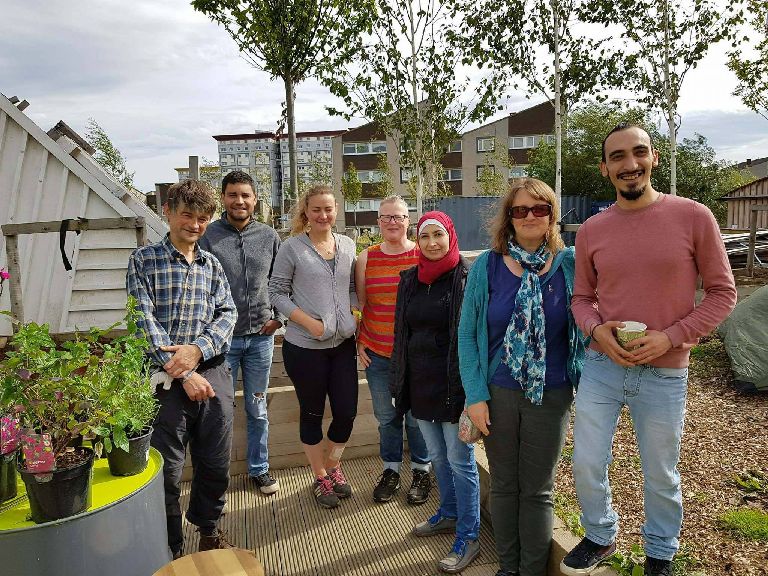 Some adults have arrived from countries where there is not a culture of cycling and some women who have used the service commenting on how a bike can offer freedom.
The organisation also helps foster new friendships by hosting bike rides to help new Scots explore the country.
Steven says: "When you arrive in Scotland afraid and alone and uncertain of what the future may bring, having access to a bike is a simple but effective way of making connections and a great way to meet people and to make new friends."
Bicycles for the project are donated to Bikes for Refugees two workshops, Bridge 8 Hub outdoor activity centre in Edinburgh and Soulriders in Pollokshields, Glasgow.
Experienced bike mechanics and keen cyclists offert their time to fully check over the donated bicycles before distributing them alongside helmets, lights and locks, resources allowing.
Refugees and asylum seekers have also been trained to repair the bikes, including Mehdi Saeedi.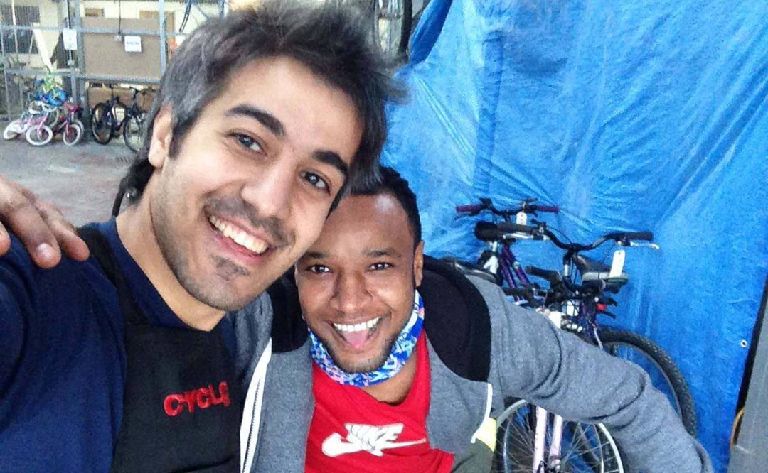 "Bikes for Refugees tries to make the world a brighter place by welcoming new Scots with a bike to explore the city and lots of new places in Scotland," Mehdi says.
"Bikes provide free travel and make it easier to travel to places like college and volunteering, and for those that are alone and have lost their families they help to meet new people and make new friends.
"It's a fun and healthy activity and when we give people a bike we invite them to our cycling group where you can meet many people from many different countries with people from Scotland."
Bikes for Refugees (Scotland) is reliant on the public to donate bikes, volunteering their time and helping to raise funds .
In the coming months, LifeCycle spin studio in Edinburgh is planning an auction for the organisation, with record-breaking cyclist Mark Beaumont donating a number of cycling relating items for the event.
It is hoped that the charity can continue to support new Scots arriving in Scotland well into the future by offering the freedom that a simple bicycle can offer.
For Yaman, exploring Edinburgh as a new Scot has opened his eyes to the positive elements cycling in comparison with
He says: "If everyone is cycling, it would be better. The atmosphere is dirty from the cars and traffic jams.
"Cycling is nice and is good for health. I'd like to say to everyone; if you have a short journey, don't use your car."