For most of her life, it seemed as though Keren Mingole would never have a place to call home.
Forced to escape war-torn country of DR Congo, the 16-year-old has been brought up in Scotland from a very early age. Not only faced with the difficulty of communicating with strangers, Keren also had to learn British Sign Language.
Keren was born deaf and is now helped to communicate with staff and her peers at school by Mary Dowell, a teacher at St Roch's in Glasgow.
"Sign language has been such a vehicle identity for her," says Mary. "She has found a home in the deaf community, and a level of security and comfort here."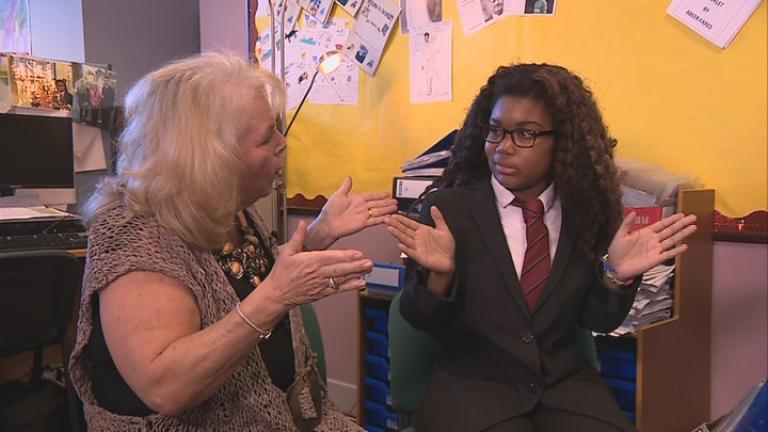 In 2015, an opportunity arose for Keren to explore and draw from her difficult experiences as a child through a multilingual poetry contest.
The MotherTongueOtherTongue competition explores cultural identity, and allows pupils from P1-S6 to enter creative pieces of work and celebrate the many different languages used in schools throughout the UK.
Pupils from across Scotland are currently participating in the multi-cultural competition, which is officially endorsed by Nobel Peace prize winner Malala Yousafzai. Scottish Makar Jackie Kay is also the official patron.
Keren won the 2015 MotherTongueFatherTongue competition with her poem 'Who am I?' – a composition of her journey from her native home to her current home, Scotland.
Mary saw the contest as a chance for Keren to express her feelings, and find an identity from her childhood story.
She said: "It made me realise what Keren has went through as an individual in her life.
"I think poetry is a condensed form of emotion, and Keren is a very deep person."
She performed her winning poem in front of an extremely moved audience, who thought the power of the piece demonstrated the way poetry could provide an emotional channel for people whose voices are often overlooked.
Keren says that writing has helped her deal with the complex circumstances of her life so far.
She said: "At first I wanted to examine the past and now I'm looking at what's coming ahead. Poetry helps me focus on that.
"Poetry has helped me be more open, before I was closed. When I started looking at myself and thinking about it, it helped me unfold who I am.
"Things were missing in the world, and I looked into it, and the door opened.
"And then I understood who I was."