One morning, at the age of nine, Dean Dunbar went to school and couldn't read the blackboard.
It was going to be OK though, doctors said. Although things seemed blurry then, no doubt his sight would likely return by the time he turned 20.
It didn't. In 1996, at the age of 27, Dean's sight dropped so suddenly and steeply, he was advised to start learning Braille and get a guide dog.
From then on Dean was registered blind.
"I had two choices," he says. "I could sit at home and moan a lot, or I could get out there and do something."
Dean gamely chose the second option and his compulsion to try anything and everything took over.
Since then, he has bungee jumped out of a helicopter, been thrown from a human catapult, taken a sledge over a waterfall and driven a tank.
"I couldn't see where I was going but that didn't matter," says Dean. "For me it is always about the challenge."
Now, the adventurer is at it again, this time with a bid to become the first blind man to paddle board across Scotland's seven largest freshwater lochs.
"We've nicknamed them the 'Magnificent Seven'," says Dean. "It was my mate Ian who suggested it and we were just stupid enough to say yes."
Travelling 154 miles, Dean and his two friends Ian Cormack and Allistair Swinsco, will traverse seven lochs in seven days starting on Monday.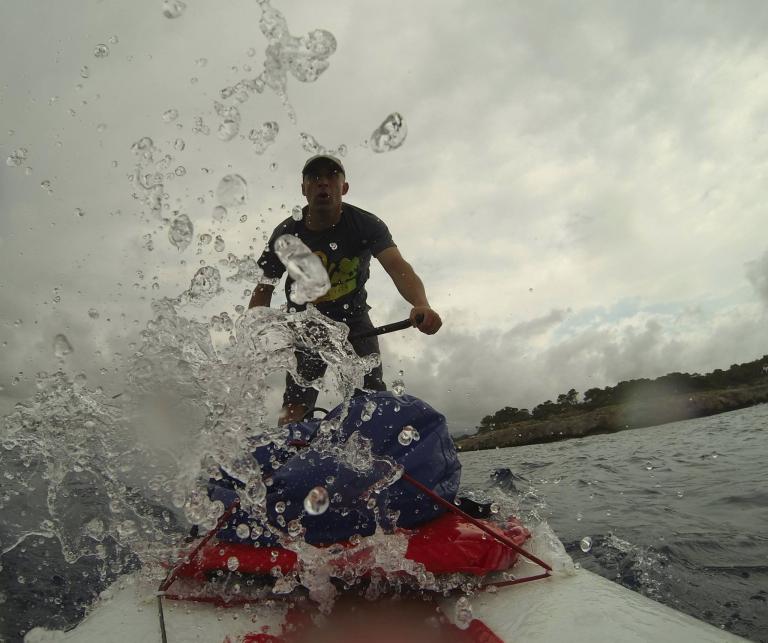 The trio, who are sponsored by Red Paddle Corefer and refer to themselves as The Three Amigos, plan to hit Loch Lomond on Monday morning and end up at Loch Tay on Sunday.
"It's just for us for a bit of fun," says the 47-year-old daredevil.
"I've done probably about 100 activities over the last few years but I've become hooked on paddle boarding."
Despite describing Loch Awe as a "bit of a beast", Dean remains remarkably impervious to the freezing temperatures of the water.
"My wife Rhona actually calls me a warm tattie because I never get cold," he laughs.
Dean, who lives in Blairgowrie, Perthshire, has become something of a common sight on Scottish waters, paddling his way across lochs with his dog Stumpy at the helm.
"We call her Commander Stumpy, when she comes SUPing with us," he says.
"I don't see the swans or mountains, for me it's a challenge to get from one end to the other."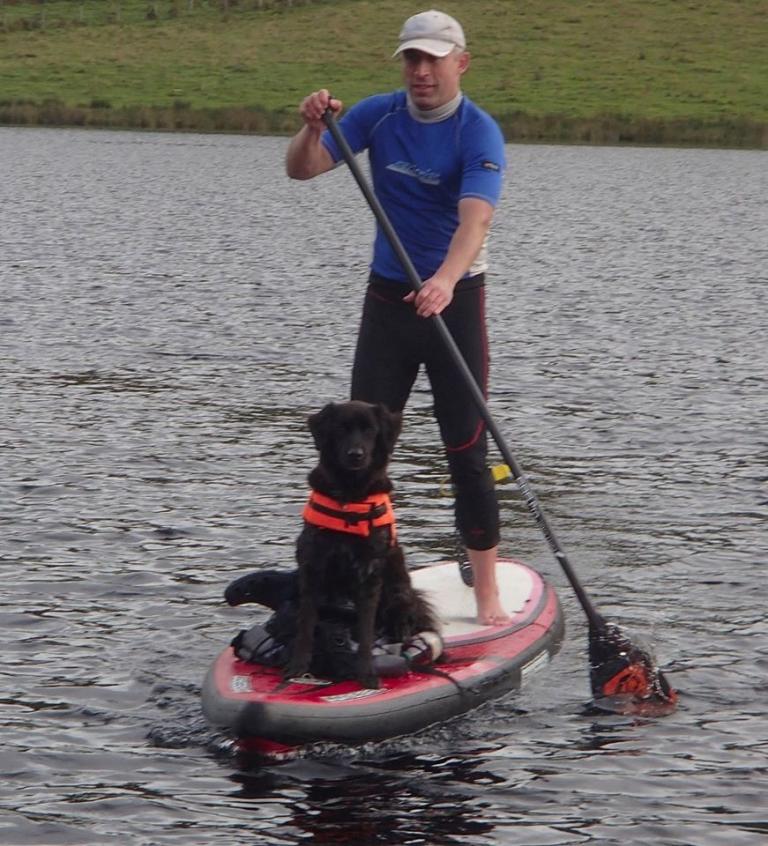 Facing challenges is something Dean has become rather good at.
Eventually diagnosed with a degenerative condition called "Rod and Cone Dystrophy" which has left him with the use of his peripheral vision alone, his sight remains unfocused with debris floating through it.
There have been several sports and organisations he has approached over the years who have turned him away as soon as he mentions the word 'blind'.
"Up until the age of nine I was convinced I was going into the military like my grandfather," he says.
"I still tried to get in actually, even when my sight went."
Dean made it as far as the sight test in the application process before he was sent away.
"I got past the first two lines on the alphabet chart and then started to make it up," he laughs.
He then told the flabbergasted armed forces personnel that he was in fact blind.
"They asked me what I'd do if I accidentally shot someone and I said I'd apologise profusely," he says.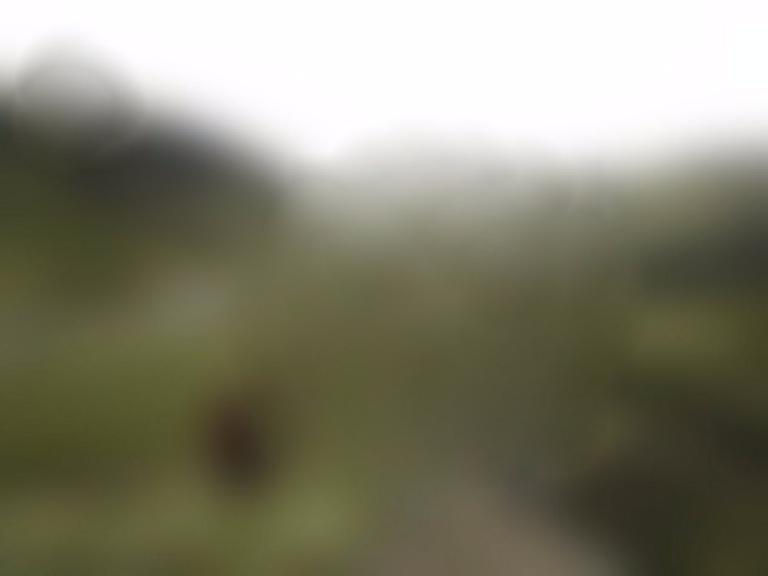 Dean has also faced difficulties at sporting events he has qualified for.
During one particular training session ahead of the Sydney games, someone parked a car in the wrong space where Dean was running.
"I sprinted straight into the back of it," he says.
Despite the knock-backs, Dean has refused to let the word 'no' stop him, especially when it comes to water sports.
Without any visual reference, Dean's paddling skills are intensely challenging, especially when the waters are rough.
The sheer rush of adrenaline though, the ability to feel with his entire body what he cannot see with eyes, keeps him coming back for more.
"My life is now about getting that next fix," he says.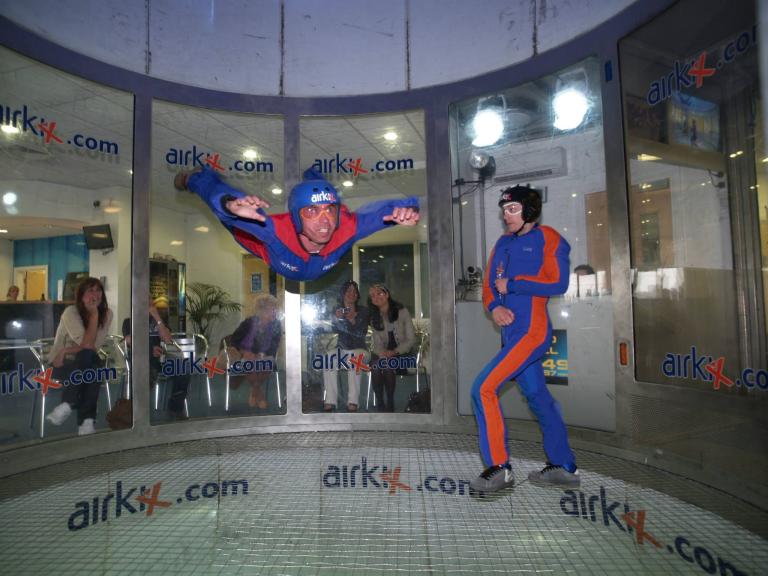 There is a deeper drive too for Dean, who knows firsthand of others with sight problems who were unable to find an outlet like he did.
"When I was at the blind school, the kids there were kind of institutionalised," he says.
"They were brought there from the age of three or four until they're 16, then there was a college built onto it that they could go to after that.
"Then when they left that, they went from the sheltered life into the big bad world.
"Some of the lads didn't make it. They took their own lives."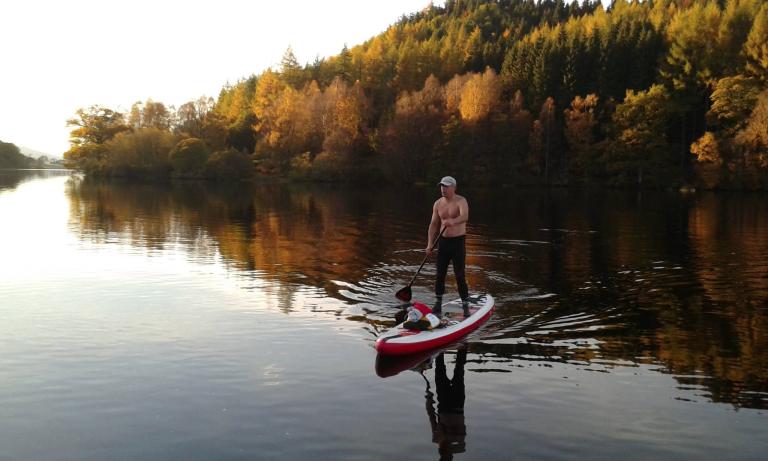 Partly for them and partly to show absolutely everyone that living life means trying new things, Dean has combined his challenges into an online adventure page called Extreme Dreams to inspire others.
The website was launched in 2002 and has steadily grown to become a recognized and respected name within the world of adventure and extreme sports in contact with athletes around the globe.
"There are so many exciting activities going on out there that people are unaware of," says Dean.
"Some people believe that because of their personal circumstances, that these sports are out of reach.
"I want to prove that a lot of the time this is not the case. If you really want to do it, often the only thing holding you back is you."