A former interpreter who assisted coalition forces in Afghanistan has called for help to bring his family to the UK following the Taliban takeover of the country.
Samir Amini has since resettled in Glasgow but still has relatives in his homeland that he is growing increasingly worried about.
Amini worked with the British Army in Helmand province, assisting troops during the war against the Taliban. But he says the country is now heading back to the way it was 20 years ago.
"My family managed to escape to take shelter in Kabul," he told STV News.
"They tried to hide their profile and all I'm asking from the British Army, from the Prime Minister, from the Home Office, is 'please, don't leave our loved ones behind, we helped you, we supported you when you needed, now it's time, we need the same support'.
"I left them (my family) behind, it was just only me who could manage to fly. At the moment, they are at high risk because originally I am from Parwan province and as the Taliban took over the whole country, all the property or house or whatever we had there, they've took it over. "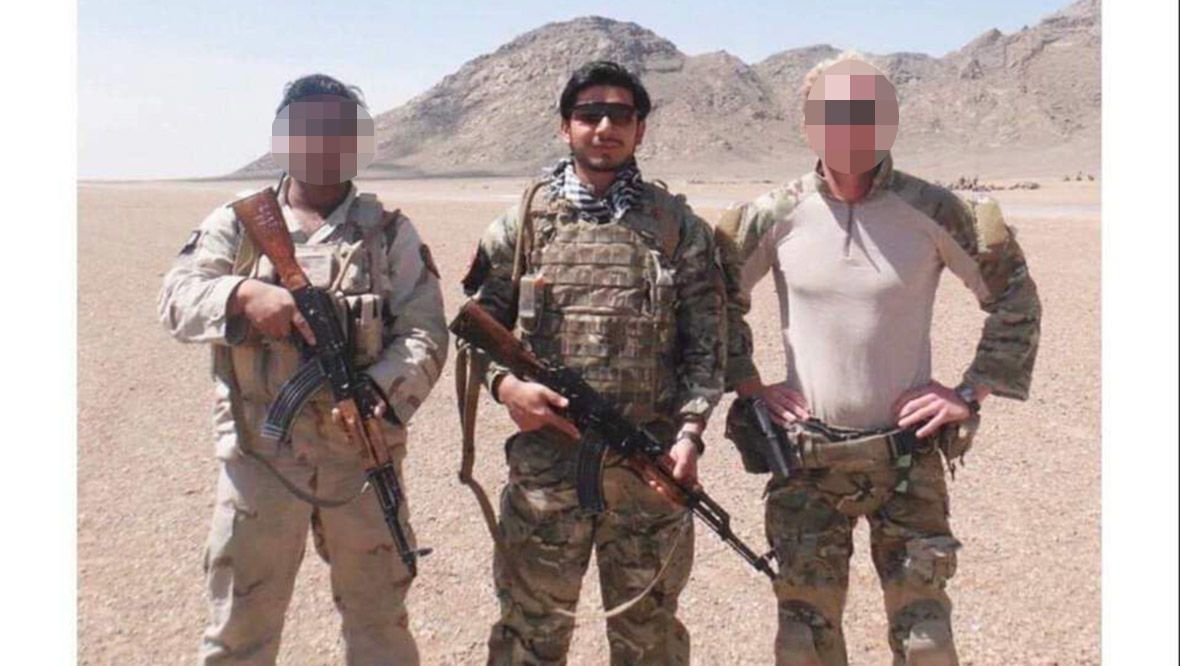 UK Prime Minister Boris Johnson has joined with other international leaders to warn the Taliban its legitimacy to govern Afghanistan will depend on its commitment to human rights, as the militants claimed animosities with foreign powers were over.
Since the collapse of Kabul to the group on Sunday, international leaders have stressed any new government must uphold its commitment to human rights amid reports of house-to-house inspections of those who could be considered against the Taliban.
Amini warned the international community to be very wary of Taliban promises.
"The world is watching, don't believe their lies," he said.
"Whenever, once they settle there – and they have already started inspecting house-to-house and searching for people who helped the (Afghan) government and coalition forces – once they find out they are the same people.
"They've not changed. Everybody knows, Taliban never stood on their promises, their life is in most danger at the moment, they will be executed.
"Even if they couldn't find the actual person, like myself, but my family, my brother, is there, they will execute my brother. It's the same for my colleagues, my friends who supported the British Army, interpreters, the former local staff, who are still left behind, they won't let them go. They will take their revenge."
Amini said he made the decision to speak out in order to have his voice heard and to appeal for help from the UK authorities.
He also said the situation for those who have been unable to flee Afghanistan is dire.
"The people's houses have been looted, their cars have been taken. At the moment, the situation and the circumstances in which they are living is hard to explain," he said.
"My elderly mum and young brother have taken shelter, they are in an empty house, they hide there. As we know, it's getting cold now, they have no food, nothing, they can't go out, they just hide in the house.
"It's the same with the former local staff, like interpreters, whoever worked and helped the British Army, one of them is hiding in the ground floor with his wife and family, they can't go out.
"At the moment, all the time when I am trying to contact the phone numbers are not working, so I am trying to get contact through social media and email, all you can hear are the firings and the people just crying. Personally, my family is just crying. They are fighting for their life – women, children."
Officials are working to speed up the operation to get remaining UK nationals and their local allies out of Afghanistan, Britain's ambassador to Kabul said on Wednesday.
Sir Laurie Bristow said they would put "everything we can" into the mission in the coming days amid fears that time for people to leave may be running out.
Operation Pitting is supported by 600 British troops – including Paras from 16 Air Assault Brigade – as well as a small number of additional Home Office staff.
"We will go back to the same circumstance and how it used be 20 years ago," said Amini.
"All their media, their focus is on the capital Kabul, nobody knows what's going on in the provinces. According to Afghan reporters, in the northern part of the country they found two translaters who were working with American troops, they've been executed.
"I'm grateful I'm here in Scotland but meanwhile my country, that originally I'm from, there will be no Afghanistan anymore and there is no hope for me anymore to go for a visit or a holiday.
"Afghanistan, my flag – black, red, green – is gone."
STV News is now on WhatsApp
Get all the latest news from around the country
Follow STV News
Follow STV News on WhatsApp
Scan the QR code on your mobile device for all the latest news from around the country