A cheeky Bart Simpson mural painted by a renowned street artist to honour a terminally-ill man who mooned a speed camera has been defaced by vandals.
The artwork was inspired by the story of Darrell Meekcom, 55, who was arrested by police after fulfilling his bucket list wish of mooning at a speed camera.
It featured Bart baring his bum at officers and was painted in Darrell's hometown of Kidderminster, Worcs., by a Glasgow artist called the Rebel Bear, who is dubbed the "Scottish Banksy."
However less than a week after it was revealed, graffiti vandals have now daubed over the picture in black paint to the anger of Darrell and other local residents.
Dad-of-two Darrell said: "I just think it's such a shame. When people deface art like that I think it's appalling.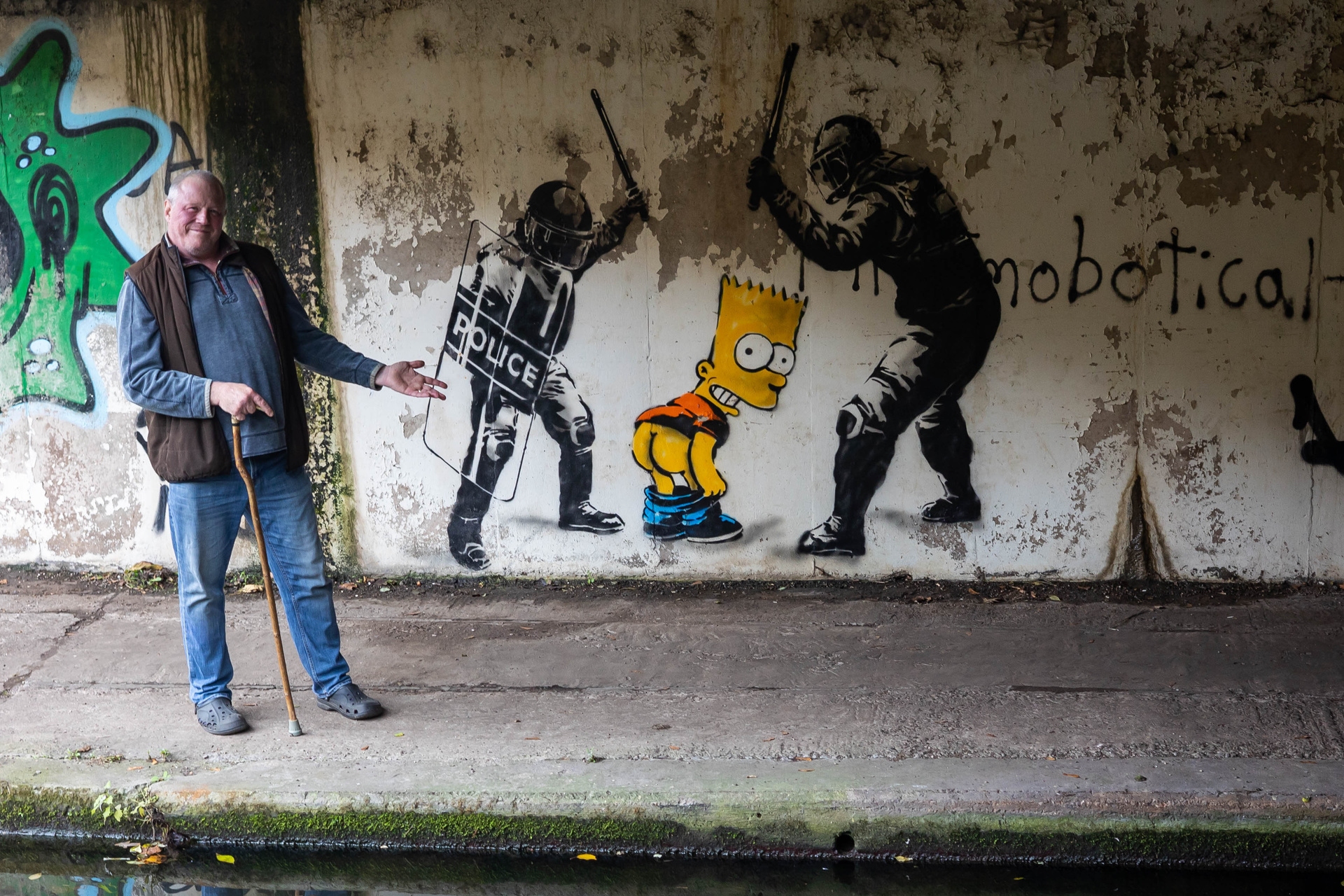 "We knew it was going to happen. It made Kidderminster glow for a week.
"It's spiteful, it's malicious. They haven't added to it – they've just blacked it out. They've even put 88 on it. It's a neo Nazi sign.
"Surely the council could have done something to protect it?"
A video of Darrell previously went viral after he was wrestled to the ground in his garden and arrested for indecent exposure by six police officers.
Darrell, who has multiple system atrophy, dropped his trousers in front of an officer to tick off an item of his bucket list before he dies.
The former university lecturer and nurse said he was honoured to get a mural dedicated to his antics after he was contacted online by an "international street artist".
The Rebel Bear has made headlines for Covid-19 related artwork and is perhaps best known for a painting of a couple who have dropped their face masks to kiss.
Darrell – who also has Parkinson's Disease and heart and kidney problems – said previously: "It's fantastic – it's a bit of fun isn't it?"
"He's a well known artist in his own right – they call him the Scottish Banksy. I'm dead chuffed.
"He travelled down from Scotland to do this – he did that for me.
"The Bart Simpson is me. It is awesome.
"It is a David and Goliath story really. All I wanted was recognition for the MSA trust."
Local residents also took to Facebook to share their anger and sadness at the mindless vandalism.
One social media user said: "This is unbelievable and unacceptable, whoever they are need to be found and shamed, that was a quality piece of art."
Another said: "It angers me this artist travelled from Scotland to produce this piece of art for a gentleman who was greatly mistreated."
One mum said: "Gutted I wanted to walk down and show my kids. What is wrong with people in our town."
Following the mooning incident, Mr Meekcom was bailed and a complaint was lodged to the police conduct watchdog.
West Mercia Police Chief Constable Pippa Mills said she would welcome the opportunity to speak about the incident "once it's all resolved."