Latest developments:
Nicola Sturgeon has called on the UK Government to scrap visa requirements for Ukrainian citizens fleeing conflict with 'immediate effect'
In a statement late on Sunday night, Prime Minister Boris Johnson confirmed any Ukrainian person settled in the UK will be able to bring "immediate" members of their family to join them in Britain
Cluster munitions have killed a child and two other civilians taking shelter at a preschool in north-eastern Ukraine, according to Amnesty International – the organisation said the incident may constitute a war crime
BP is exiting its 19.75% shareholding in Russian oil giant Rosneft following pressure from the UK Government
Vladimir Putin has ordered Russian nuclear deterrent forces be put on high alert as Western financial sanctions are stepped up
Ukraines foreign affairs minister has told a press conference peace talks will be held on the countrys border with Belarus and they will listen to what the Russians have to say
Foreign secretary Liz Truss has warned that Russian President could use 'the most unsavoury means' in order to secure victory in Ukraine
The Foreign Office is preparing a 'hit list' of Russian oligarchs to be targeted by sanctions in the coming months, Truss said
Scotlands external affairs secretary has called for the Russian ambassador and other diplomats to be expelled
The number of refugees that have left Ukraine stands at 368,000, according to the United Nations High Commissioner for Refugees
Ukraines president says his country is ready for peace talks with Russia, but not in Belarus – describing the country as a staging ground for Putins invasion
Truss has said the Government is 'urgently' looking at what more it can do to enable refugees from the fighting in Ukraine to come to Britain
She said she would 'absolutely' support British nationals who choose to go to Ukraine to help fight after the countrys president called on foreigners who wanted to take up arms to come forward
The Government has faced intense criticism over its failure so far to relax the visa requirements for Ukrainian nationals
Tech billionaire Elon Musk says his satellite-internet service Starlink 'is now active' in Ukraine and more of its dishes are 'en route' following a request for help from the countrys deputy prime minister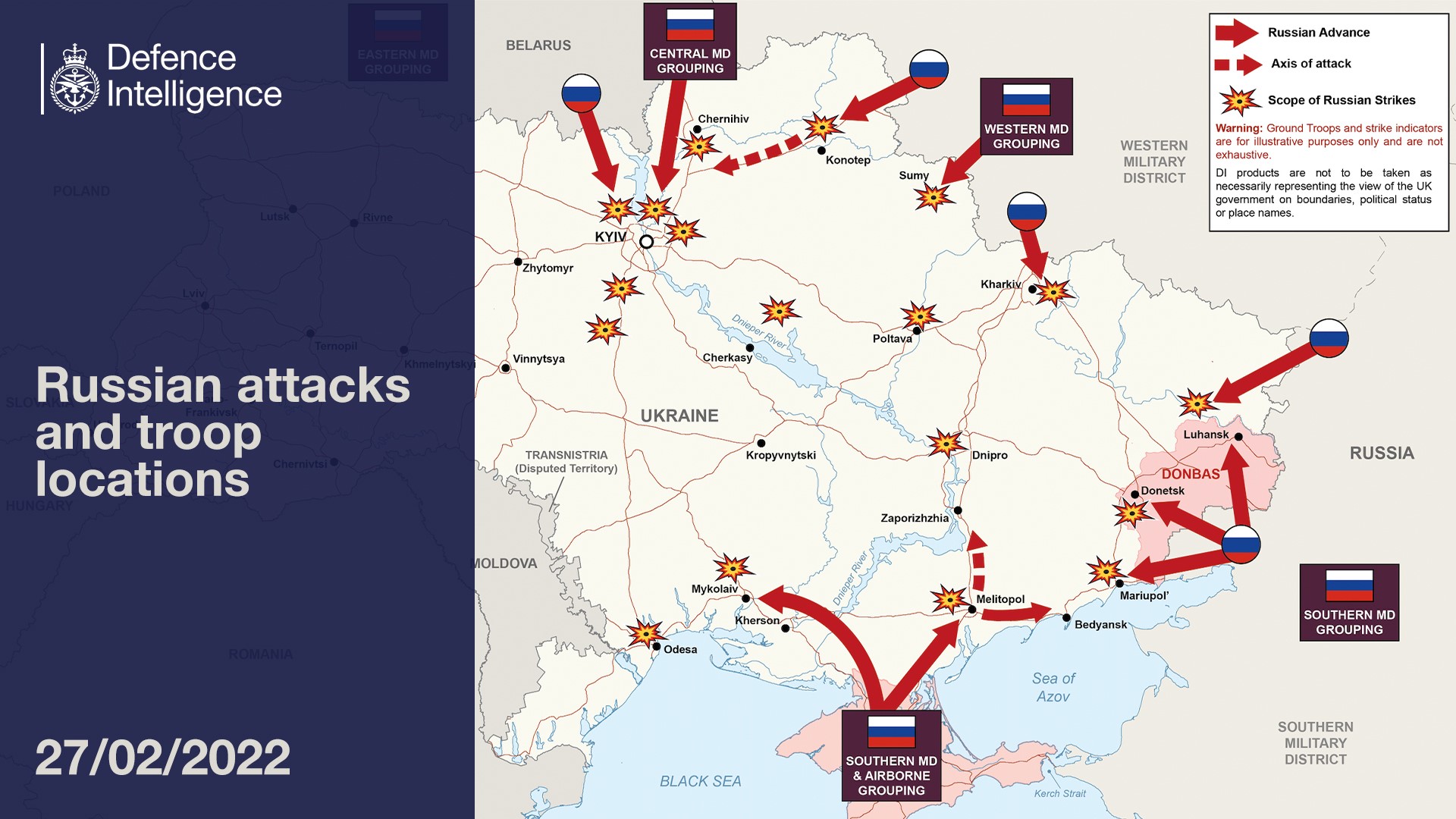 Vladimir Putin has ordered Russian nuclear deterrent forces be put on high alert as Western financial sanctions are stepped up.
Tensions between Russia and the West are mounting over Putin's invasion of Ukraine where clashes have erupted in several cities.
Russian forces continue to advance into Ukraine from multiple angles as the European Union, US, UK and allies agreed to exclude a number of Russian banks from Swift, an international payment system used by thousands of financial institutions.
Speaking at a meeting with his top officials on Sunday, the Russian president claimed NATO powers had made "aggressive statements".
"Western countries aren't only taking unfriendly actions against our country in the economic sphere, but top officials from leading NATO members made aggressive statements regarding our country," Putin said.
"For this reason, I order the minister of defence and the chief of General Staff to put deterrent forces of the Russian army on special combat standby duty."
No NATO troops are on the ground in Ukraine but countries have been supporting the country with arms and aid as well as extending financial sanctions on Russia and Russian officials.
Putin's order increases the threat Russia's invasion could lead to the use of nuclear weapons after he previously warned he would retaliate harshly against any nations that sought to intervene directly in the conflict.
Scotland's external affairs secretary has called for the Russian ambassador and other diplomats to be expelled from the UK.
Angus Robertson also insisted Westminster needs to "change its policy and allow refugees from Ukraine into the UK" in the same way that other European nations have done.
First Minister Nicola Sturgeon has already demanded the Home Office lift visa requirements on those arriving from Ukraine, as she pledged that the Scottish Government "stands ready to help and play our full part in resettlement effort".
On Sunday, Amnesty International said it had verified an attack using widely-banned cluster munitions killed a child and two civilians taking shelter in a preschool in north-eastern Ukraine on Thursday morning.
The human rights organization said it appears to have been the result of nearby operating Russian forces and may constitute a war crime.
Local people were seeking safety from the fighting in the Sonechko nursery and kindergarten in the town of Okhtyrka in Sumy Oblast when a 220mm Uragan rocket dropped the munitions.
"There is no possible justification for dropping cluster munitions in populated areas, let alone near a school," said Agnès Callamard, secretary-general of Amnesty International.
"This attack bears all the hallmarks of Russia's use of this inherently indiscriminate and internationally-banned weapon, and shows flagrant disregard for civilian life."