Boris Johnson has held talks with Ukrainian President Volodymyr Zelensky in Kyiv, Downing Street said on Saturday.
The Ukrainian embassy in the UK tweeted a photograph showing the two leaders at a face-to-face meeting, accompanied by the caption 'Surprise' and a winking face emoji.
A No 10 spokesman said the Prime Minister was using the unannounced visit to Ukraine to set out a new package of financial and military aid.
"The Prime Minister has travelled to Ukraine to meet President Zelensky in person, in a show of solidarity with the Ukrainian people," the spokesman said.
"They will discuss the UK's long term support to Ukraine and the PM will set out a new package of financial and military aid."
Johnson announced on Friday that Britain is to send a fresh package of "high-grade" military equipment to Ukraine amid signs Russian forces are preparing for a new offensive in the east of the country.
Johnson said the UK would be sending £100m of kit including more Starstreak anti-aircraft missiles, anti-tank weapons and "precision munitions" such as drones capable of loitering in the sky until directed to their target.
Meanwhile, Scotland's rural affairs secretary said on Saturday that an urgent four-nations summit should take place to consider how to respond to "hardship" in the food sector linked to the Ukraine crisis.
Mairi Gougeon said Russia's invasion of Ukraine has had a "significant impact" on the UK's food supply chain.
And while the Scottish Government has already set up its own taskforce to consider the issue, Gougeon insisted action was needed across the United Kingdom.
She has now written to her UK counterpart, the environment, food and rural affairs secretary George Eustice, telling him that the "sharp rise" in fuel prices resulting from the conflict is "contributing to the hardship being felt by our own food production sector".
Gougeon said: "We have reports of these costs making it unviable for some fishing vessels to leave port, pig production costs becoming untenable, the food processing and storage sectors being hit hard with the general rise in primary product cost and the removal of tax relief for red diesel causing price increases beyond the levels of the limited fuel rebate."
While she said ministers in the UK Department for Environment, Food and Rural Affairs (Defra) had previously pledged to have "regular discussions" with the governments of Scotland, Wales and Northern Ireland on the issue, Gougeon claimed there had been "no opportunity for discussions with UK Government".
Defra confirmed that the environment secretary has received the letter, saying he would "respond in due course".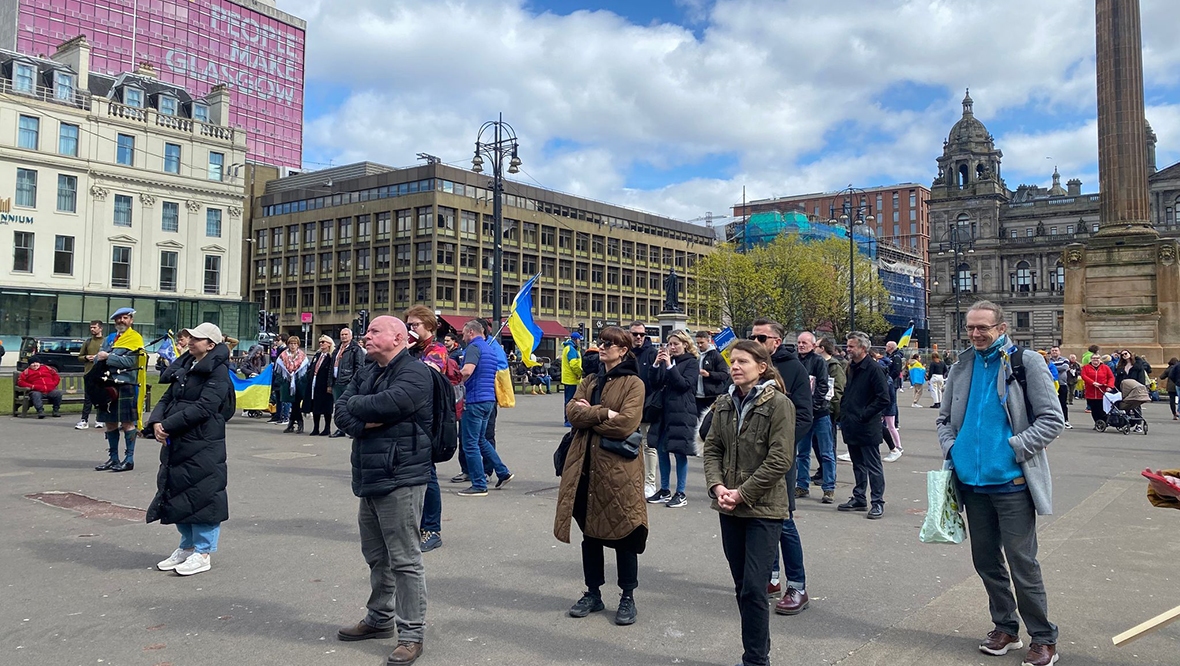 Elsewhere, a "Day of Action for Ukraine" was hosted by Ukrainians in Glasgow's George Square on Saturday.
The demonstration of solidarity, which featured a host of speakers, musicians and artists, raised money for grassroots charities and organisations on the ground in Ukraine.