Deputy prime minister Dominic Raab accused a broadcaster of "ranting" on Tuesday as he was challenged over the confusion he sowed on the number of Omicron hospital admissions.
Raab wrongly suggested earlier on Tuesday the number stood at 250 and then said it was nine.
He subsequently told ITV's Good Morning Britain: "It's ten at the moment."
After being interrupted by presenter Adil Ray over the three different numbers, he said: "Can I answer the question? I understand you like ranting at your politicians in the morning but can I answer the question because it's a fair challenge and I want to answer it?
"First of all, I misheard one of the questions around whether it was hospitalisations of Omicron-related patients or more generally, but the figures are: one death from Omicron, 10 in hospital, and I can tell you the latest daily hospitalisations run at 900."
Meanwhile, lateral flow tests are unavailable to be ordered via the UK Government website for the second day running.
A message on the site on Tuesday morning said there were no tests available for home delivery, although tests can still be collected from pharmacies.
On Monday, the UK Health Security Agency said that "due to exceptionally high demand, ordering lateral flow tests on gov.uk has been temporarily suspended to fulfil existing orders".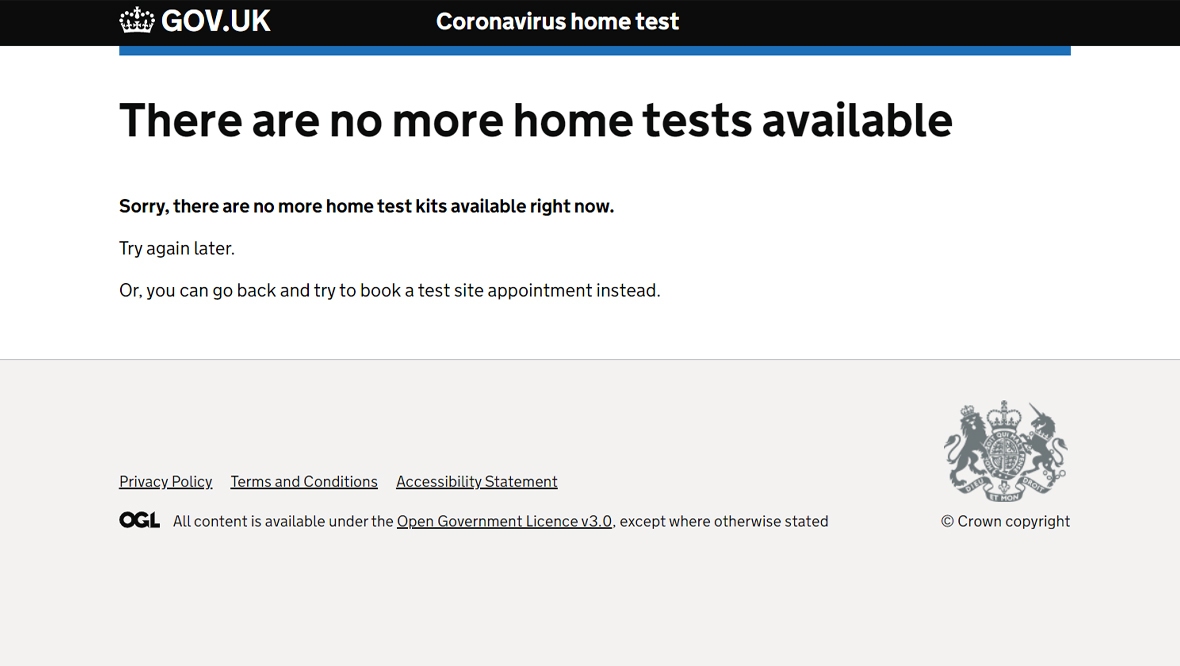 UK ministers have insisted there is no issue over supply, but rather there are constraints on the delivery system for the tests, as they encouraged people to pick up testing kits from their local pharmacies.
However, many people have reported that their local pharmacy is out of stock.
Scotland's health secretary Humza Yousaf said on Monday that officials were exploring whether additional test collection sites could be opened in the coming days.
He said: "We are aware that the UK Government has taken the decision to temporarily close the ordering of Lateral Flow Devices (LFD) through Gov.uk due to very high demand.
"This is in part due to a general increase in demand for tests across the UK in response to the growing number of Omicron cases, as well as the UK Government policy in England to recommend daily LFD tests for close contacts of positive cases instead of self-isolating.
"The UK Government is working to have the booking portal open again as soon as possible. Officials are exploring whether we can stand up additional test collection sites over the coming days.
"People are able to continue to pick up test kits at local walk-through and regional drive through test sites, pharmacies and some local community collection sites without a booking, although we are monitoring the situation at these outlets for potential issues."
Earlier this month, deputy first minister John Swinney said he takes a lateral flow test every time he leaves home, as he encouraged Scots to take the tests more than twice a week.
He also said the Scottish Government wants people to take the "very reliable" tests more frequently.
First Minister Nicola Sturgeon is set to give a coronavirus update on Tuesday amid concerns over a rise in cases of the Omicron variant.
She is scheduled to address MSPs at the Scottish Parliament.
Ministers are discussing options on tackling the increase in Covid cases at a cabinet meeting on Tuesday morning.
Scotland recorded 26 new cases of the Omicron variant on Monday, taking the overall number to 186, while a further 3756 Covid-19 cases were confirmed.