Powerful tornadoes that ripped through Mississippi – destroying buildings and obliterating at least one town – killed almost two dozen people, officials said on Saturday.
The Mississippi Emergency Management Agency said in a Twitter post that search and rescue teams from local and state agencies were deployed to help victims impacted by the tornadoes.
The agency confirmed early on Saturday that 23 people had died, four were missing and dozens were injured.
A few minutes later, the agency tweeted: "Unfortunately, these numbers are expected to change."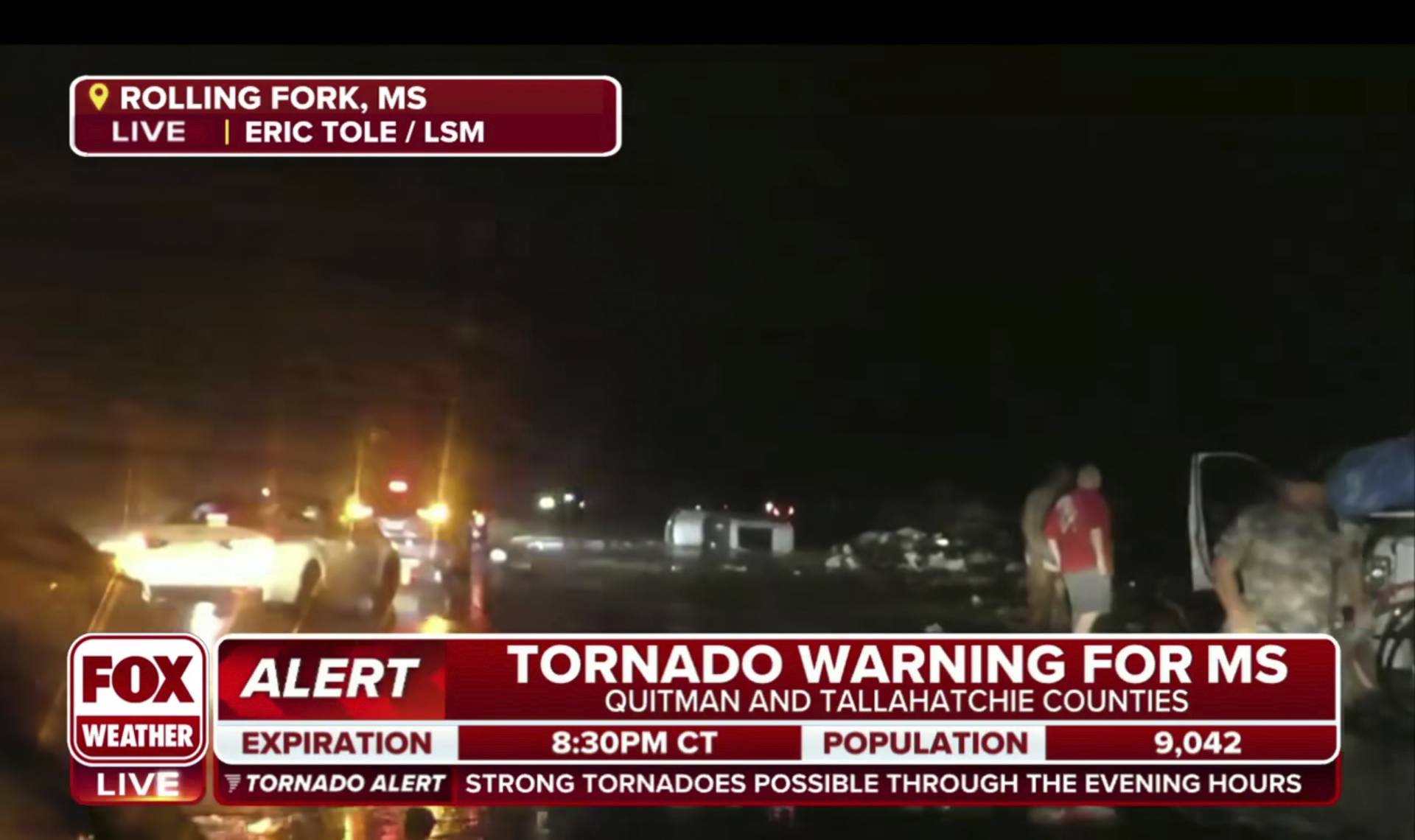 The National Weather Service confirmed a tornado caused damage about 60 miles north-east of Jackson, Mississippi.
The rural towns of Silver City and Rolling Fork reported destruction as the tornado swept northeast at 70 mph without weakening, racing towards Alabama through towns including Winona and Amory into the night.
Rolling Fork Mayor Eldridge Walker told CNN that his town was essentially wiped out.
"My city is gone. But we are resilient and we are going to come back strong," he said.
The National Weather Service issued an alert as the storm was hitting that did not mince words: "To protect your life, TAKE COVER NOW!"
"You are in a life-threatening situation," it warned. "Flying debris may be deadly to those caught without shelter. Mobile homes will be destroyed. Considerable damage to homes, businesses, and vehicles is likely and complete destruction is possible."
Cornel Knight told The Associated Press that he, his wife and their three-year-old daughter were at a relative's home in Rolling Fork when the tornado struck. He said the sky was dark but "you could see the direction from every transformer that blew".
He said it was "eerily quiet" as that happened. Mr Knight said he watched from a doorway until the tornado was, he estimated, less than a mile away. Then he told everyone in the house to take cover in a hallway.
He said the tornado struck another relative's home across a wide corn field from where he was. A wall in that home collapsed and trapped several people inside.
As Mr Knight spoke to AP by phone, he said he could see lights from emergency vehicles at the partially collapsed home.
Storm chaser Reed Timmer posted on Twitter that Rolling Fork was in immediate need of emergency personnel and that he was heading with injured residents of the town to a Vicksburg hospital.
The Sharkey-Issaquena Community Hospital on the west side of Rolling Fork was damaged, WAPT reported.
The Sharkey County Sheriff's Office in Rolling Fork reported gas leaks and people trapped in piles of rubble, according to the Vicksburg News. Some law enforcement units were unaccounted for in Sharkey, according to the newspaper.
Mississippi governor Tate Reeves said in a Twitter post on Friday night that search and rescue teams were active and that officials were sending more ambulances and emergency assets to those affected.
"Many in the MS Delta need your prayer and God's protection tonight," the post said. "Watch weather reports and stay cautious through the night, Mississippi!"
This was a supercell, the nasty type of storms that brew the deadliest tornado and most damaging hail in the United States, said University of Northern Illinois University meteorology professor Walker Ashley.
Earlier on Friday a car was swept away and two passengers drowned in south-western Missouri during torrential rains that were part of a severe weather system.
Authorities said six young adults were in the vehicle that was swept away as the car tried to cross a bridge over a flooded creek in the town of Grovespring.
Meanwhile, the search continued in another south-western Missouri county for a woman who was missing after flash flooding from a small river washed a car off the road.
The Logan Rogersville Fire Protection District said there was no sign of the woman. Two others who were in the car were rescued. Crews planned to use boats and have searchers walking along the riverbank.
When a woman's vehicle got swept up in rushing flood waters on Friday morning near Granby, Missouri, Layton Hoyer made his way through icy-cold waters to rescue her.
Some parts of southern Missouri saw nearly three inches of rain on Thursday night and into Friday morning as severe weather hit other areas. A suspected tornado touched down early Friday in north Texas.
Matt Elliott, warning coordination meteorologist at the National Oceanic and Atmospheric Administration's Storm Prediction Centre in Norman, Oklahoma, said the severe weather was expected across several states.
The Storm Prediction Centre warned the greatest threat of tornadoes would come in portions of Arkansas, Louisiana, Mississippi and Tennessee.
Storms with damaging winds and hail were forecast from eastern Texas and southeastern Oklahoma into parts of southeastern Missouri and southern Illinois.
More than 49,000 customers had lost power in Arkansas, Mississippi and Tennessee as of Friday night, according to poweroutage.us.
STV News is now on WhatsApp
Get all the latest news from around the country
Follow STV News
Follow STV News on WhatsApp
Scan the QR code on your mobile device for all the latest news from around the country