Two ads for Ladbrokes have been banned for "strongly" appealing to under-18s by featuring well-known Premier League managers.
The first of two promoted tweets for the bookmaker in January and February featured two images of manager Eddie Howe and the text "19th in 2022 v 3rd in 2023. Eddie Howe's one-year masterclass".
The second carried the headline "Ladbrokes next manager to leave odds" ahead of the names and images of four other managers – David Moyes, Frank Lampard, Brendan Rodgers and Gary O'Neil.
Ladbrokes said the first tweet did not direct consumers to the company's website where they could place bets, and the tweets could not be accessed by users unless Twitter had accepted their age as being over 18.
It said Howe had a modest online presence and much of his managerial career had been spent outside the Premier League, and it was therefore unlikely that he would appeal strongly to under-18s.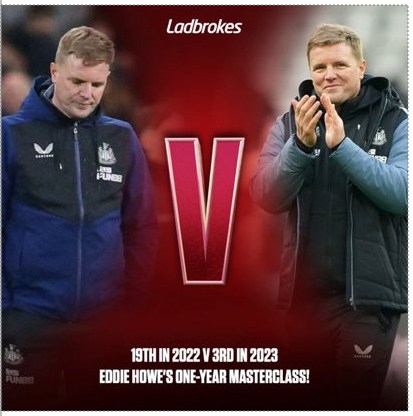 Ladbrokes acknowledged that the second tweet was commercial as it contained market prices for the next Premier League manager to lose his job, and said it "inadvertently" included imagery of the managers, which was contrary to its guidance and standard procedure.
The bookmaker told the ASA it has taken steps to ensure that such content will be reviewed more thoroughly to ensure compliance with advertising rules.
Outlining its reason for banning the ads, the ASA said a very significant proportion of under-18s participate frequently in football.
It noted that the sport has an "exceptionally high" media profile, including popular, dedicated media for under-18s, and managers of top clubs are likely to appeal strongly to children.
The ASA said: "We noted the ads included Eddie Howe, David Moyes, Frank Lampard, Brendan Rodgers and Gary O'Neil, who at the time of publication were all current Premier League managers and would be well known to those who followed football, and in particular fans of the clubs they managed, including children.
"We considered, based on those factors, that all five managers were likely to be of strong appeal to under-18s."
The regulator added: "We acknowledged that the ads were targeted at over-25s, but, because Twitter was a media environment where users self-verified on customer sign-up and did not use robust age-verification, we considered that Ladbrokes had not excluded under-18s from the audience with the highest level of accuracy required for ads the content of which was likely to appeal strongly to under-18s."
The ASA ruled that the ads were irresponsible and must not appear again.