A lack of fuel in the Gaza Strip shut down all internet and phone networks on Thursday, the main Palestinian telecom provider said, effectively cutting off the besieged territory from the outside world.
In a signal that Israel's ground invasion could soon expand to the south, Palestinians in parts of southern Gaza said they received evacuation notices on Thursday.
Most of Gaza's 2.3 million people are crowded into the south, including hundreds of thousands who heeded Israel's calls to evacuate the north to get out of the way of its offensive.
Nearly every single person in the Gaza Strip does not have enough food, and more than two out of every three people do not have clean drinking water, the United Nations said on Thursday.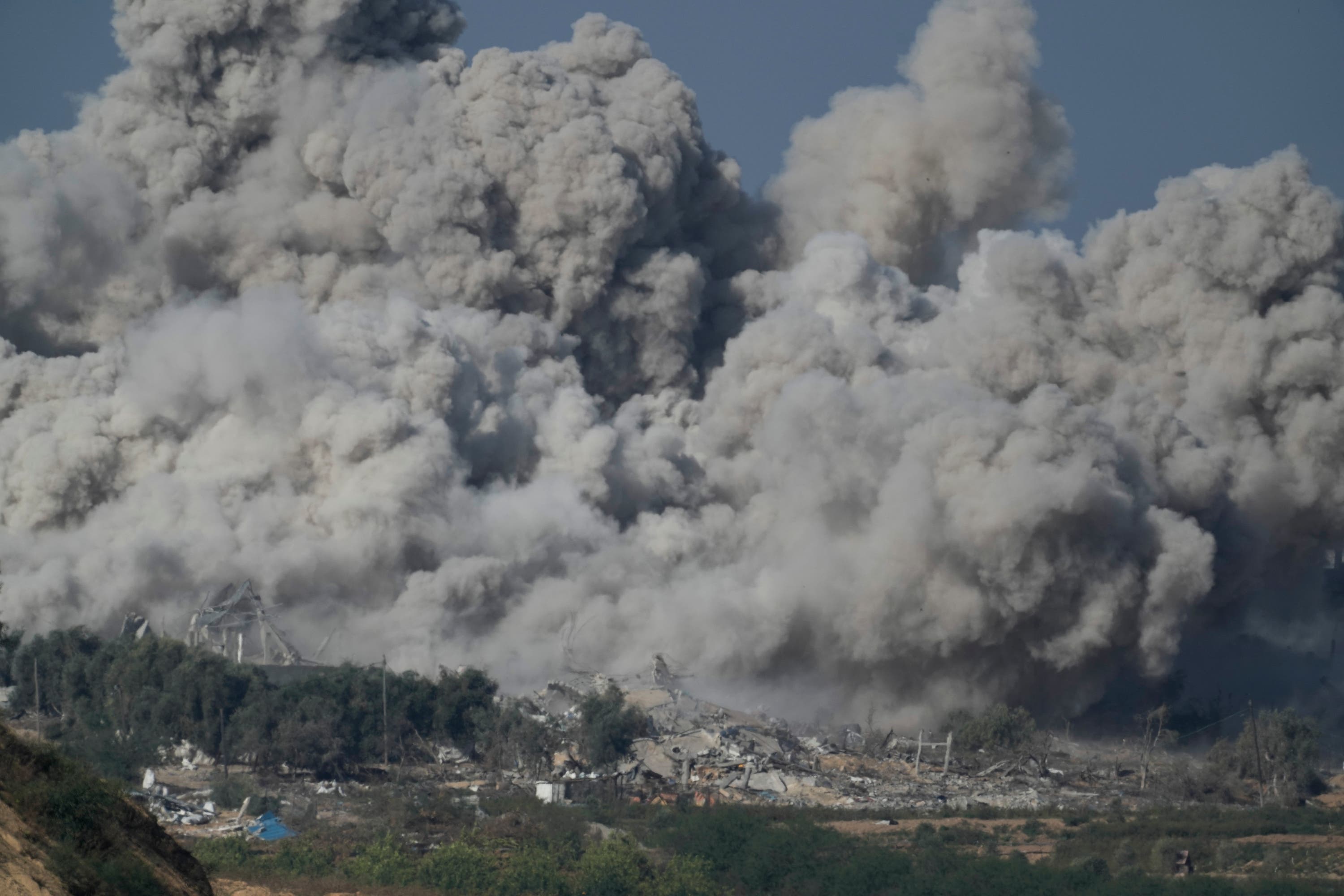 Residents say bread is scarce and supermarket shelves are bare. Central electricity and running water have been out for weeks.
At least 11,470 Palestinians — two-thirds of them women and minors — have been killed since the war began, according to Palestinian health authorities, which do not differentiate between civilian and militant deaths. About 2,700 people are reported missing.
The general manager of Palestine telecommunications company, Paltel, said he has urged international bodies to persuade Israel to allow fuel to enter Gaza in order to restore phone and internet to the besieged enclave.
"We asked all international bodies to intervene with Israel in order to allow the entry of fuel," Abdulmajeed Melhem told The Associated Press.
Earlier on Thursday, Paltel announced all communication services — landlines, mobile phones and internet connections — were down due to a lack of fuel.
"Since the outbreak of the war, there has been no electricity, therefore we have relied on alternative sources to operate the generators," Mr Melhem said.
"If they (Israel) allow the entry of fuel, this problem will be solved."
Gaza's fragile communication network has broken down several times during the conflict because of bombardment or shutdowns by Israel, but each time Gaza authorities were able to quickly get it back working.
Previous blackouts have traumatised Palestinians, leaving them unable to call ambulances or reach dispersed family members to ensure they are alive amid the bombardment.
Aid workers say it hampers humanitarian operations and hospitals.
The blackout also largely cuts Gaza off from the outside world, making it even harder for international media to cover events on the ground.
Israel vowed to wipe out Hamas after the militant group launched its October 7 incursion.
Some 1,200 people have died in Israel, mostly during the initial attack, and around 240 people were taken captive by militants.
Israel responded with a weeks-long air campaign and a ground invasion of northern Gaza.
Meanwhile, The White House said it believes Israel can dramatically reduce the threat from Hamas, but that eliminating the group and its ideology is likely impossible.
National security council spokesperson John Kirby pointed to the US efforts to disrupt al-Qaida and the Islamic State group, a day after US President Joe Biden said Israel's war on Hamas in Gaza would only end once the militant group was no longer a threat.
STV News is now on WhatsApp
Get all the latest news from around the country
Follow STV News
Follow STV News on WhatsApp
Scan the QR code on your mobile device for all the latest news from around the country