Katie Price's eldest son Harvey has officially broken the Guinness World Record for the longest drawing of a train.
Harvey successfully completed the mammoth challenge and created a 21.3 metre long and one metre wide drawing of a Thameslink train (approximately 65 ft 6 in) – longer than a tenpin bowling lane.
The colourful artwork measures the length of ten standard-sized doors or four giraffes lying down head to toe.
"I'm absolutely thrilled for Harvey; I can't believe he's got his own Guinness World Records title," Ms Price said, "It's fantastic.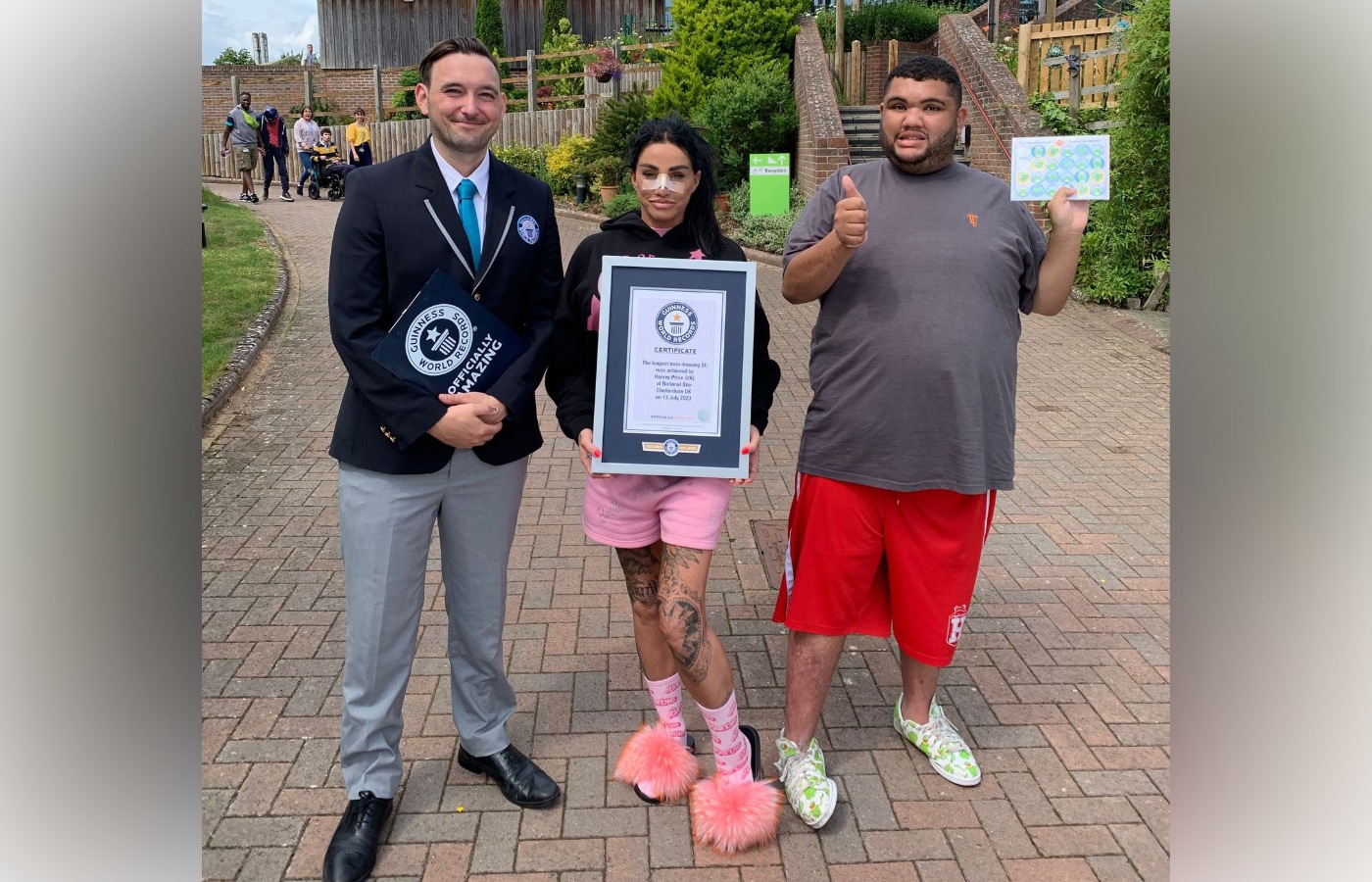 "He's worked so hard on completing his drawing and I think he's done amazingly well. We officially have a Guinness World Record holder in the family and everyone is so happy for him."
The record was attempted in partnership with the charity Mencap in a celebration of Learning Disability Week 2023.
It was achieved under the Guinness World Records impairments initiative.
Harvey was presented with a certificate during a presentation at his school, National Star College in Cheltenham UK this week.
During the challenge Harvey managed to showcase his creative skills while celebratinghis passion for trains, something he previously explored with his mum in the BBC documentary Katie Price: Harvey & Me.
The 21-year-old was born with septo-optic dysplasia, a disorder of early brain development which affects his sight.
He also has Prader-Willi syndrome is a rare genetic disorder characterized by learning difficulties that can cause behavioural challenges.
The Guinness World Records impairment classifications grant adjustments to allow inclusiveness and a level playing field for those attempting challenges.
Mencap's Learning Disability Week 2023, kicked off on June 19.
Although he originally planned to undertake the challenge with ten of his friends who also have learning disabilities, Harvey eventually decided to tackle the illustration on his own.
During the certificated presentation ceremony, Guinness World Records adjudicator Will Munford was present to award Harvey a coveted GWR certificate.
He said: "Record breaking must be open for everyone and working with Mencap to be able to offer these new record titles under our Impairments Initiative is fantastic.
"This record in particular that Harvey has achieved showcases artistic talent, the patience and focus required to set a Guinness World Records title and it is an honour to adjudicate it."
The aim of Learning Disability Week is to celebrate and champion the approximately 1.5million people around the UK with a learning disability.
Harvey is one of Mencap's Myth Busters, a team of ambassadors championed by the charity.
Working across different fields, from sports to advocacy to modelling, they battle preconceptions about what it means to live life with a learning disability.
The charity state: "Learning disability is not a mental illness or a learning difficulty, such as dyslexia,"
"People with a learning disability can take longer to learn new things and may need support to develop new skills, understand difficult information and engage with other people. The level of support someone needs is different with every individual."