The Queen's coffin has travelled from Buckingham Palace to Westminster Hall where the late monarch will lie in state until her funeral.
The Government has published a live tracker updating with the estimated length of the queue for those wanting to travel to the Palace of Westminster to pay their respects.
The Queen's coffin was flown to London from Edinburgh on Tuesday evening after lying in state at St Giles' Cathedral.
A procession from Buckingham Palace to Westminster Hall will took place on Wednesday afternoon.
King Charles III and members of the Royal Family walked behind the coffin before it reached the parliamentary estate at 3pm.
Upon arrival, the coffin was rested on a raised platform, with members of the public able to pay their respects 24 hours a day from 5pm on Wednesday until 6.30am on Monday, the day of the Queen's funeral.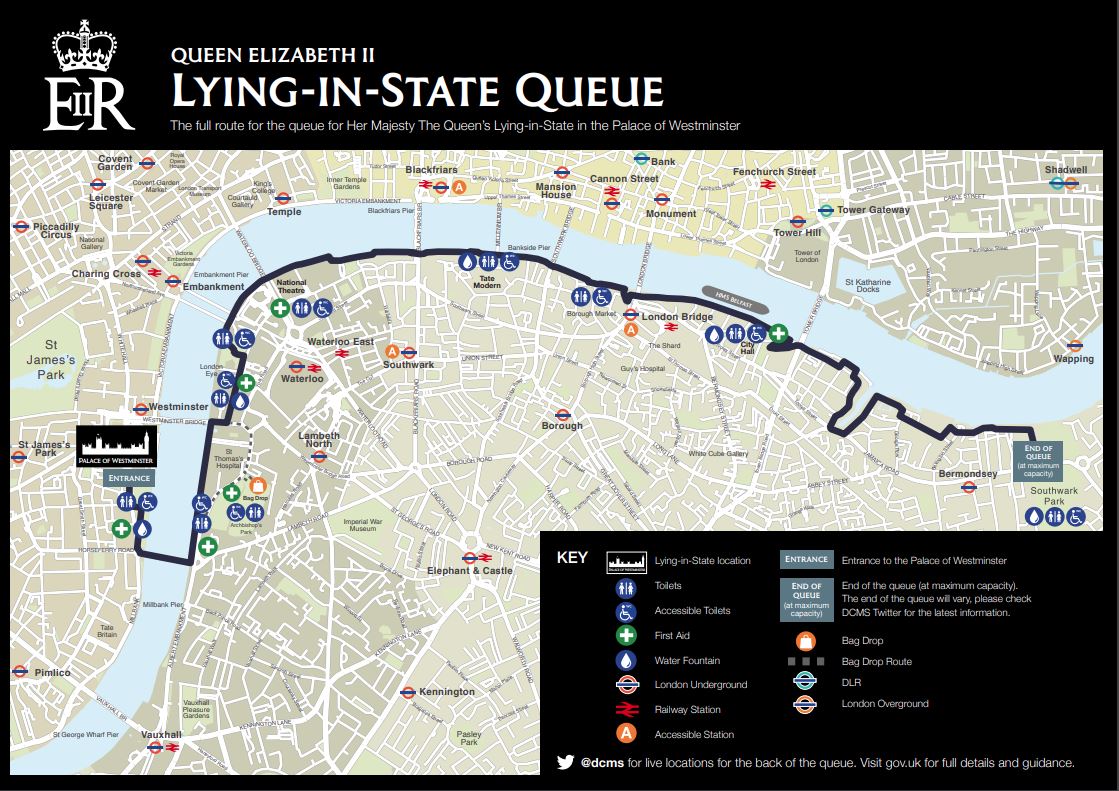 Mourners are being told to expect long waits to enter Westminster Hall to see the coffin.
The queue is expected to stretch for several miles, starting at Southwark Park and reaching along the side of the River Thames, before crossing at Lambeth Bridge and concluding at Westminster.
As many as 750,000 people are anticipated to travel to the capital to pay their respects.
Travellers have been urged to plan ahead and to expect crowded transport services and congested stations due to the increased demand.
People began queueing to enter Westminster Hall on Monday, more than 48 hours before anyone will be allowed to enter to pay their respects.
Large crowds are expected and the Government has told those wishing to attend that they may be required to queue overnight.
Airport-style security and tight restrictions on what can be taken to Westminster Hall will be in place.