The judge presiding over the civil fraud trial of Donald Trump admonished him to keep his answers concise, reminding him and the courtroom that "this is not a political rally" as the former president and leading Republican president candidate began testifying in a lawsuit accusing him of dramatically inflating his net worth.
"We don't have time to waste. We have one day to do this," an exasperated Supreme Court Judge Arthur Engeron said at one point. At another, he said, "In addition to the answers being non-responsive, they're repetitive."
Trump's turn on the witness stand, in a case that cuts to the heart of the business brand he spent decades crafting, amounts to a remarkable convergence of his legal troubles and his political ventures at a time when he also faces criminal indictments while vying to reclaim the White House in 2024.
Trump walked slowly to the witness stand, tugging at his suit coat as he settled in for hours of questions in a lawsuit by the New York state attorney general, which accuses him and his company of inflating his property values and deceiving banks and insurers in the pursuit of business deals and loans.
Within minutes, he was asked about the financial documents at the heart of the case – his annual "statements of financial condition", which went to banks, lenders and others to secure financing and deals and which the attorney general's office says were grossly inflated and fraudulent.
Trump downplayed the statements' significance, pointing to a disclaimer that he says amounted to telling recipients to do their own calculating.
"Banks didn't find them very relevant, and they had a disclaimer clause – you would call it a worthless statement clause," he said, insisting that after decades in real estate, "I probably know banks as well as anybody … I know what they look at. They look at the deal, they look at the location".
Though Trump answered questions in a matter-of-fact manner at the beginning, his tensions with state Supreme Court Judge Arthur Engeron — who last month fined him $10,000 (£8,000) for violating a gag order — were evident.
In recent days, the former president has lambasted the judge on social media, calling him a "wacko" and "RADICAL LEFT, DEMOCRAT OPERATIVE JUDGE" who has already "ruled viciously" against him.
Trump complained that his 2014 financial statements should not be the subject of the lawsuit at all.
He told the court: "First of all it's so long ago, it's well beyond the statute of limitations."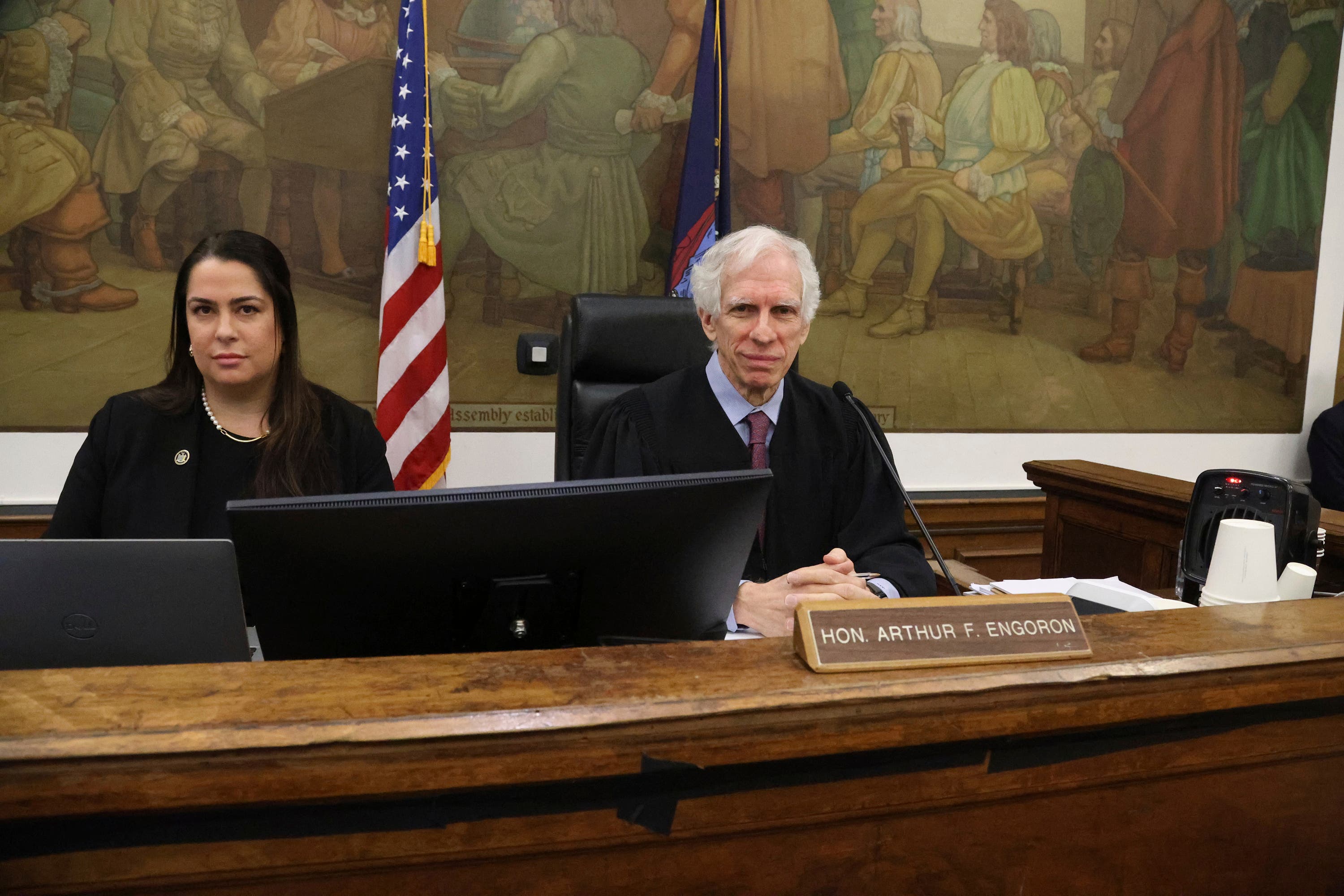 Trump then turned on the judge, saying he allowed state lawyers to pursue claims involving such years-old documents "because he always rules against me".
Engoron said: "You can attack me in whichever way you want but please answer the questions."
The courtroom at 60 Centre St has already become a familiar destination for Trump.
He has spent hours over the last month voluntarily seated at the defence table, observing the proceedings.
Trump once took the stand — unexpectedly and briefly — after he was accused of violating a partial gag order. Trump denied violating the rules, but Judge Arthur Engoron disagreed and fined him anyway.
The vast majority of his speaking has happened outside the courtroom, where he has taken full advantage of the bank of assembled media to voice his outrage and spin the day's proceedings in the most favourable way.
Among the topics likely to be covered include Trump's role in his company's decision making, in its valuing of his properties and in preparing his annual financial statements.
He is likely to be asked about loans and other deals that were made using the statements and what intent, if any, he had in portraying his wealth to banks and insurers the way the documents did.
Trump is also likely to be asked about how he views and values his brand – and the economic impact of his fame and time as president – and may be asked to explain claims that his financial statements actually undervalued his wealth.
Eric Trump, the former president's middle son, who testified in the case last week, said his father was eager for his appearance on the stand.
"I know he's very fired up to be here. And he thinks that this is one of the most incredible injustices that he's ever seen. And it truly is," the younger Trump told reporters on Friday, insisting his family was winning even though the judge has already ruled mostly against them.
Unlike most Americans, Trump has ample experience fielding questions from lawyers and has a long history of depositions and courtroom testimony that offer insight into how he might respond.
But Michael Cohen, who worked for Trump for more than a decade, said nothing in his past has come close to what he is facing now since they were largely civil matters "where even though the dollar amounts were in the millions of dollars, they were never of any real consequence to him or obviously to his freedom".
Cohen said: "Right now this New York attorney general's case is a threat to the extinction of his eponymous company as well as his financial future."
Trump's forthcoming criminal cases — accusing him of misclassifying hush money payments, illegally trying to overturn the result of the 2020 election and hoarding documents at his Mar-a-Lago club – "have far more significant consequences, most specifically the termination of his freedom".
STV News is now on WhatsApp
Get all the latest news from around the country
Follow STV News
Follow STV News on WhatsApp
Scan the QR code on your mobile device for all the latest news from around the country