People are being warned not to consume a brand of protein powder which contains a potentially lethal amount of caffeine per serving.
Bags of Sci-Mx Nutrition Ultra Muscle Strawberry Flavour, with a best before date of March 2025, have been recalled by Home Bargains.
Some pre-workout protein supplements do contain caffeine, however this is generally capped at 300mg – the equivalent of around three cups of coffee – per serving.
Testing found that the recalled Sci-Mx Nutrition Ultra Muscle powder contained more than 5,000mg (5g) of caffeine per serving – which equates to around 48 cups of coffee.
This is more than 16 times the recommended limit of caffeine that adults should take in a day, according to health organisations across the world.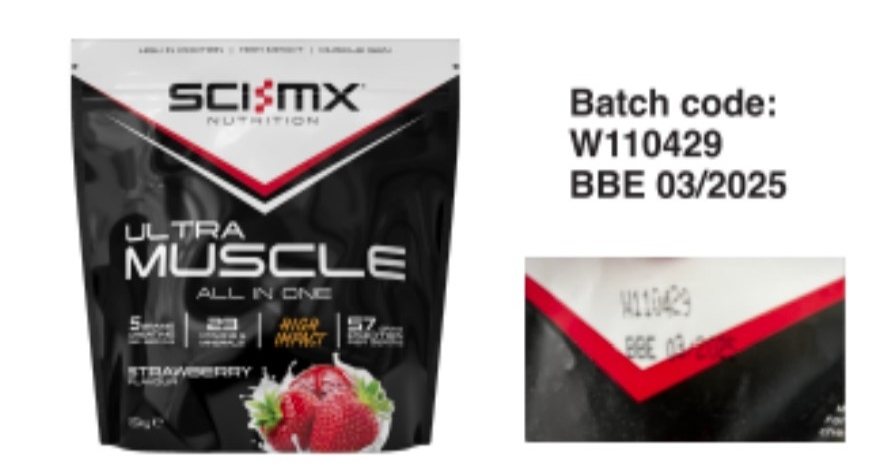 If consumers followed advice on the packaging to have two helpings per day, this would give them a daily dose of over 10,000 mg (10g) – more than 33 times the recommended amount.
The Food Standards Agency said that 10g of caffeine is lethal to most individuals – doses as low as 3g can be deadly for those with caffeine sensitivity.
FSA's head of incidents, Tina Potter, said: "If you have purchased this product, do not take the risk of consuming it.
"High levels of caffeine can cause anxiety, sleeplessness, agitation, palpitations, diarrhoea and restlessness, and individuals with a mental health condition can experience worsened psychosis.
"In this case, the exceptionally high levels of caffeine could mean the consequences are even more severe and perhaps even fatal."
Affected products can be identified by the batch code, W110429, which can be found next to the best-before date on the packaging.