More than a third of sweet food and drink products sold in major high street coffee shops exceed an adult's daily limit of sugar in just one sitting, according to a survey.
Action on Sugar found a toffee apple crumble thick shake and a salted caramel fudge cake at Coffee Republic contained 39 teaspoons of sugar or 157g when consumed together, in the study to mark Sugar Awareness Week.
A billionaire's hot chocolate and a sticky toffee muffin at Soho Coffee Co contained 33 teaspoons of sugar or 133g, as did a strawberry and banana smoothie and a pain au raisin at Puccino's.
Health guidelines recommend adults do not consume more than 30g of 'free' sugars – those not 'locked in' to food such as fruit and milk – a day.
Action on Sugar is calling for greater transparency over a "scandalous" lack of nutrition information available at the point of purchase, noting that more than one in two young adults aged 25 to 34 are overweight or obese while one in three is suffering from untreated tooth decay in the UK.
Overall, the study found that 782 sweet food and drink products surveyed in nine leading high street coffee shops were often "insufficiently labelled" for consumers.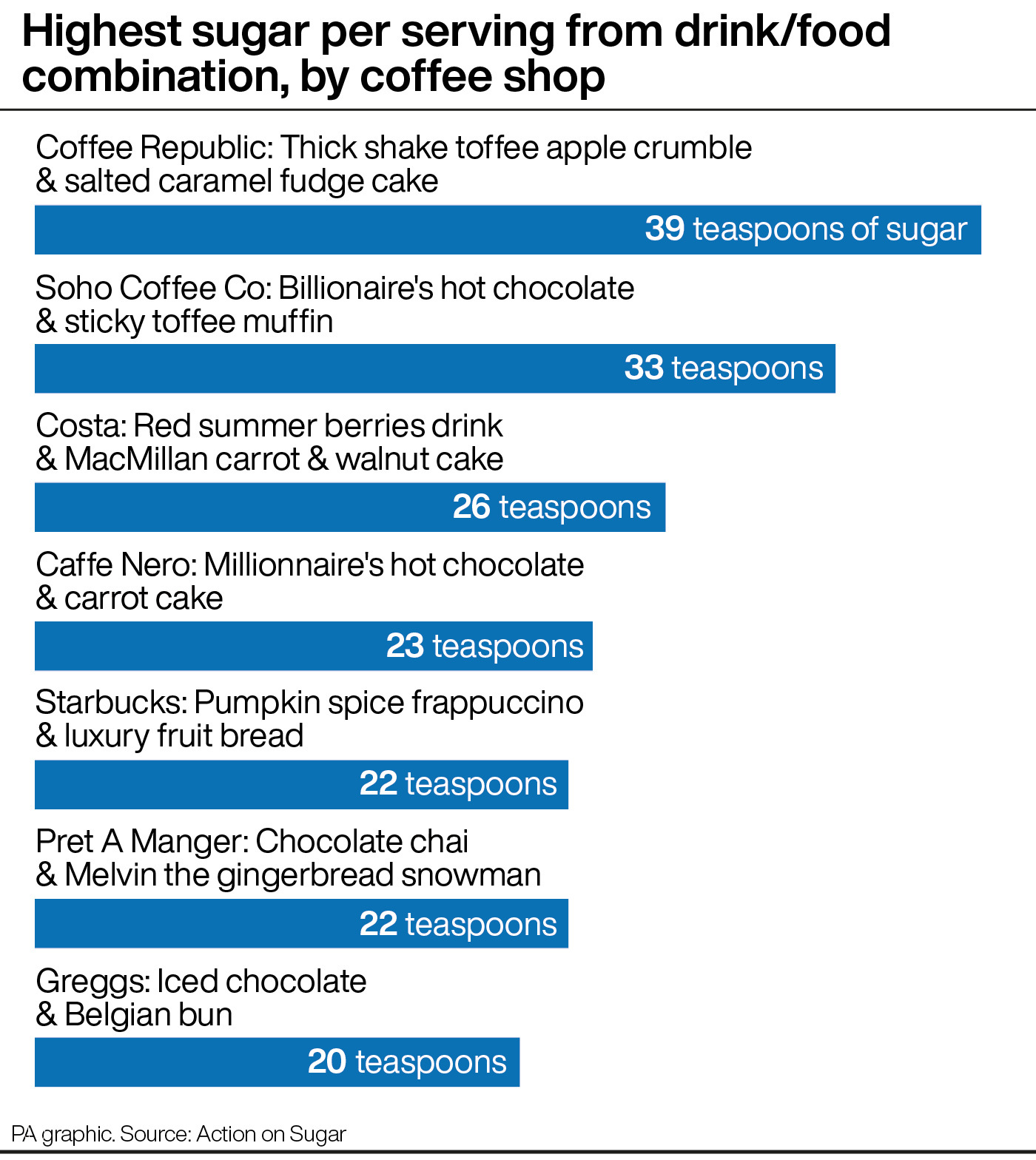 More than half would have been marked 'red' – or high in total sugars – if nutrition information was fully transparent, Action on Sugar said.
Just one item surveyed, a Greggs all-butter croissant, was found to be low in sugar.
Despite the astronomical amount of sugar found in the products surveyed, the difference in sugar content of similar products can vary widely, illustrating the food and drink industry's ability to reduce sugar if incentivised.
Action on Sugar is also calling for new levies to be introduced to encourage healthier food and drink choices and encourage firms to reformulate their products.
It has suggested that this could include extending the current soft drinks industry levy to all juice and milk-based drinks, and introducing levies targeting the high sugar content in sweet foods.
Zoe Davies, nutritionist at Action on Sugar, said: "It's incredible how easy it is to unknowingly consume 39 teaspoons of sugar and over 1,300 calories with a simple drink and cake purchase – all of which is highly unnecessary to taste great.
"What's more, it's unacceptable that consumers are often left in the dark as product information about sugar content is not displayed at the point of sale and online PDF documents are unavailable or difficult to find and understand. This is why clearer labelling should be a must, so people know exactly what they are buying."
Graham MacGregor, professor of cardiovascular medicine at Queen Mary University of London and chairman of Action on Sugar, said: "Whilst it is scandalous that companies get away with providing so little nutrition information, it is even more outrageous that the government hasn't taken decisive action to incentivise sugar reduction.
"The need for mandatory nutrition labelling in the 'out of home' sector and the introduction of new levies to encourage reformulation has never been more evident.
"Without doubt, an unhealthy diet high in saturated fat, salt and sugar, and low in fruit and vegetables, is the biggest cause of death and disability globally and costs the UK alone more than £100 billion annually. It's time to redefine profit as a healthy population."
Soho Coffee Co said: "Our Soho Coffee Co range provides for a huge variety of choice for all consumers. It is not for us to dictate what a customer chooses to purchase or the lifestyle they choose to lead.
"We have, and provide, the information for our customers that we are currently obliged to have available to be compliant with current legislation.
"As a business we will continue to develop a range of products that will meet the needs of all customers, and also use technology to help better communicate product content."
STV News is now on WhatsApp
Get all the latest news from around the country
Follow STV News
Follow STV News on WhatsApp
Scan the QR code on your mobile device for all the latest news from around the country