The Bank of England has raised its base interest rate to 5% for record 13th increase in a row.
It is the highest level in 15 years and comes after warnings the hike could see 1.4 million mortgage holders lose at least a fifth of their disposable income – with those aged between 30 and 39 the worst hit.
The Bank of England has a target to try to get the rate of inflation to around 2%.
In order to drag inflation down quickly, the most commonly used policy tool used by the central bank is increasing the base interest rate.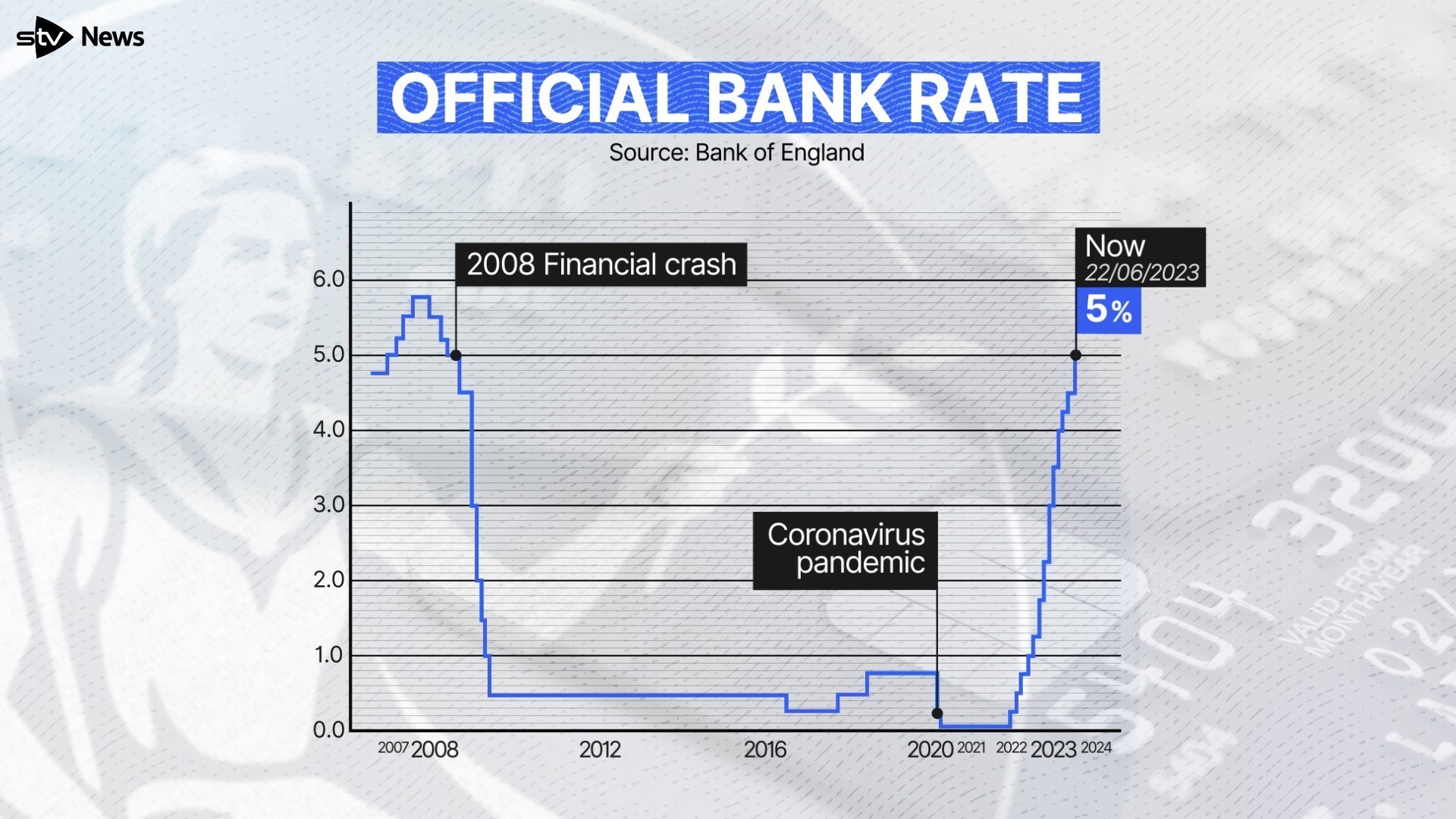 Increases to interest rates are designed to reduce demand from people to borrow money, because of the higher charges they will face, and encourage people to save their cash.
It comes after new official figures revealed that the rising cost of living did not ease as expected last month.
A report released by the Office for National Statistics (ONS) on Wednesday showed that inflation remains stubbornly high at 8.7% – despite economists hope it would fall and offer relief for households.
How are mortgages affected by interest rates?
Some variable rate mortgage deals directly track the Bank of England base interest rate and they automatically increase in line with the base rate.
Borrowers can also end up on a standard variable rate (SVR) when their initial mortgage deal ends. The SVR is set by lenders individually but it can often roughly follow movements in the base rate.
The bulk of mortgaged UK homeowners tend to take out fixed-rate deals.
Swap rates underpin the pricing of fixed-rate mortgages and these have been rising amid expectations around inflation, as it has turned out to be more "sticky" than some had expected.
Fixed-rate mortgage rates have been on an upwards march in recent days, with the average two-year fixed-rate residential mortgage now sitting at around 6%.
What is inflation?
Inflation is the term used for the rate at which prices increase over time.
If the price of something rises from £10 to £11 over a year, then that would represent annual inflation of 10%.
Every month, the ONS reports the annual increases on a raft of items and services, including everything from computer games to a loaf bread.
Why is it currently so high?
In May inflation struck 8.7%, as it continues to slow from the 11.1% peak it hit late last year.
Prices rocketed last year after the Russian invasion of Ukraine in late February 2022 caused the price of energy to shoot higher, adding to pressure from supply disruption.
It contributed to higher costs for firms making products or offering services, while labour costs also started to rise.
Since then, higher food and drink prices are a key reason why inflation has failed to fall as fast as hoped.
Olive oil, eggs and cheese are among items to see the sharpest increases over the past year.
More to follow…