Survivors of Auschwitz-Birkenau are gathering to commemorate the 78th anniversary of the liberation of the Nazi German death camp in the final months of the Second World War.
As the world marks Holocaust Memorial Day, survivors have also warned about a rise in antisemitism with one 92-year-old survivor Vera Schaufeld, who escaped to England, stating that: "antisemitism is more prevalent than it has been in the past".
The memorial day has also been marked with the horror of war again shattering peace in Europe with the Russian invasion of Ukraine.
The former concentration and extermination camp Auschwitz-Birkenau is located in the town of Oswiecim in southern Poland, which during the Second World War was under the occupation of German forces and became a place of systematic murder of Jews, Poles, Soviet prisoners of war, Roma and others targeted for elimination by Adolf Hitler and his henchmen.
In all, some 1.1 million people were killed at the vast complex before it was liberated by Soviet troops on January 27, 1945.
In 2023 the site, with its barracks and barbed wire and the ruins of gas chambers, stands as one of the world's most recognised symbols of evil and an admonition of "Never Again" that has been a site of pilgrimage for millions.
Yet it lies only 300 kilometres (185 miles) from Ukraine, where Russian aggression is creating unthinkable death and destruction – a conflict on the minds of many of those paying tribute to the victims of eight decades ago.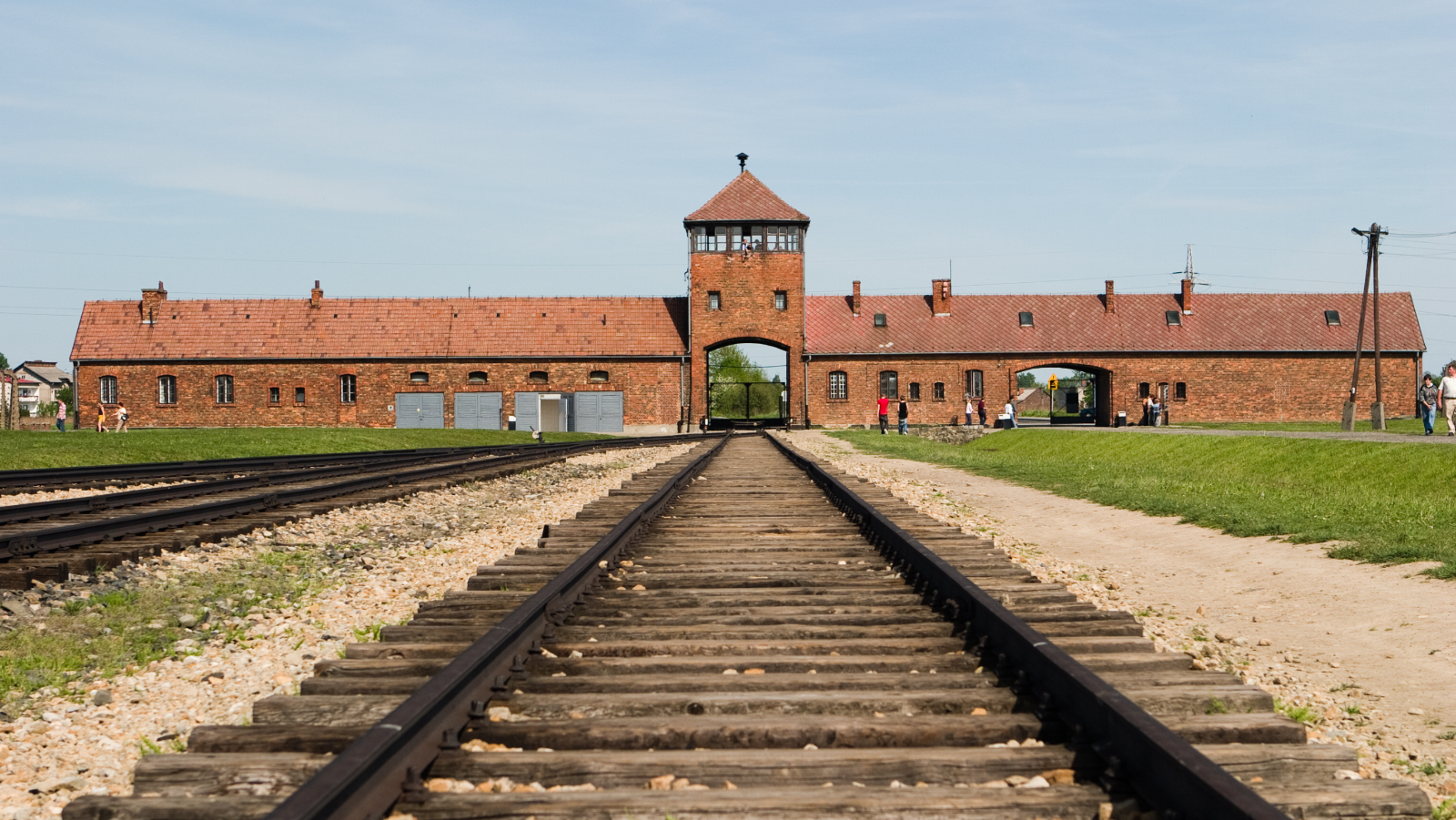 Russian President Vladimir Putin attended observances marking the 60th anniversary of the camp's liberation in 2005, but he has been unwelcome for years now.
This year, no Russian official at all was invited due to Russia's attack on Ukraine, according to the Auschwitz-Birkenau state museum.
Bogdan Bartnikowski, a Pole who was 12 years old when he was transported to Auschwitz, said the first images he saw on television last February of refugees fleeing after Russia's full-scale invasion of Ukraine triggered traumatic memories.
He was stunned seeing a little girl in a large crowd of refugees holding her mother with one hand and grasping a teddy bear in the other.
"It was literally a blow to the head for me because I suddenly saw, after almost 80 years, what I had seen in a freight car when I was being transported to Auschwitz. A little girl was sitting next to me, hugging a doll to her chest," Mr Bartnikowski, now 91, said.
Mr Bartnikowski was among several survivors of Auschwitz who spoke about their experiences to journalists on the eve of Friday's commemorations.
One of the others, Stefania Wernik, who was born at Auschwitz in November 1944, less than three months before its liberation, spoke of Auschwitz being a "hell on earth".
She said when she was born she was so tiny that the Nazis tattooed her number – 89136 – on her thigh.
Ms Wernik was washed in cold water, wrapped in rags and subjected to medical experiments.
And yet her mother had abundant milk, and they both survived.
After the war, her mother returned home and reunited with her husband, and "the whole village came to look at us and said it's a miracle".
Ms Wernik read out an appeal to the next generations to be vigilant about insidious ideologies.
"No more fascism, which brings death, genocide, crimes, slaughter and loss of human dignity," she said.
The Germans established Auschwitz in 1940 for Polish prisoners; later they expanded the complex, building death chambers and crematoria where Jews from across Europe were brought by train to be murdered.
Elsewhere in the world on Friday events were planned to mark International Holocaust Remembrance Day, an annual commemoration established by a United Nations resolution in 2005.
About six million European Jews were killed in the Holocaust and millions more were killed in the global war that lasted from 1939 to 1945.
Meanwhile, another Holocaust survivor, 89-year-old John Dobai, has warned Britons to be vigilant against antisemitism.
Mr Dobai lived through the Second World War as a child in Budapest, Hungary, but five of his family members were killed – two grandfathers, two aunts and a cousin, who was just 17.
He has lived in Britain since 1948 and, speaking from his home in Kew, west London, he warned that antisemitism is as prominent in modern Britain as it has ever been.
He said: "I have lived in this house for over 60 years and for 59 years I did not see any sign of antisemitism.
"But in the last 12 to 18 months we had graffiti on benches along the towpath saying 'Holocaust: six million lies' and similar graffiti on walls and benches in the neighbourhood.
"Some people I have met in this area have also declared that 'people from north London are very difficult'.
"In my talks I conclude by calling on the audience to become witnesses and, if they see examples of racial discrimination, not to be silent. To deny any racial slur – whether it's against people of colour or other belief systems – and to speak up."
Another survivor, 92-year-old Vera Schaufeld, also warned of a rise in antisemitism because young people are receiving less education about the Holocaust.
Ms Schaufeld came to England via the Kindertransport, a movement that was set up to evacuate Jewish children from Germany in the wake of Kristallnacht – a night of Nazi-coordinated violence in November 1938 which resulted in the destruction of hundreds of synagogues and Jewish properties across the German Reich.
Her parents remained in what was then Czechoslovakia and were sent to a concentration camp where they were later murdered.
She said: "I think that unfortunately, antisemitism is more prevalent than it has been in the past because I think young people are no longer learning about the Holocaust as much as they did.
"Jewish people should be seen just as much as individuals, and not as a whole group, but understood that they have their own views and their own lives in the same way that every other minority has to be respected.
"And it has to be understood that their experiences and their lives are relevant to them and their families."