Ads for three cosmetic clinics in Turkey have been banned in the UK for "irresponsibly trivialising" the decision to go abroad for surgery.
An ad for AsproMED, seen in May, read: "Are you ready to unleash your inner beauty, dear friend? Look no further than AsproMED, your trusted partner in the realm of medical tourism! Let us guide you towards the path of radiant transformation!"
The ad included a photo of a slim woman holding a balloon while she pointed to her stomach, together with a smaller illustration of a gastric balloon in a stomach, while text underneath stated: "4, 5 Stars Hotel + Travel to Istanbul + Professional Team."
A further image featured the Hagia Sophia skyline with several boats in front of it.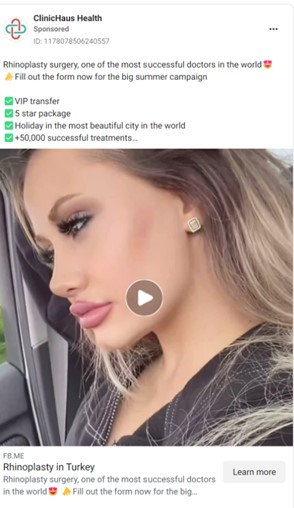 The second ad, for ClinicHaus Health, featured the caption "Rhinoplasty surgery, one of the most successful doctors in the world … Fill out the form now for the big summer campaign VIP transfer 5 star package Holiday in the most beautiful city in the world."
A third ad for Erdem Clinic stated: "Don't let your nose overshadow your face. Get the look you dream of with Nose Job treatment. Choose to be the greater beauty that you can be," while additional text offered up to 30% discounts on combined operations.
The Advertising Standards Authority (ASA) investigated the ads, all paid for on Facebook and seen in May, for making irresponsible claims and misleadingly omitting information about the need for medical pre-consultations.
The AsproMed and Erdem clinics did not respond to the ASA's investigations.
ClinicHaus Health said it had legal certification and authorisation from the Turkish government, and as part of the medical tourism industry offered summer deals from time to time.
Meta said it did not have any comment on the ads.
An ASA spokesman said: "We know that consumers are increasingly looking at going abroad for cosmetic surgery due to cost or ease of access and, while many people may be happy with the results, there are still inherent risks.
"That's why it's so important that ads for these services aren't misleading or irresponsible, and why this is a high priority area for the ASA.
"Advertisers targeting people in the UK need to ensure that they're following the Code, even if the service isn't based here. They mustn't trivialise the decision to get cosmetic surgery or put people under pressure to take up time limited offers. They should also make clear the need for a pre-consultation, including where it will take place.
"We're continuing to monitor the situation, with more investigations under way, and we're preparing further regulatory action for the near future."
STV News is now on WhatsApp
Get all the latest news from around the country
Follow STV News
Follow STV News on WhatsApp
Scan the QR code on your mobile device for all the latest news from around the country