Thousands of young activists have marched through Glasgow in a demand for world leaders to tackle climate change.
Marchers gathered at Kelvingrove Park on Friday morning, before heading towards George Square in the city centre.
They were joined by climate activists Vanessa Nakate and Greta Thunberg, who urged those attending to "make your voice heard".
Gathering in George Square, those in attendance heard speeches and music during the afternoon.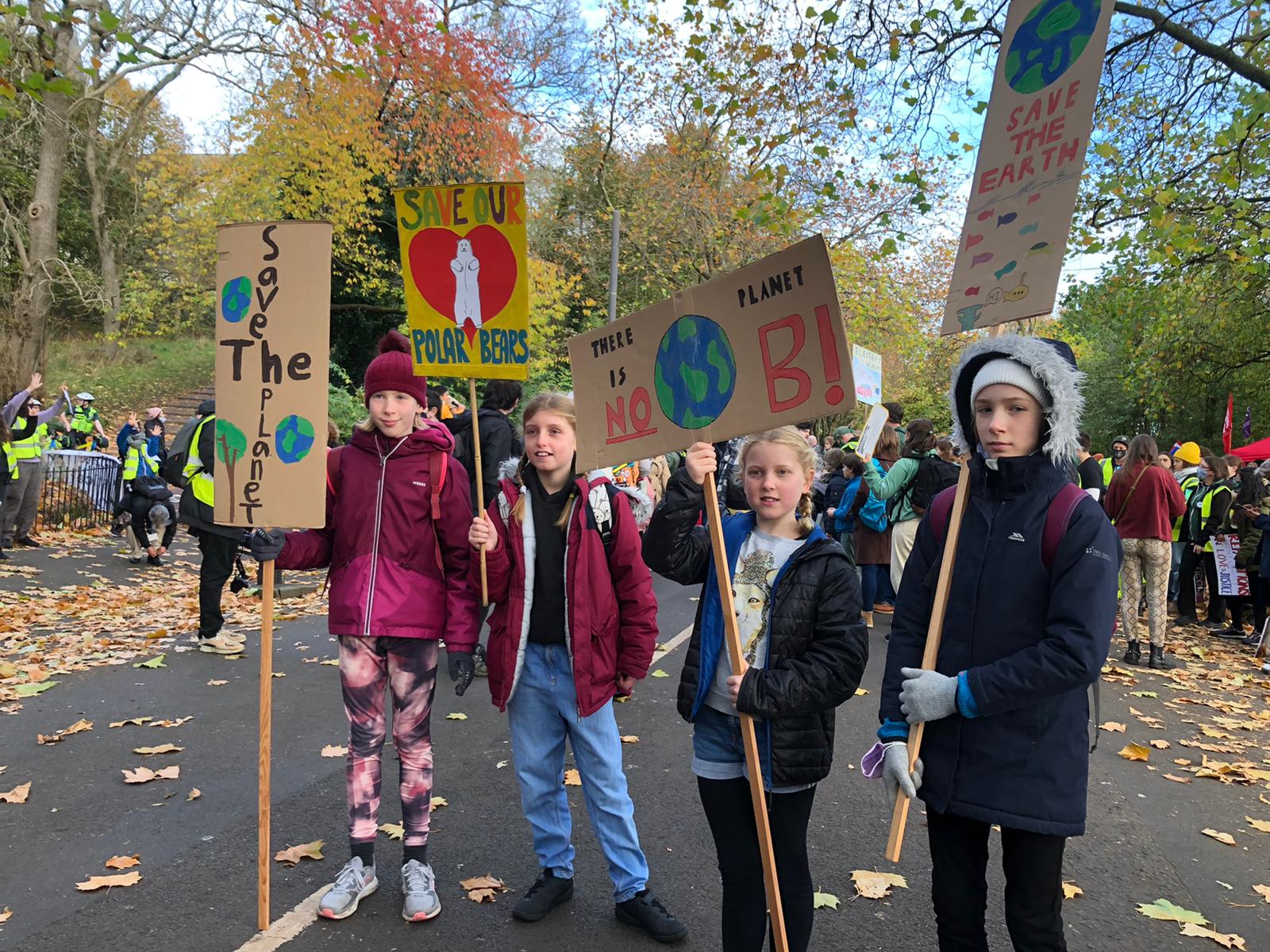 Greta Thunberg said the COP26 conference is a two-week celebration of "business as usual and blah blah blah".
She told activists who marched from Kelvingrove Park to Glasgow's George Square: "This is no longer a climate conference. This is now a global north greenwash festival.
"A two-week festival of business as usual and blah blah blah."
Greta Thunberg told the climate rally in George Square: "The voices of future generations are drowning in their greenwash and empty words and promises. But the facts do not lie. And we know that our emperors are naked."
The Swedish activist said "immediate, drastic, annual emission cuts unlike anything the world has ever seen" are needed to deal with climate change.
She added: "And the question we must now ask ourselves is, what is it that we are fighting for? Are we fighting to save ourselves and the living planet? Or are we fighting to maintain business as usual? Only to say that we can have both.
"But the harsh truth is that that is not possible in practice.
"The people in power can continue to live in their bubble filled with their fantasies, like eternal growth on a finite planet and technological solutions that will suddenly appear seemingly out of nowhere and will erase all of these crises just like that.
"All this while the world is literally burning, on fire, and while the people living on the front lines are still bearing the brunt of the climate crisis."
Ugandan activist Vanessa Nakate, added: "Once again we are faced with another COP event. How many more of these should they hold until they realise that their inactions are destroying the planet?
"Historically, Africa is responsible for only 3% of global emissions. And yet Africans are suffering some of the most brutal impacts fuelled by the climate crisis.
"But while the African continent, while the global south, is on the front lines of the climate crisis, they're not on the front pages of the world's newspapers."
Earlier, Police Scotland had warned they will deal "swiftly and robustly" with any violent disorder or damage to property during planned COP26 protests in the coming days.
On Saturday, tens of thousands of people are expected at a protest march in Glasgow, whilst other marches take place in London and cities around the UK, as well as across the world.
A number of demonstrations have been held in Glasgow during the first week of COP26.
Extinction Rebellion staged a sit-down protest outside the offices of the SSE in Waterloo Street on Wednesday.
Protesters also marched outside the JP Morgan offices in Glasgow, banging drums and chanting, before activists headed towards the Squinty Bridge, outside of the COP26 blue zone.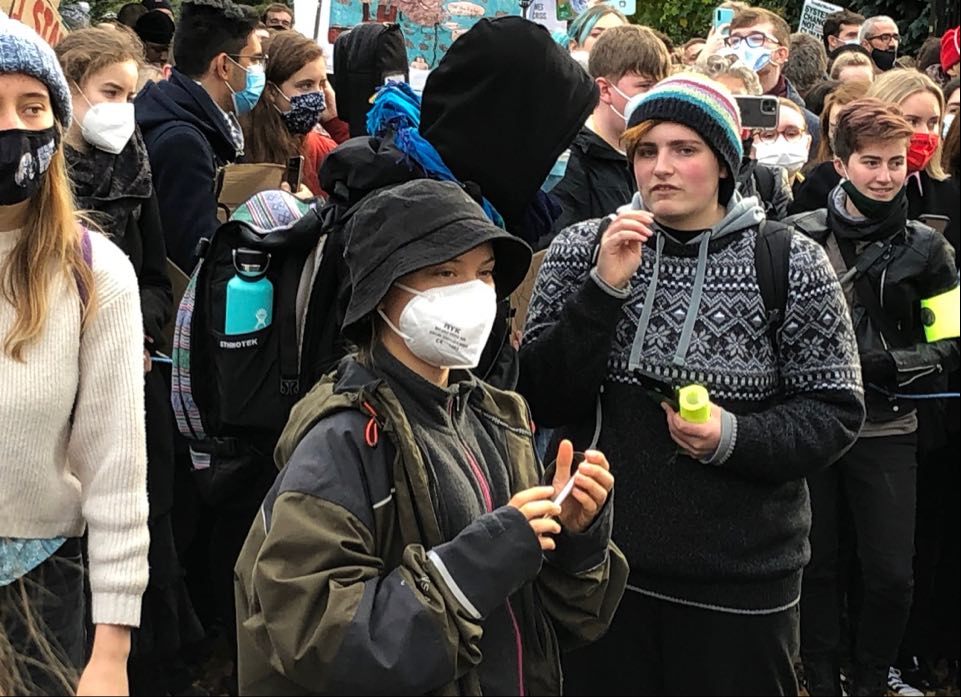 Charlie O'Rourke, 14, from Glasgow, skipped school to attend the march with his mother Cairsty O'Rourke and sister Edith.
He said global leaders at COP26 must "listen to the people".
He told the PA news agency: "Listen to what they want to say. Don't just go for profit. Listen to what the planet needs."
His mother Cairsty said she was there for her children and for "the generations to come to just show that something has to happen and it has to happen very quickly".
Cairsty, who is from Glasgow and works for the NHS, said the Scottish Government has been "on the fence for too long" on the issue of the Cambo oilfield.
She added: "I'd like to hear Nicola Sturgeon saying a bit more against it. I'd like all of this funding to go into a way out of this, a way out of using fossil fuels."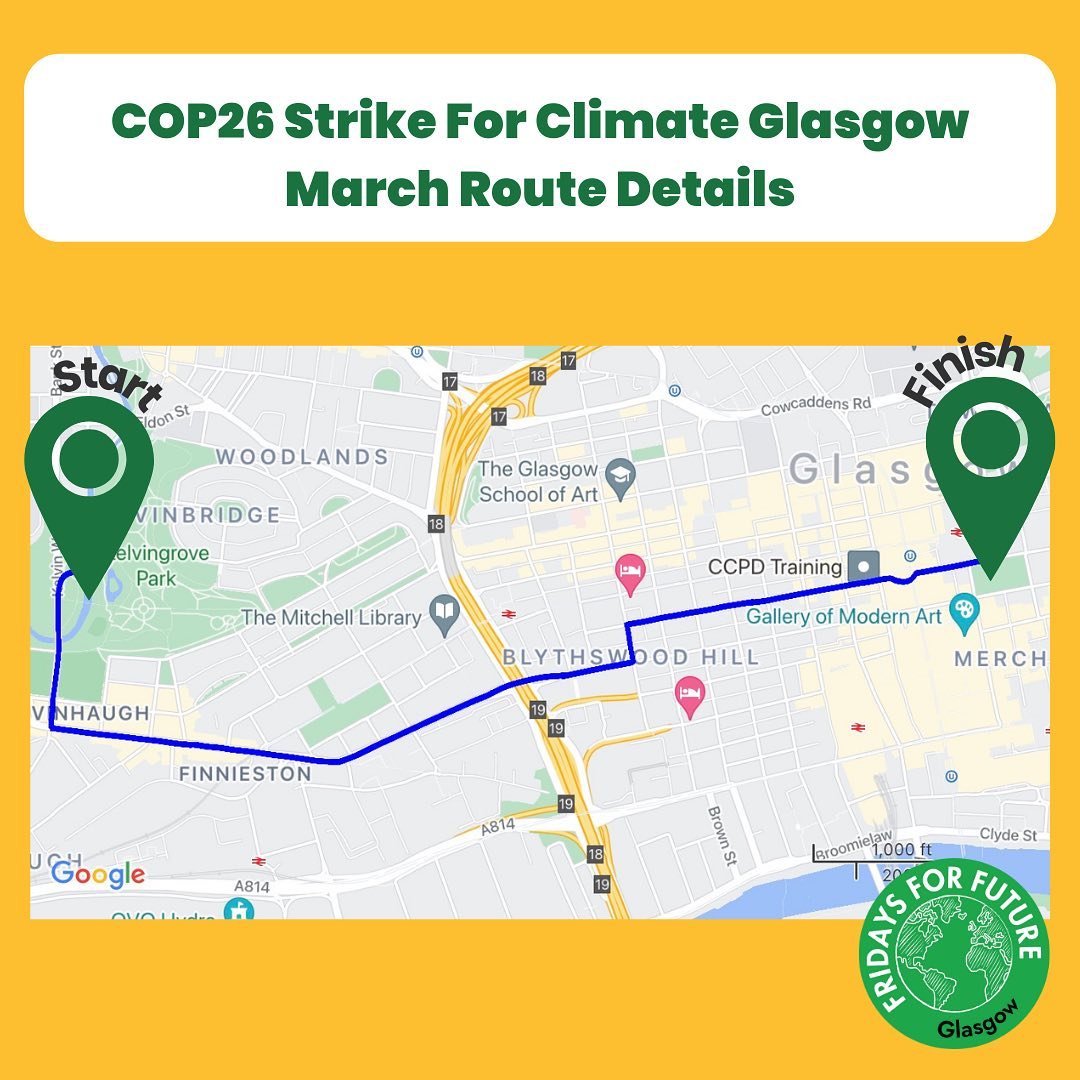 Finlay Pringle, 14, from Ullapool in the Scottish Highlands, travelled by train to Glasgow with his father to take part in the march.
He said: "If you really, truly love something and you want to protect it, no matter what it is, it doesn't have to be climate striking, but if there's something that you love and you want to protect it, then you should do that, don't think twice about it."