The world's largest commercial aeroplane will return to Glasgow this year.
Emirates has announced plans to operate the iconic A380 on the airline's Glasgow-Dubai route from March.
The huge double-decker aircraft has a wingspan of almost 80 meters and can carry more than 500 passengers.
The plane will be used on a year-round basis on the double daily service, which is Scotland's busiest long-haul route.
Mark Johnston, managing director at Glasgow Airport, said: "Emirates' decision to operate a year-round daily service using the Airbus A380 is tremendous news and underlines the airline's continued commitment to Glasgow Airport and its passengers.
"We invested significantly in our international pier infrastructure to vastly improve the experience for our long-haul carriers and passengers last year. This included the building of Scotland's first and only triple airbridge, which not only supports a wide range of aircraft types but is perfect for servicing the A380.
"The decision to make such a significant investment was a bold one, however, the return of this iconic aircraft to daily service underlines our continued ambition and is testament to the Dubai route's enduring popularity with our customers.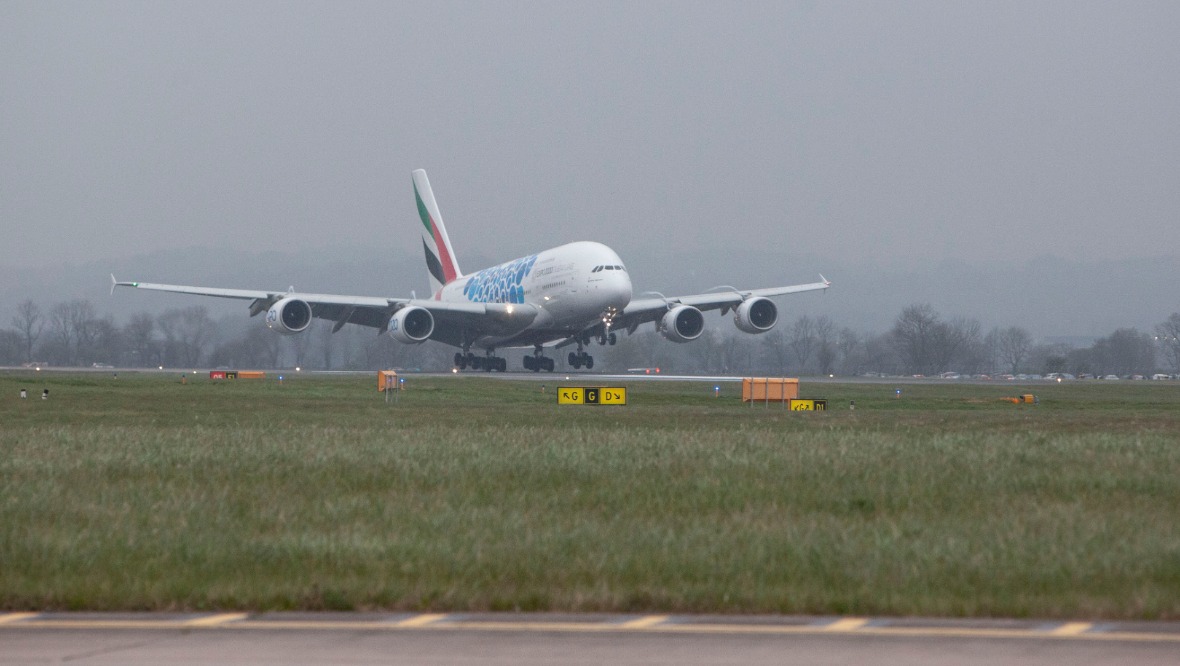 "This decision marks yet another milestone in a relationship with Emirates that dates back to 2004, when the first ever route between Scotland and the Middle East was launched at Glasgow Airport.
"Our Dubai double daily is Scotland's leading long-haul route, so it's fitting that the world's largest commercial passenger aircraft will play a part in the unique customer experience offered to Emirates' passengers at Glasgow Airport."
Thousands gathered at the airport to see the aircraft make a special appearance on April 11, 2014, to mark the 10-year anniversary of the Emirates route at Glasgow.
It returned on April 16 last year and made Scottish aviation history when it entered into regular service for the first time on the Glasgow route.
In addition to transporting passengers, Emirates' SkyCargo on the A380 will continue to carry key Glaswegian exports across the world, including whisky, salmon, cheese, chocolate and oil well equipment.
An Emirates spokesman added: "Emirates can confirm that it plans to operate a year round daily Airbus A380 service between Glasgow and Dubai, beginning end of March 2020."