Workers at one of the world's largest suppliers of military weapons have been forced to evacuate after protesters stormed the roof of their factory in Glasgow.
Activists from Palestine Action Scotland occupied the roof of Thales UK in Linthouse near the Queen Elizabeth University Hospital on Wednesday.
Factory equipment was destroyed by protesters who targeted the site in the early hours of the morning.
Thales produces military drones, armoured vehicles and missile systems.
Palestine Action Scotland say they targeted the French company, that has eight sites across the UK, in part due to its cooperation with Israeli weapons company Elbit Systems on the Watchkeeper Drone project.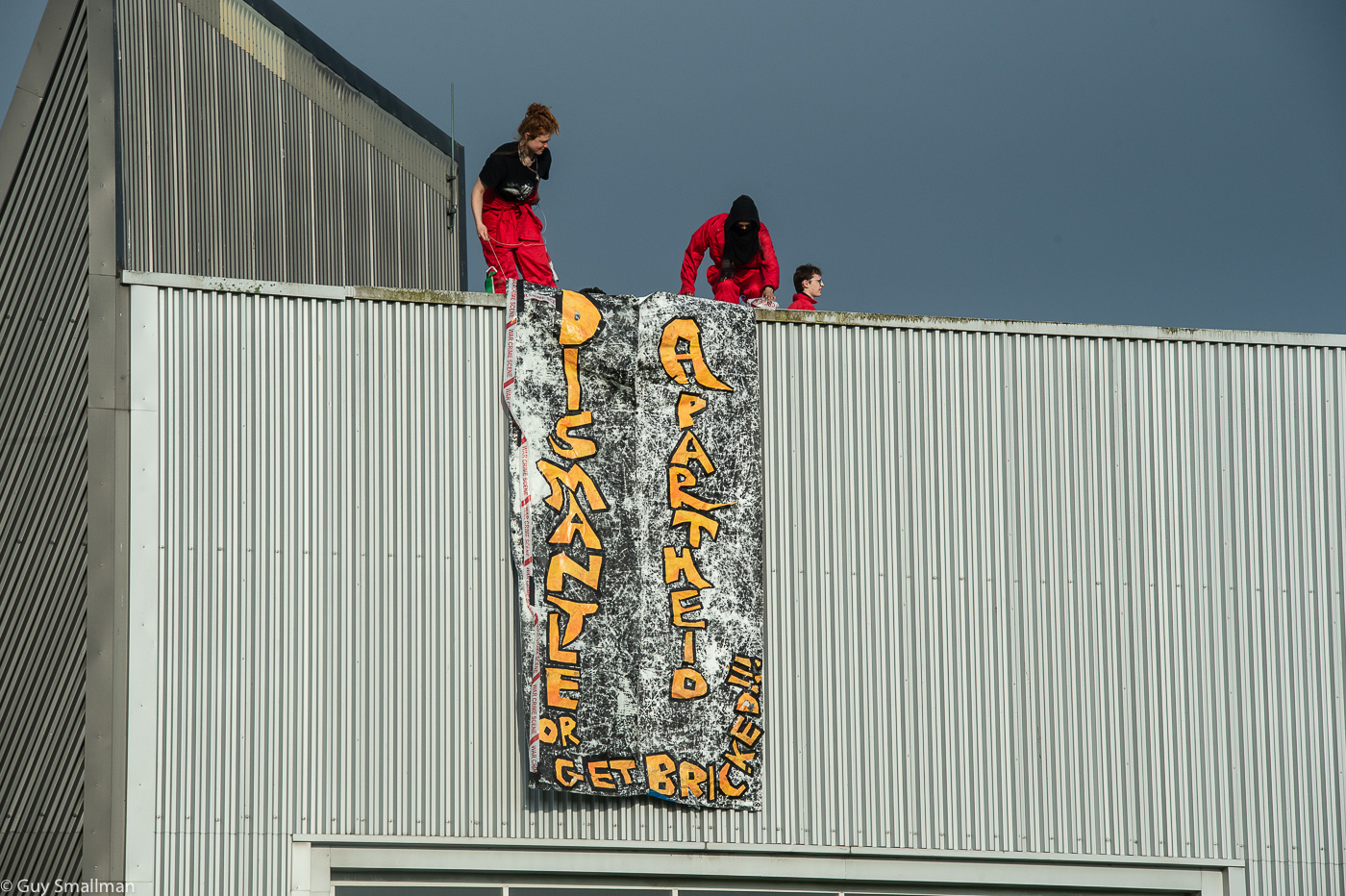 The activist group, that look to end "Scottish complicity in apartheid and military occupation, also say Thales weapons are being used on the populations of Palestine, Iraq and Afghanistan.
A team of six activists from the newly formed group are currently occupying the building, rendering it unusable and factory equipment and facilities inside the factory have been dismantled.
A spokesman for Palestine Action Scotland said: "Thales is one of the world's largest arms companies – producing armoured vehicles, missile systems and military UAVs (drones) – in particular, the Watchkeeper drone, used for surveillance and combat on captive populations.
"Today's action has begun the campaign to end Scottish complicity in the apartheid, dispossession and ethnic cleansing enacted on Palestinians by the Israeli occupation.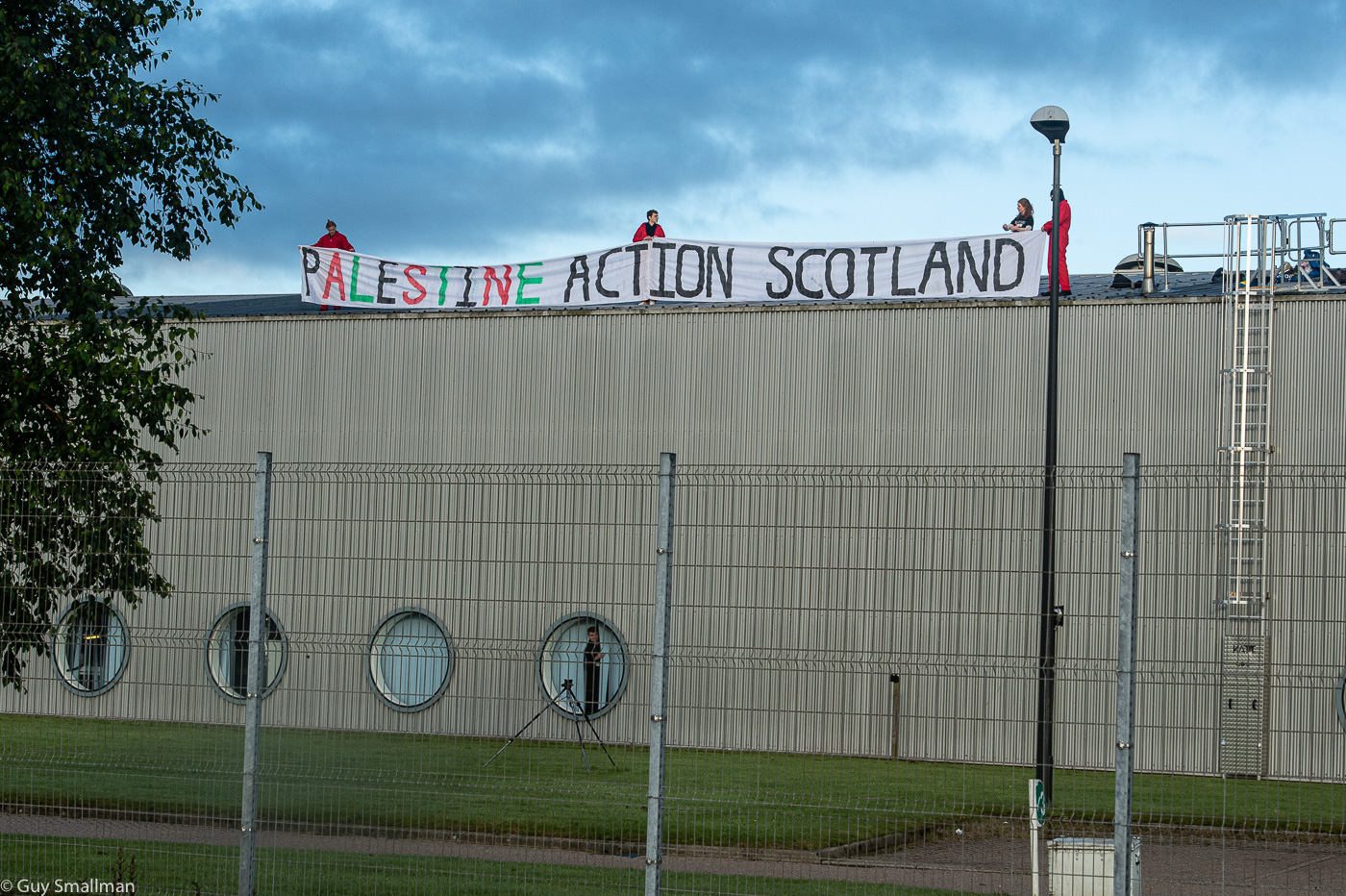 "Thales operates under the same banner as Elbit – Israel's largest weapons company, with the two cooperating on the Watchkeeper UAV project, which Elbit's UAV Tactical Systems site in Leicester is directly involved in.
"Elbit's Hermes 450 drone, which has been used extensively in attacks on Gaza's captive population, laid the foundations for the Watchkeeper project.
"The Watchkeeper drone has clocked thousands of hours of operations in Afghanistan and Iraq, and has a persistent presence over the skies of Gaza.
"Closer to home, in 2020, Thales were contracted by the Royal Navy to aid in the new 'Dreadnought' class nuclear submarine program.
"Furthermore, the UK Border Force began use of the Watchkeeper drone in 2020, monitoring British waters.
"Using the tried and tested tactics in of direct action – disruptions, occupations and blockades – the group hopes to build on the success of parent group Palestine Action, and its ongoing campaign across England and Wales to 'Shut Elbit Down'."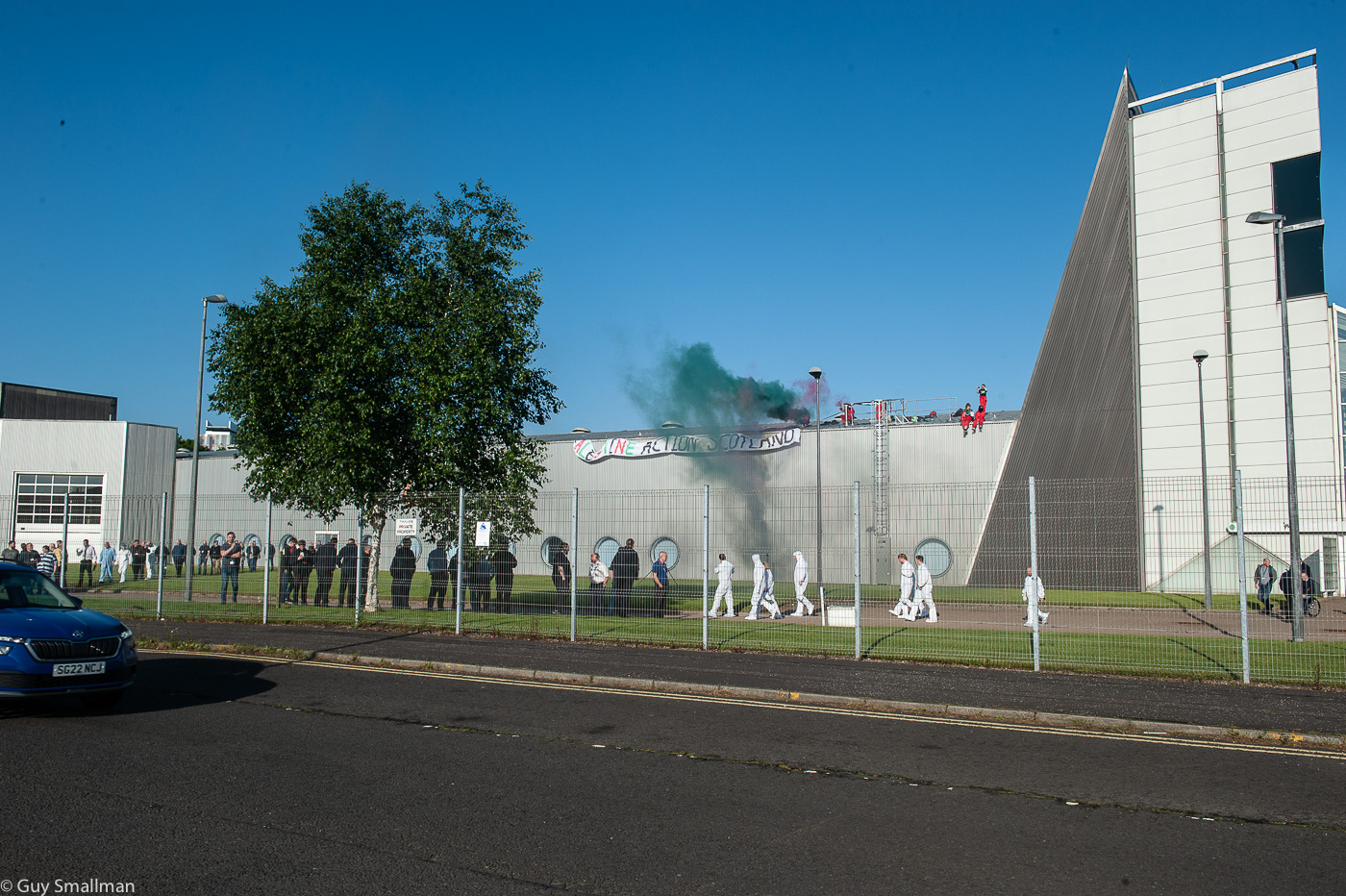 Police are in attendance at the protest.
A spokeswoman for the force said: "At around 6.25am on Wednesday, police were called to a report of a demonstration within the grounds of a business premises in Linthouse Road, Govan, Glasgow. Officers remain at the scene.
"Police Scotland is a rights-based organisation that puts our values of integrity, fairness, respect and a commitment to upholding human rights at the heart of everything we do. We have a duty under the European Convention on Human Rights to protect the rights of people who wish to peacefully protest or counter protest balanced against the rights of the wider community."