One of the world's largest suppliers of military weapons has been forced to evacuate its workers after protesters stormed the roof of its factory in Glasgow.
Activists from Palestine Action Scotland occupied Thales UK's factory on Linthouse Road, in Govan, at around 5.20am on Monday morning.
The protesters previously made their way onto the roof in June 2022, destroying factory equipment.
Thales produces military drones, armoured vehicles and missile systems, and has eight production sites across the UK – with two in Scotland, in Glasgow and Rosyth.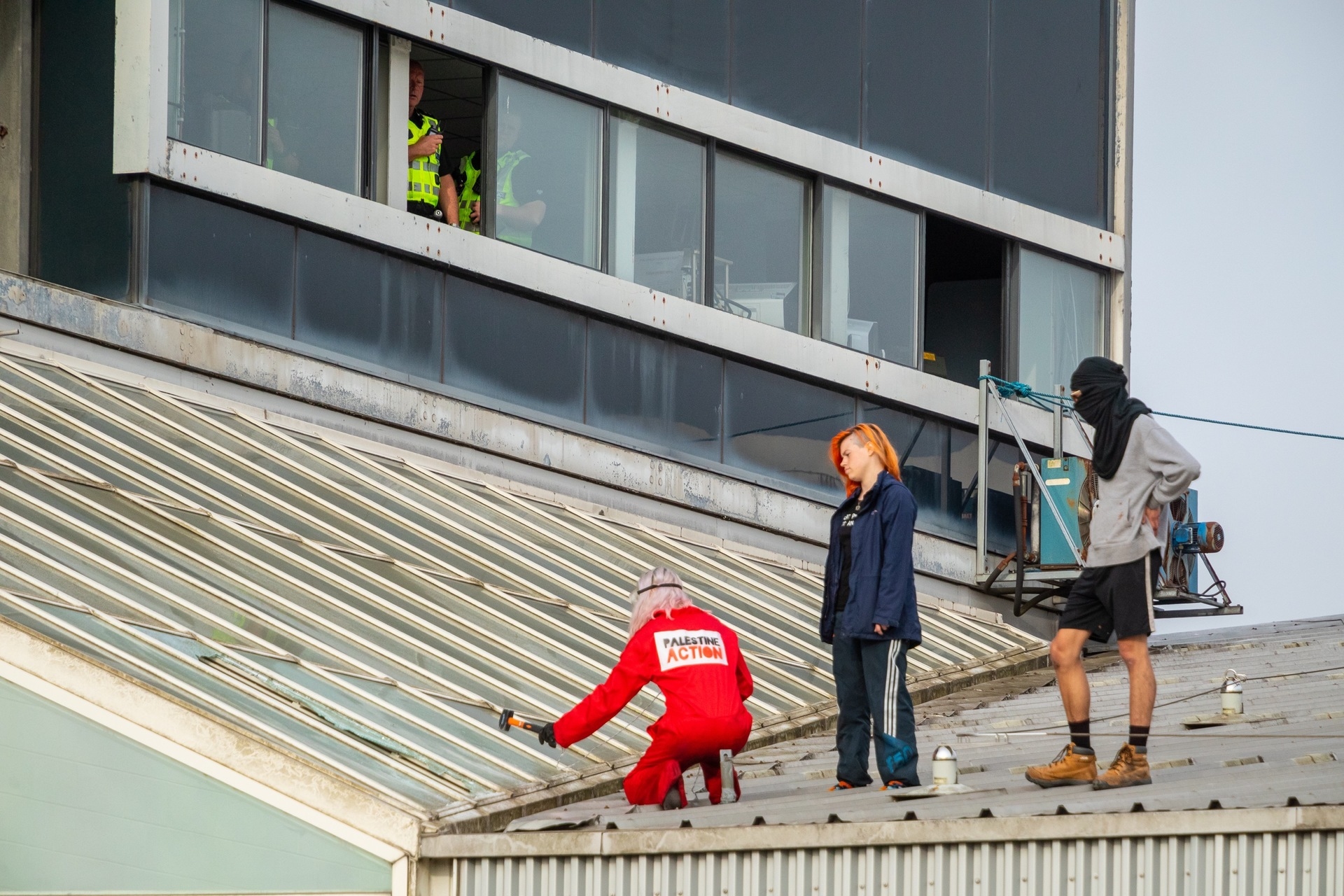 The group said it targeted the company partly due to its collaboration with Israeli weapons company Elbit Systems on the Watchkeeper Drone project.
A team of four activists say they aim to "render Thales' conveyor belt of weapons inoperable," alongside further damages to the site facilities and a total evacuation of workers.
The activist group, which aims to "end Scottish complicity with Israeli apartheid," also says Thales' weapons are being used on civilians in Palestine, Iraq and Afghanistan.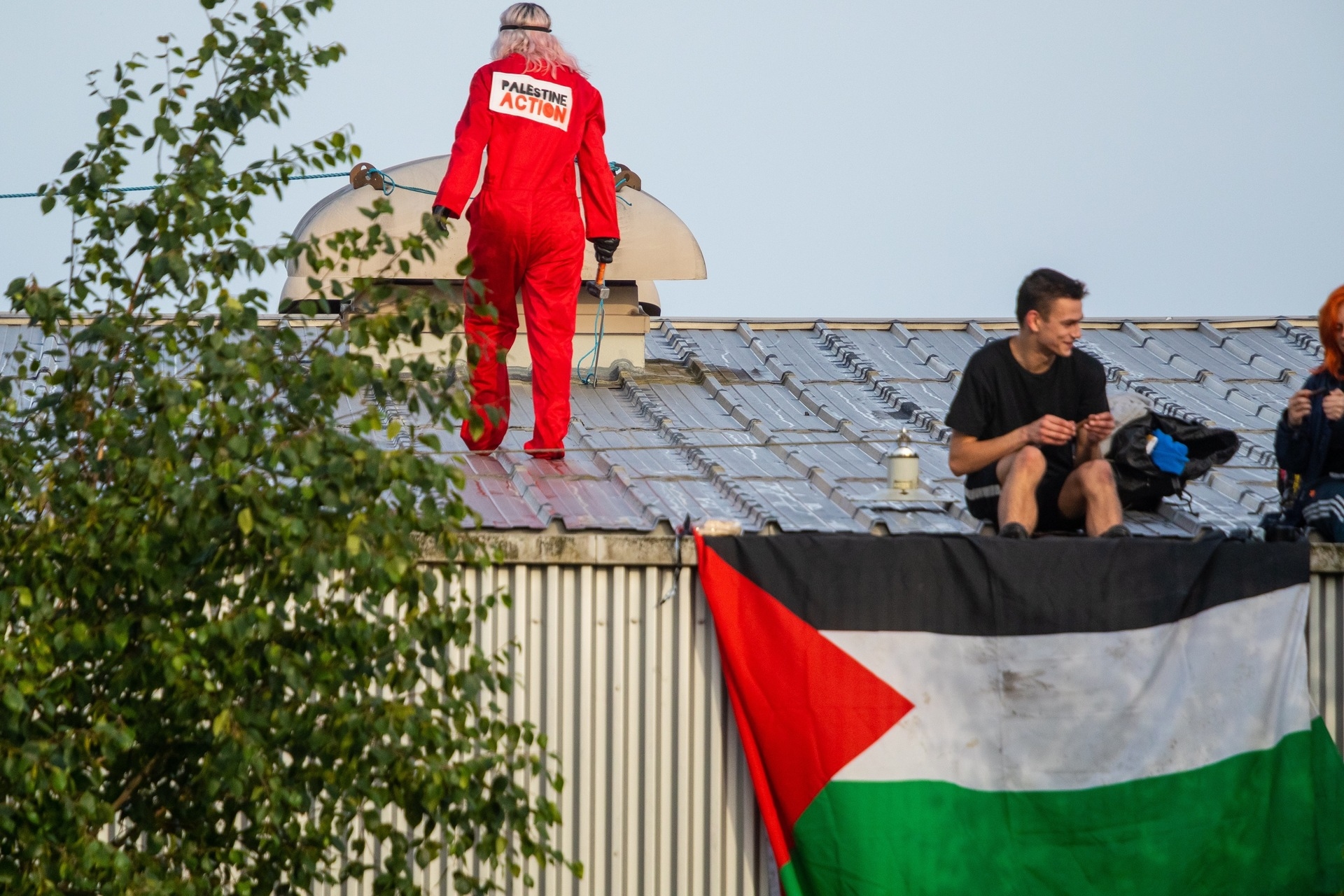 A spokesperson for Palestine Action Scotland said: "The Watchkeeper Drone project seeks to further the policing and surveillance of captive populations belonging to the nations of Iraq, Palestine and Afghanistan. Watchkeeper UAVs have also been trialled over British waters by the UK Border Force, monitoring the flow of refugees seeking to enter Britain.
"The development of the Watchkeeper drone was done in cooperation by Thales and Israel's Elbit Systems; development drew heavily on knowledge gathered from the constant use of Elbit's Hermes 450 drones over Gaza's skies.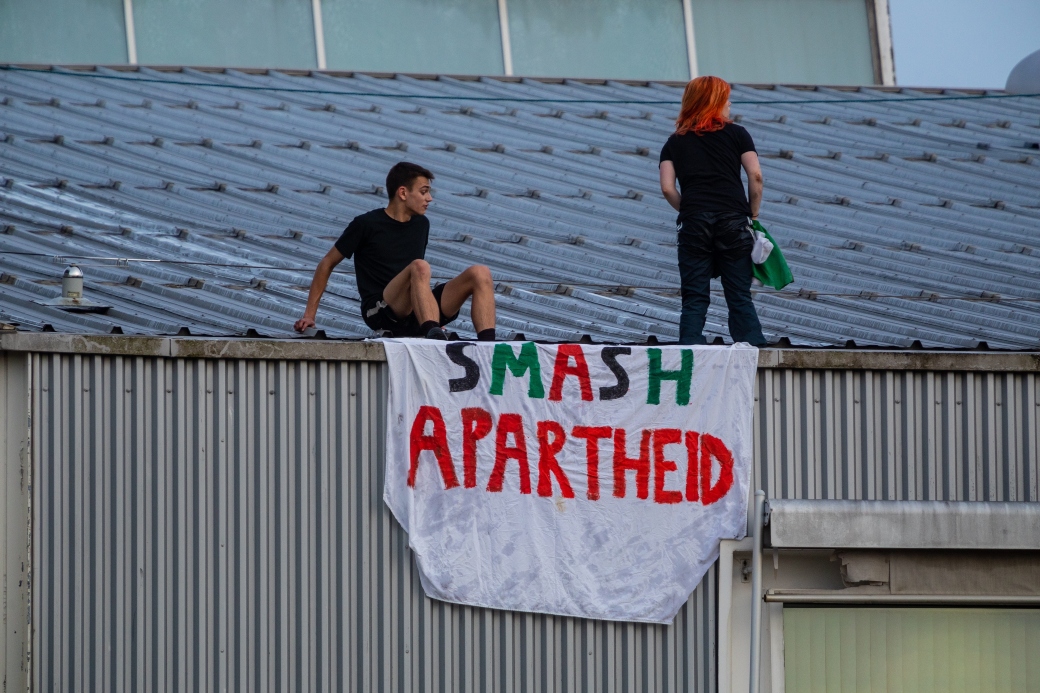 "Those in Gaza will often speak of how the drone's constant presence, including its persistent buzzing noise, induces anxiety and fear, and adds to the constant state of trauma Gaza lives in. Stories like these have prompted activists to ensure Israel's military supply chain in Britain is struck at through direct action.
"In Gaza, a team of Palestinian artists painted a mural dedicated to Palestine Action, thanking the network of activists for their sacrifices and victories against the British-Israeli arms trade."
A Police Scotland spokesperson said: "Around 5.20am on Monday, July 11, 2022 police were called to a report of a demonstration within the grounds of a business premises on Linthouse Road, Govan, Glasgow. Officers remain at the scene.
"Police Scotland is a rights-based organisation that puts our values of integrity, fairness, respect and a commitment to upholding human rights at the heart of everything we do.
"We have a duty under the European Convention on Human Rights to protect the rights of people who wish to peacefully protest or counter protest balanced against the rights of the wider community."
One man aged 20 and two women aged 19 and 27 were arrested and charged in connection with the protest, and are due to appear at Glasgow Sheriff Court on Tuesday, July 12, 2022.
A Thales UK spokesperson said: "We can confirm we have been working with the police to resolve this latest incident at our Glasgow site. The safety of our employees remains our primary concern at this time while we co-operate with the authorities.
"The UK defence and security industry works within robust ethical standards that are among the highest found anywhere in the world, and treats its responsibilities under the law with the utmost seriousness.
"The defence sector is proud to support our Armed Forces with the equipment they need to protect our national security. Defence companies in Scotland and across the UK also provide thousands of rewarding, highly-skilled, and long-term jobs."