A memorial honouring the lives of husband, fathers and sons who lost their lives to prostate cancer has been unveiled in Scotland.
The names of 550 men have been engraved by family and friends onto the walls of the monument at Glasgow's St Enoch Centre – including the name of Jean Holloway's, husband, Walter.
For 85-year-old Jean, it's been an emotional time. The unveiling of the memorial has coincided with the 15th anniversary of Walter's passing, with whom she spent 54 years of her life.
She told STV News: "We started going out together when I was 17. And then we got married when I was 21.
"We were just short of our 50th wedding anniversary when he died. He was very quick-witted and had a very dry sense of humour…he was just great."
The couple had been enjoying retired life together; playing golf, hosting parties with family and friends and jetting abroad to Portugal and Florida.
With little history of illness throughout his life, the 74-year-old never had a reason to go visit the doctor, believing himself to be in perfect health.
But a close friend told Walter that he should be taking part in annual health check-ups to stay safe as he got older.
It was after one check-up that the couple's lives changed unexpectedly. Jean remembers the period well.
She said: "One of the times the doctor phoned him and said 'your PSA (prostate test) is wee bit raised, so I think we'll do it again.'
"He went to the hospital and saw a consultant. He examined him and said 'your prostate is a little enlarged, but at your age that's not anything really to be worried about. We could do a biopsy but if you don't want one, don't bother'."
After deciding to have a biopsy, Walter received the shocking news that he had advanced aggressive prostate cancer – with absolutely no symptoms.
Described as a "silent killer", the disease commonly appears without warning.
Jean said: "My husband had no symptoms, and for the first two years he said, 'if anybody said to me, I didn't have cancer I would believe them because I don't feel ill.'
"He still played golf three times a week for two years, and then maybe around January 2007 he started to go downhill. He died in the October."
Fifteen years on, Walter's legacy still lives on in Jean's home.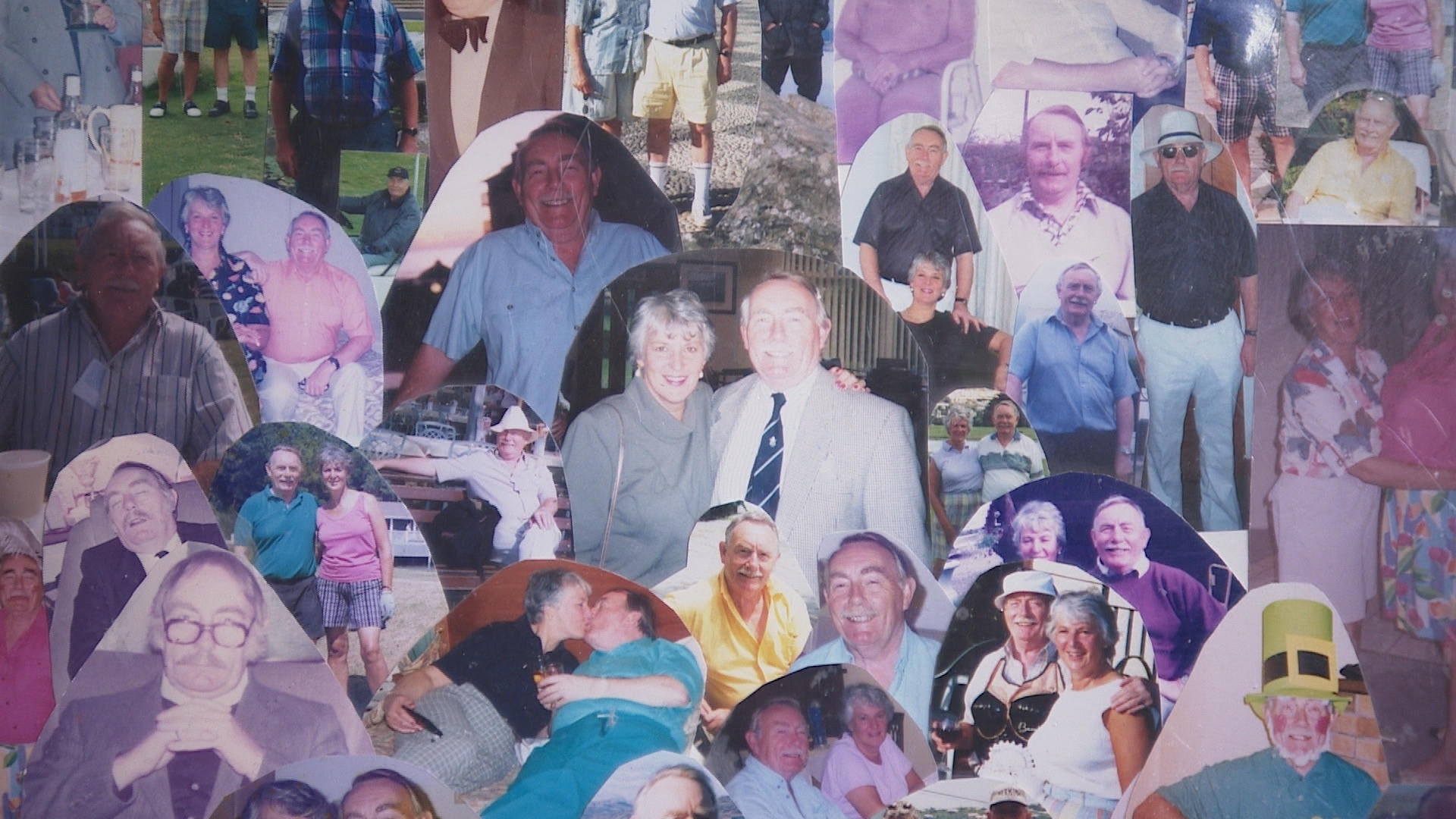 She wears jewellery made of the cufflinks she gifted him on their wedding day. Almost every wall displays framed photographs of his glowing smile and the happy occasions he shared with Jean and their three daughters.
One of Jean's most prized possessions is the framed collage which her daughter made her shortly after Walter's death, which takes pride of place on her kitchen wall.
She added: "I had a wee bit of counselling after Walter died, and when I went, I took it with me and I said, 'before I start, I want you to look at this… because I want you to know who I'm talking about'.
"I believe he's with me. He's not here in person, but I talk to him every day. I said to him last night, 'now, I'm doing this interview tomorrow and you've got to be there.
"He's always with me, although he's not here. I wish he was, but he's not."
Every year on the anniversary of her husband's death, Jean visits the Swilcan bridge at the old golf course in St. Andrews where the couple spent many golf getaways.
It's become tradition for her to celebrate the life of the husband she lost too soon by tippling his favourite whiskey into the burn that runs underneath.
This year, that role was taken by her grandson while Jean prepared to attend the Prostate Cancer UK memorial with her fellow volunteers at the Scottish Hub.
Jean has been volunteering with the charity for 12 years, taking part in talks to share Walter's story and organising fundraising activities like golf days, a fashion show and bag-packing at her local Tesco.
Earlier this year Jean received the news that she won a British Empire Medal after raising almost £35,000. She aims to raise another £5,000, with more plans for a sportsmans' dinner to come next month.
She said: "I got myself very involved with prostate cancer and that's been a tremendous help for me. The most important thing is that men get checked and are aware. Your doctor must check you if you ask for it, once you're 50.
"I just want other men to be able to get checked and get cured. If Walter had known then he would have been checked. But he didn't.
"He was still too young to die. He was 74. And I know that at one time that was old, but it's not old now."
Prostate cancer is the most common cancer in men, with the latest NHS data showing that 3,000 men are diagnosed with the disease, and 1,000 lives are being claimed across Scotland each year.
Prostate Cancer UK representative Chania De Biase is hoping that the memorial will encourage more men to take the time to get checked.
She said: "Early prostate cancer doesn't have symptoms, and early diagnosis saves lives. That's the really important message. It's all about men understanding the risks and doing something about it.
"Much like all cancers, prostate cancer risk increases with age. It's men over 50, but more importantly black men over 45, and men with a family history of prostate cancer over 45. They're the men that we desperately want to get checked."
The memorial will be at St Enoch's Centre until January 2023.