A woman who spent three months in intensive care after contracting coronavirus has said she is "grateful to be here" one year on after leaving hospital.
Caroline Ryan, 50, was struck down with Covid-19 at the start of the pandemic in March last year.
She was admitted to Glasgow Royal Infirmary and underwent an operation the next day before being put in an induced coma.
Speaking to STV News, Ms Ryan said: "It was probably about six or seven weeks later I woke up, but I didn't realise it was that length of time.
"I couldn't talk, I was paralysed, I couldn't move, I couldn't walk.
"When I woke up, I thought 'why did they bother?'
"That was just it, I thought 'why did they fight to bring me back?'"
During her battle with the killer virus, Ms Ryan's family were told at several stages she may not make it.
She said her husband had to tell their son that "we're losing her".
Ms Ryan said: "It's sad. No child should ever hear that."
She said she was "lucky" to survive.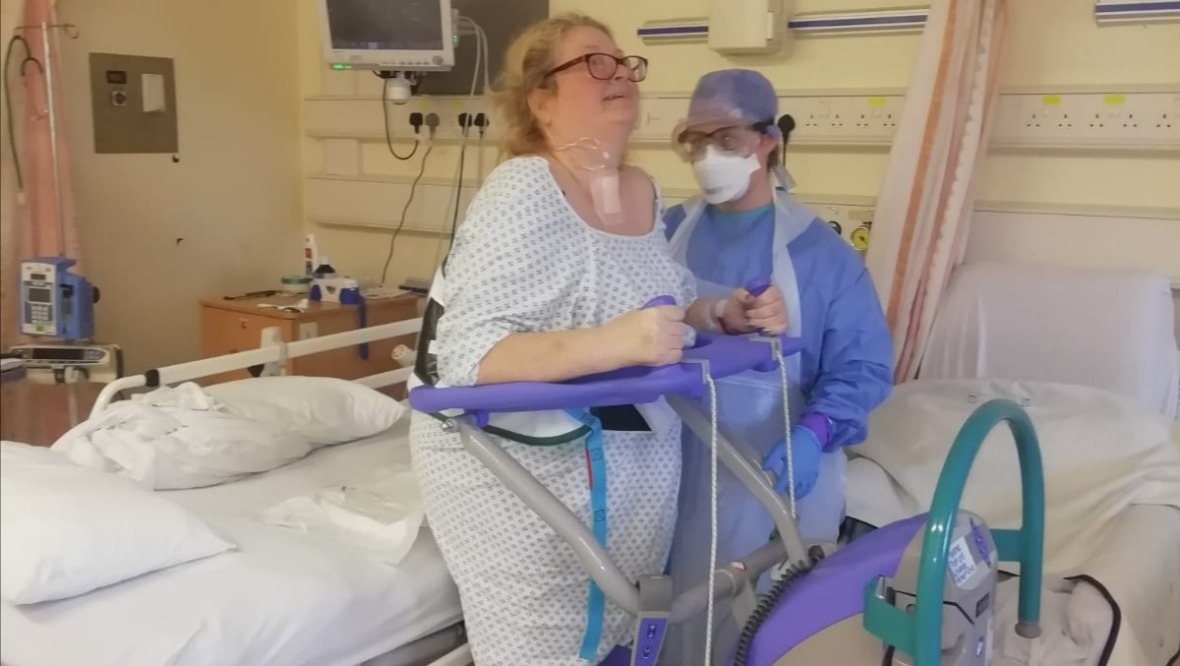 Ms Ryan, from Glasgow, had a long recovery before she was able to leave hospital, including learning to walk again.
She said: "It was weird that I couldn't sit up straight when I'd been able to do it all my life.
"And I was so naive that I thought 'I learned to walk when I was one, how hard must it be?!'
"And I've got a picture actually where I stood up for about three seconds and I was so delighted."
Despite leaving hospital one year ago, Ms Ryan's recovery continues.
She said: "My lungs are smaller than what they were before, so I need to get more oxygen in them so they'll start to expand a bit better.
"They say I have moderate heart failure now. You have to be realistic. You need to do what you can do when you can do it – and I'm doing it."
Having survived, Ms Ryan said she is "so grateful to be here" and appreciates every moment.
She added: "See the trees and have a drink. Sit down and just appreciate a coffee or a Jack Daniels, I don't mind, but it's just to talk to people, to be with people."