It was 20 years ago that a Glasgow community rose up in outrage to save their swimming pool.
Now, two decades on from the formation of the Save Our Pool campaign that led to the setting up of the Govanhill Baths Community Trust, the historic takeover of the building is to be celebrated.
It all started on January 15, 2001, when the Kingston Swimming Club received notice that Glasgow City Council intended to close the pool.
Two days later, residents determined to keep the baths open started a campaign that would go on to feature the longest-ever occupation of a public building in British history.
Paula Larkin, archivist for the trust, said: "I remember this amazing energy and diversity. You had young Asian boys, older Irish women, all along the same picket line.
"Professionals, academics, unemployed people, we had working mothers and fathers, and teachers.
"The demographic of the campaign was really broad and I think that is one of the reasons it was so successful."
A refurbishment of the baths has been delayed due to the pandemic, but after securing more than £2m to restore it to its former glory, it is hoped work will be completed in 2022.
This year, numerous events are planned to celebrate not only the Save Our Pool campaign but the history of occupations across the country.
Important anniversaries take place in 2021 for the occupation of the Upper Clyde Shipyard in 1971, the Lee Jeans factory in Greenock in 1981 and the Lovable bra factory in Cumbernauld, also in 1981.
Despite the pandemic, the Govanhill Trust hopes to organise a programme that uses their campaign as a way of exploring the importance of community protest movements.
Ms Larkin said: "It was such an important occupation, thought to be the longest of a public building in British history.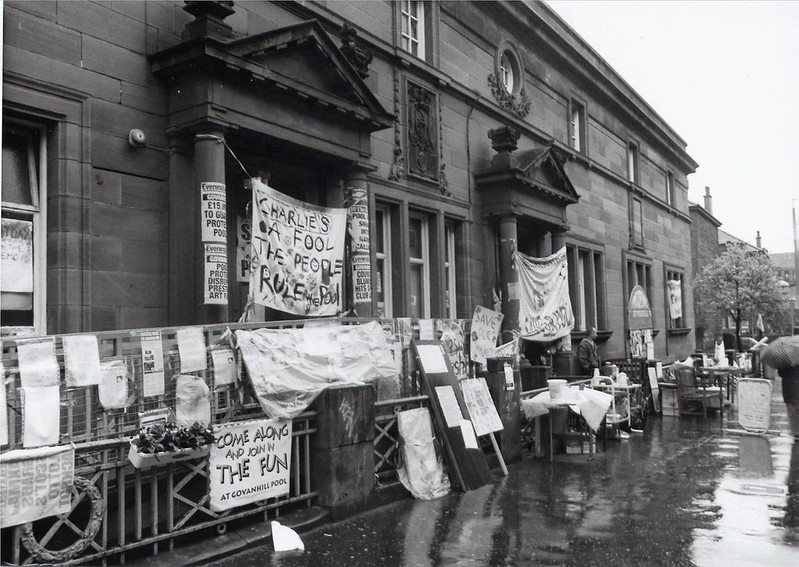 "Through that occupation, eventually the Govanhill Baths Community Trust was set up and we've managed to save that building and it is going to be reopened in 2022 as a wellbeing centre.
"Without the occupation, it wouldn't have happened. All the amazing work we've been doing since 2012 wouldn't have happened. It's absolutely key in the history of the trust."
A Facebook page, Save Our Pool History Group, has been set up to bring those involved in the picket line, demonstrations and campaigning back together to contribute to the remembrance events.
Ms Larkin said the involvement of those who wrote and sang protest songs, made banners and fought to save the pool is "key" to the celebrations.