Olena Klieshch and her young family live on the MS Ambition. The cruise ship in Glasgow has offered them a roof, a room and refuge. But that's all about to change.
Olena was nine months pregnant with her third child when Russia launched its full-scale invasion on her home country, Ukraine.
"There were explosions sometimes in the middle of the night," Olena tells STV's Scotland Tonight.
"Sometimes you could walk on the street and hear all these shootings and you don't know where it comes from and what will happen next. I couldn't get used to this, so I decided to leave."
Olena and her family fled to Bulgaria, where she gave birth to her baby, Volodymyr. They returned to Ukraine for a short stint before moving to Scotland to escape the warfare.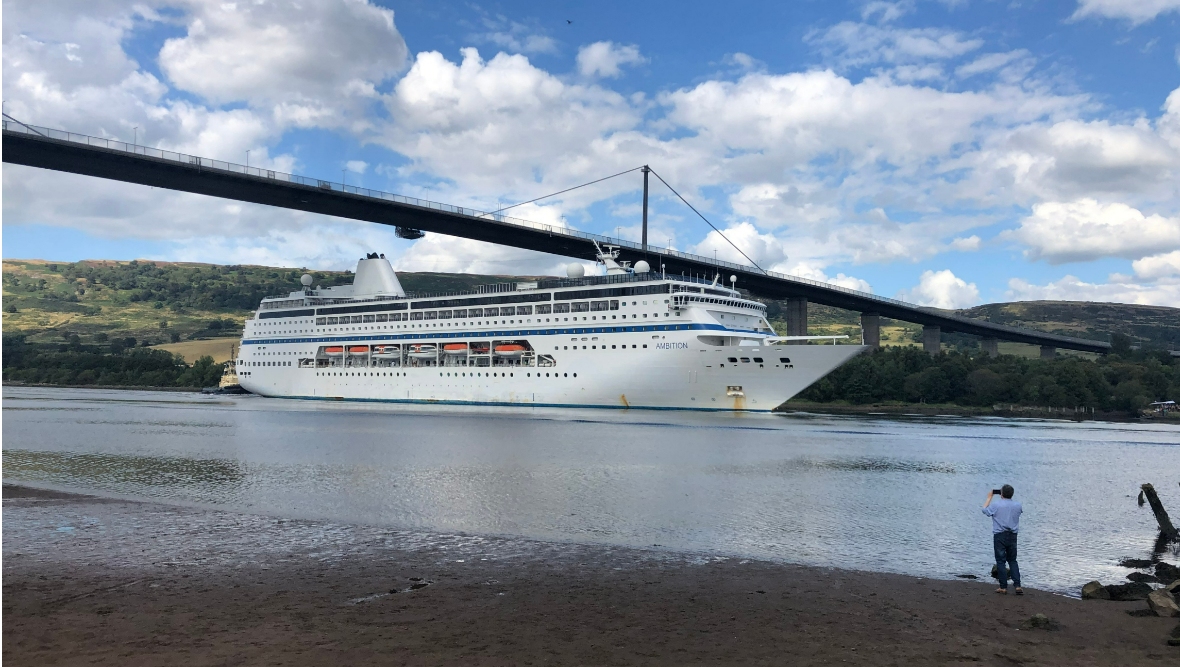 "When we arrived, the captain told us that there's a little bit over 1,000 people (onboard)," she says. "There are advantages of living with Ukrainians, of course, because it's Ukrainian society. You can meet people, you can share stories, they can support you, you can support them."
But Olena admits that living in close quarters with so many people comes with its challenges. Her children, aged ten months old, five and 12, are constantly falling ill.
"They're getting better at the moment, but they've been sick for almost three months," she says. "There are many children in one space, in one room, you cannot really prevent this."
Olena is grateful to the Scottish Government for providing her family with accommodation, but says some rules onboard took time to get used to.
"If you leave the ship for more than six days, you lose the opportunity to come back to the ship," she claims. "Even if you have relatives, that doesn't matter."
The vessel, which is docked at Braehead, was chartered by the government last year to provide temporary accommodation for Ukrainians who fled the war. The agreement, however, expires at the end of March.
Olena is terrified about what is going to happen next. More than 1,100 people live on the MS Ambition, of which 400 are children, and all are looking for somewhere to live. Olena is also the only person in her family who can speak English, so finding accommodation comes down to her.
"I don't know what will happen to my family," she says. "I haven't heard about any offers from the resettlement team yet. I've tried going to many social housing organisations. I've applied and filled in these long forms – like 60 questions for each organisation.
"It's hard to manage all these processes, to have children, to take care of yourself, to learn new information in a new city that is totally different from our country.
"Private rental sounds like something impossible in our case because we don't have credit history and we are new people in this country."
Friday marks the first anniversary of Russia's full-scale invasion of Ukraine. Olena hopes to return home one day, but knows it isn't safe yet.
"We are just afraid that the Russians may start to take our cities again," she says. "Even more powerful with more powerful weapons. We're worried about our relatives because most of them don't want to leave the country.
"This Russian invasion destroyed our life and plans."
Olena says she can't get used to the fact that she is a "nobody" here.
"I'm worried a lot about my future," she says. "I have to start everything from the very beginning. I have three children, which makes my start much more difficult."
Another 1,100 Ukrainian refugees live onboard the MS Victoria in Edinburgh, which is due to close in June.
The Scottish Government said everyone on the Ambition and Victoria will be supported.
A spokesperson said: "Everyone on board will be made an offer of onward accommodation and will have access to the support they need to build a home in Scotland for as long as they need it.
'Ensuring the health and wellbeing of displaced people from Ukraine remains a priority.
"There are clear infection control processes in place on MS Ambition and MS Victoria and more widely in welcome accommodation.
"The Scottish Government continues to work closely with local NHS boards, Public Health Scotland, and accommodation partners to ensure proper outbreak management procedures are followed."
Catch up with Scotland Tonight on the STV Player.
STV News is now on WhatsApp
Get all the latest news from around the country
Follow STV News
Follow STV News on WhatsApp
Scan the QR code on your mobile device for all the latest news from around the country