The UK Government has been urged to immediately open up safe corridors for people fleeing Sudan as it did for those leaving Ukraine after the Russian invasion.
At a protest in Glasgow on Saturday afternoon those with family in the war-torn country warned of the dire situation facing the nation.
More than 400 people have already died during the two-week conflict, according to the Sudan Doctors' Syndicate.
Intense violence has continued since April 15 as the country's two generals battle for power in the African nation.
The 13th and final British flight landed in the UK on Saturday, with around 1,573 people making it to safety.
But there are still thousands more British citizens in Sudan.
Rania Amin, a member of Scotland's Sudanese community, has family in the country. Her brother has managed to make it out of the capital Khartoum but remains inside Sudan.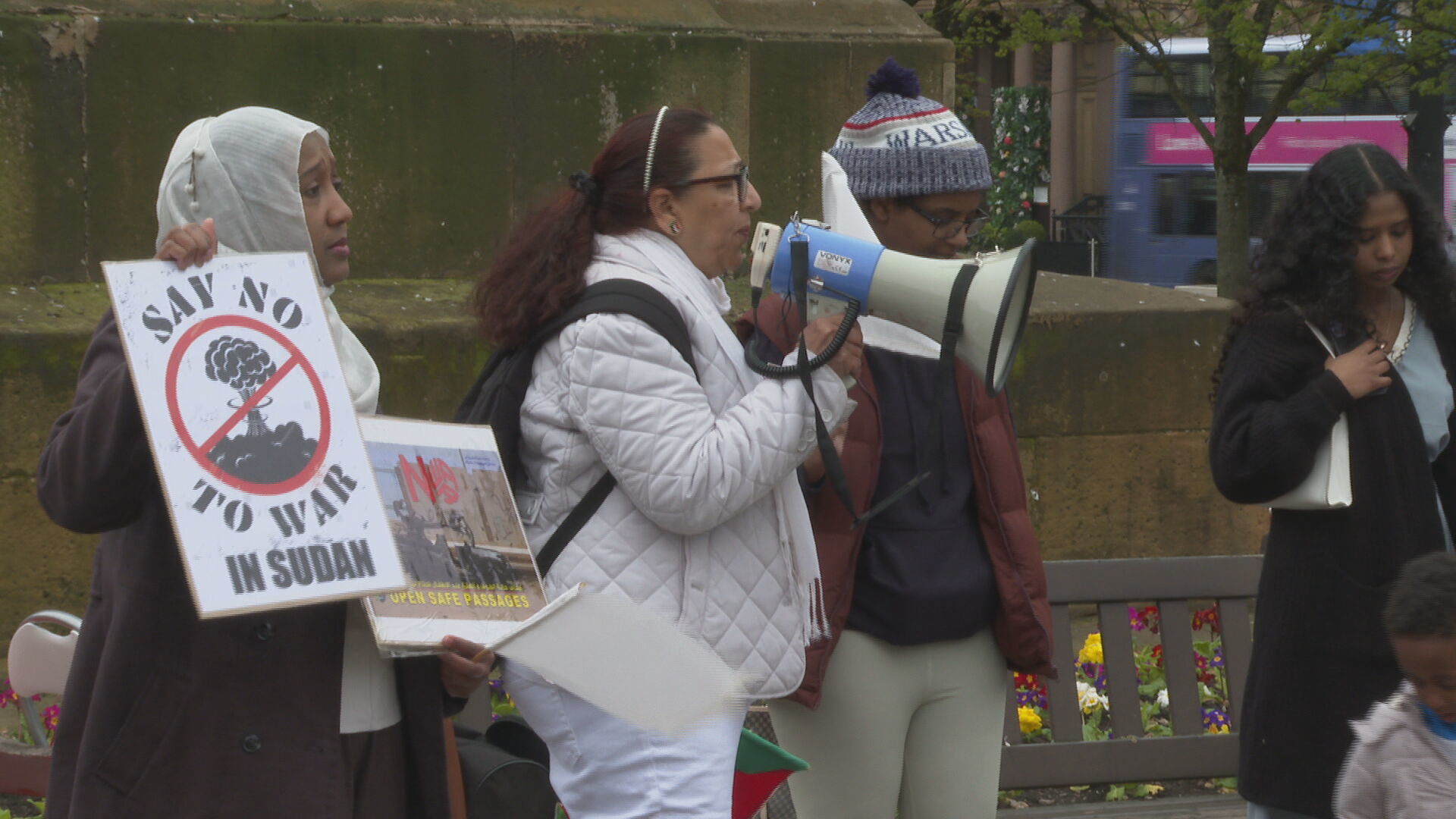 Ms Amin, who lives in Glasgow, wants the international community to do more to help the Sudanese people.
She pointed to the response from countries like the UK to the war in Ukraine, where tens of thousands were given refuge after Russia launched an invasion in February 2022.
Ms Amin said Sudan should receive "equal" treatment.
"The response to the war in Ukraine was immediate," she told STV News.
"Safe corridors were opened, and a lot of Visa and immigration schemes were set up on the second day.
"It is a war in Sudan. It is no different from any war and the response should be equal."
Ms Amin also wants to see more done to help those still living in the country, with water, food and medical supplies all running low.
She continued: "It is urgent that the international community start mobilising now.
"The UK Government and international organisations need to press on the fighting parties to stop the war so that there are safe corridors for humanitarian aid, medicines, and essential supplies.
"People are suffering because they're unable to obtain those essentials. The fighting is happening in residential areas.
"A lot of the hospitals have been bombed. A lot of the pharmacies have been looted because there is no security, which means that the food supply and medication in the country is going to be an issue."
The Glasgow resident said many people in the country unable to access essentials are struggling to escape to safer parts of the country, and beyond.
Ms Amin said that despite her family managing to flee the capital she still felt "helpless".
"The internet connection has been intermittent," she said, "And the phone lines have been destroyed. So we are unable to always call and check on them.
"Things happen by the hour so it's very unpredictable where the bombing is happening so trying to check on people to see if they are okay, check on sick people who are elderly, that has been an issue.
"I think a lot of Sudanese people outside Sudan just now are having secondary trauma."
Rania Obead, a Sudanese refugee in the UK, said more humanitarian aid must be sent to Sudan.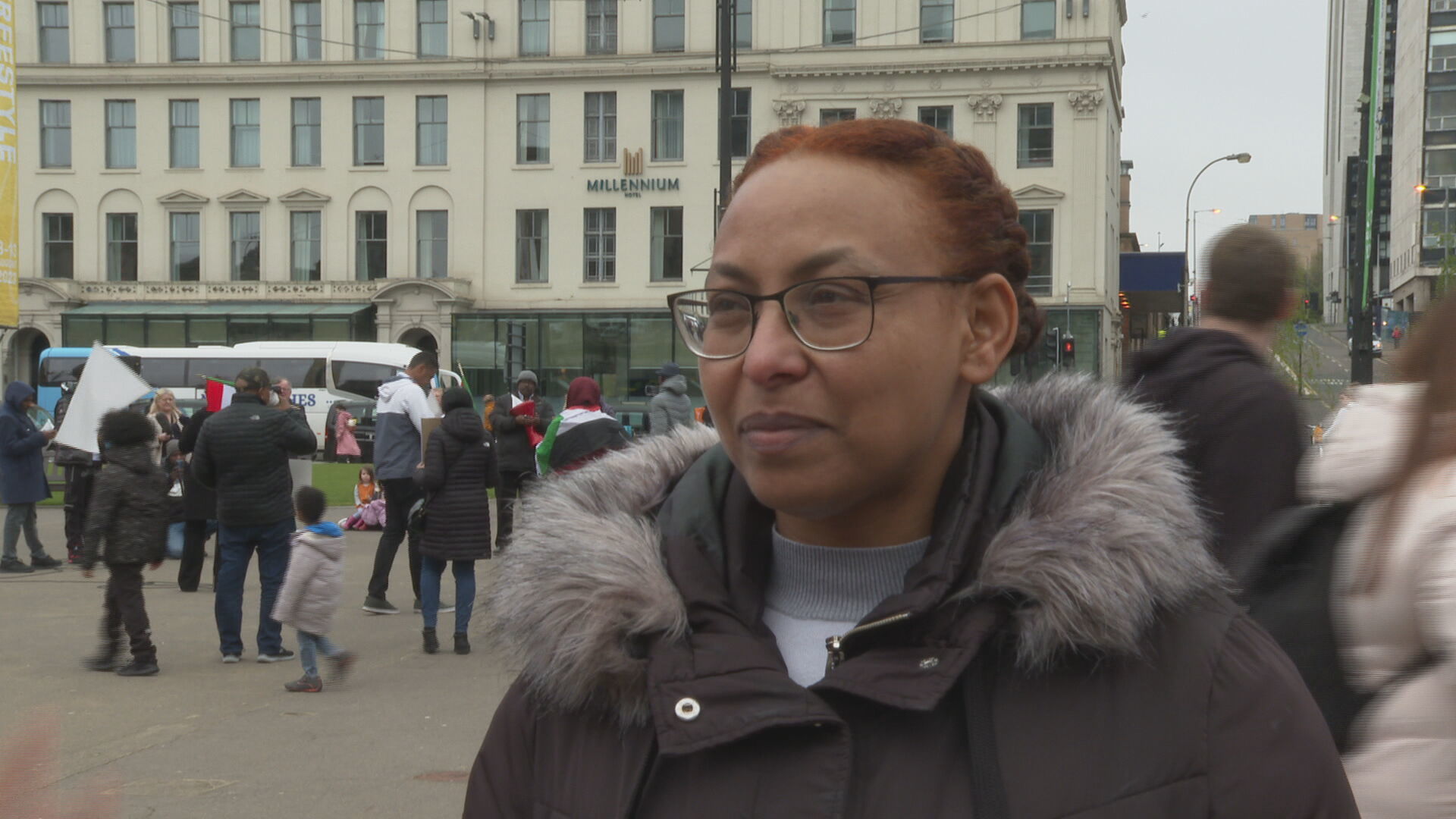 She said: "The biggest problem in Sudan now is not just people losing their life, it's reaching any medical services because most hospitals in Khartoum are not working.
"In some areas, people couldn't even leave their homes. The biggest problem in the last few days is food."
She said the shortage of medical aid is creating a "terrifying" situation for those still stuck in the country.
She said: "We are asking for more help for the people inside Khartoum and the people forced to flee their homes and leave everything behind them.
"We argue that the UK Government should open safe corridors for the people even if they have their families because this is a warzone."
She added: "The UK, and any country, they have a duty to save those people because those people have nowhere to go so why not open a safe pass for them to come to the UK and other countries to start their life again?
"The Government has done this for other people so why not Sudan?"
A UK Government spokesperson said: "We have no plans to open a bespoke resettlement route for Sudan. We are monitoring the situation carefully.
"Since 2015, we have offered a safe and legal route to the UK to almost half a million men, women and children seeking safety, as well as family members of refugees.
"However, preventing a humanitarian emergency must remain as our focus right now. We continue to work alongside our international partners to maintain the ceasefire and bring an end to fighting."