Road closures to allow Scotland to host the world cycling championships have been described as the logistical equivalent of running the Tour de France for two weeks.
The UCI Cycling World Championships is the "biggest cycling event in history" and will take place over 13 local authority areas from Glasgow to the Highlands between August 3 and 13.
Riders across a range of disciplines will compete in road events, including gruelling time trials, downhill mountain biking and BMX freestyle among a host of others.
The Scottish Government, which has announced a swathe of road closures, is now advising those who travel regularly to plan ahead before embarking on journeys in a bid to ease disruption.
August 6 is likely to be the busiest day on the network, with closures in and around Edinburgh towards Stirling, most notably on the M9 at Junctions 1A (Newbridge) and 7 (Kinnaird House Interchange) to allow the Men's elite race to pass over the Queensferry Crossing.
There will also be movements from Fort William to Peebles (A82, M8, A720) and closures in and around Glasgow city centre.
Transport minister, Fiona Hyslop, said: "With only a few weeks to go, a sense of anticipation is clearly building for what is expected to be the biggest cycling event ever to take place here in Scotland.
"However as well as all of the excitement, it is important our preparations are fit for purpose and that we showcase Scotland in a spectacular and professional light.
"We have worked closely with organisers, Police Scotland, local authorities and many others to test travel arrangements, however given the complex nature and scale of this operation road users should expect delays at certain points and on the busier days."
All closures and traffic management will be controlled from a nerve centre at Traffic Scotland's headquarters in South Queensferry.
There, experts will be able to pinpoint disruption on major routes across the country and direct traffic away from the busiest routes.
In Glasgow, parts of the city will be shut down to facilitate the road race circuit and mixed team time trial relay.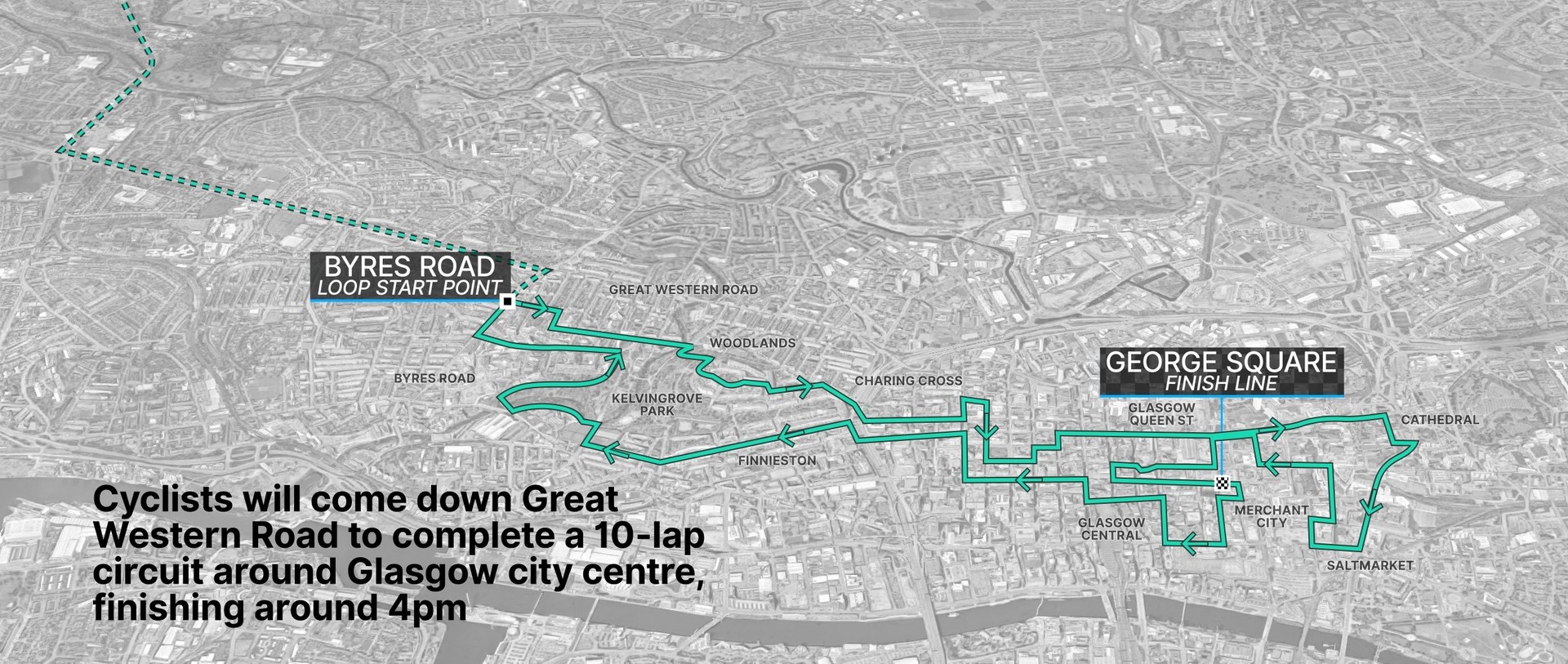 Businesses affected have been warned to check the city centre access and egress plan published by the local authority.
Some of the closed roads will be opened up from 8pm to 6am on August 5, 6, 7, 8 and 12, to allow entry.
Residents and visitors are being encouraged to use public transport including rail and subway networks and active travel routes on these days.
Hugh Gillies, director at Transport Scotland, said: "Scotland has a proud track record of hosting these large scale events, dating back to Glasgow 2014, and more recently COP26 and Operation Unicorn.
"We will need all of that experience and skill to successfully deliver this series of events – and it will genuinely need to be a team effort.
"Traffic modelling shows that we are set for a number of days where queues and congestion are likely, and that's before we factor in any incidents on the network.
"We really need the public and spectators to play their part and check before they travel, to maximise their enjoyment and ensure Scotland is on the global map for all the right reasons."
A full list of road closures and dates is available at www.traffic.gov.scot/uci .