Two "dumpster-diving" friends who began making wine using surplus fruit in their own flat during lockdown have received an innovation award.
Lasse Melgaard, 26, and Elliott Martens, 28, "ate like kings" while studying at Aberdeen University by scavenging supermarket bins five days a week – finding everything from caviar, steaks and smoked salmon to organic fruit and vegetables.
The dynamic duo learned how to make wine using leftover bananas, blueberries and blackcurrants they found during their raids which would have otherwise gone to waste.
In 2021, they launched Two Raccoons, selling bottles of wine made from surplus ingredients given to them by charities, supermarkets and businesses.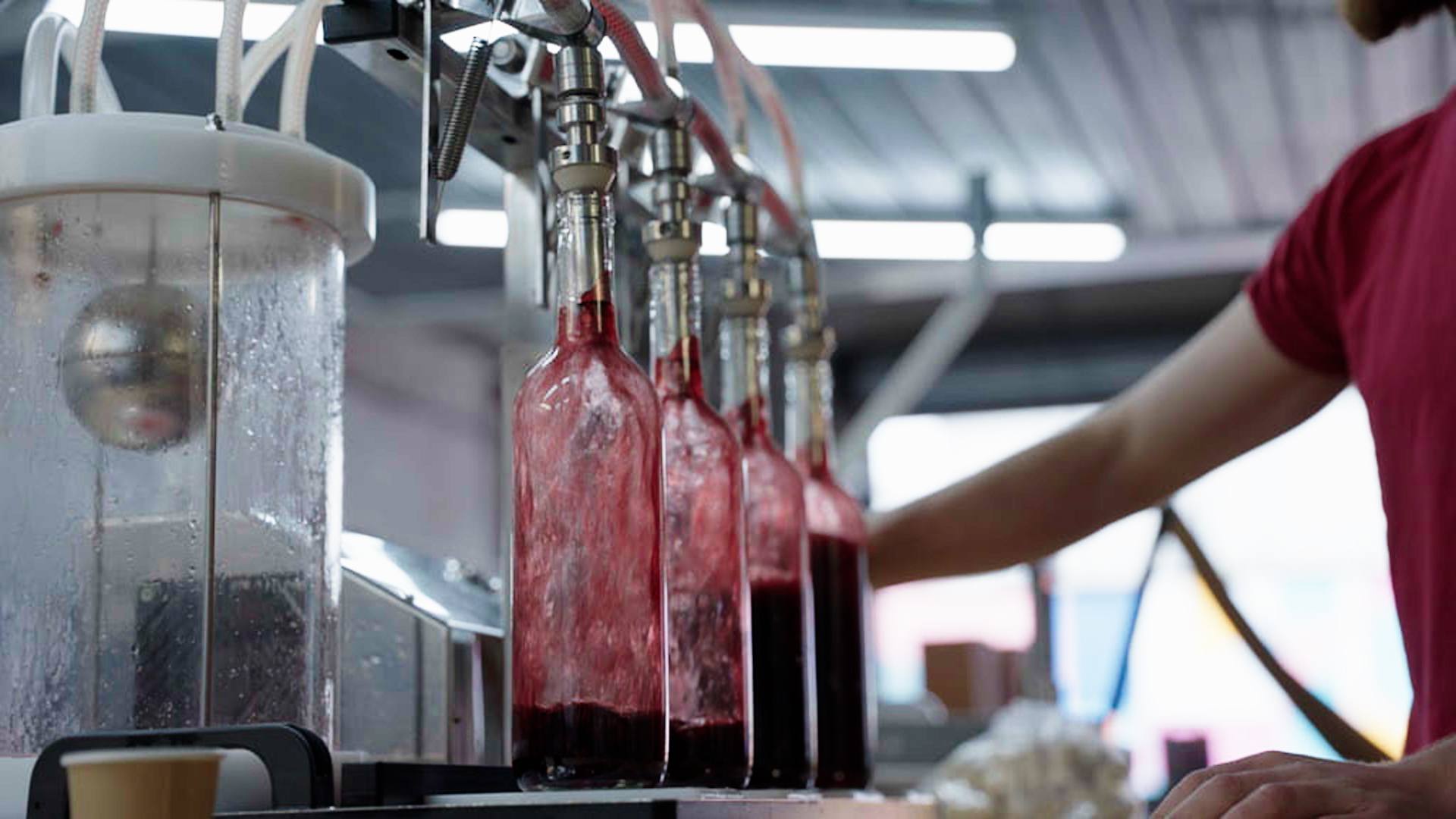 The company has been awarded £50,000 in funding from Innovate UK's Young Innovators Next Steps Awards.
Lasse, who studied microbiology at university, learned how to repurpose fruit using the fermentation process to grow mushrooms.
He told STV News: "I was eating better back then than when I was buying my own stuff. We lived like kings.
"We were going into bins and finding excessive amounts of fruit and vegetables. Once we found 50 kilograms of blueberries.
"We made as many smoothies as possible but we couldn't get through them, so that's when the wine making came into it.
"Basically our flat turned into a winery and it was bubbling away in our living room like crazy. We would give the wine to friends and they loved it."
The pair were offered a space at the Bike Yard in Aberdeen to build a winery in 2021.
They had three weeks before their first big delivery from food producer Baxters to source second-hand equipment and learn how to make wine on a larger scale.
"The day before 2.5 tonnes of fruit arrived, all our tanks came in," Lasse recalled.
"We worked 20 hours that day and called our friends in to help. Everyone was covered in fruit at the end of it."
Lasse and Elliott moved to Glasgow two months ago to better access unwanted produce and have since opened a winery in Whiteinch.
Since then, they have made wine from fruits including bananas, mangoes, berries, pears and even dates.
The wine can take anywhere from two months to two years to ferment and extract the full flavour, with berry wines taking the longest.
Lasse estimates that they have rescued around six tonnes of fruit from going to waste.
"We only deal with surplus so you don't know what you're going to get. Beggars can't be choosers, basically," he said.
"If we get 500kg of bananas we have to take it, and we peel like monkeys for hours.
"Overripe fruit actually has more sugar which makes wine with higher alcohol percentages. It makes it taste better."
Lasse explained that he tries to live as sustainably as possible to help tackle climate change.
He adopted the "freegan" lifestyle as a teenager; he focuses on limiting consumption by adopting a largely plant-based diet, though he will eat meat and fish which has been scavenged.
He was inspired by his friend in Denmark, who would sift through the bins behind bakeries for croissants and bread, using stale loafs as fuel for his woodstove.
Lasse even helped sow the seeds of a local scavenging movement as a student in Aberdeen.
"I brought ten Colin the Caterpillar cakes to a party and everyone kept asking me questions about how I did it and it grew from there," he said.
"At one point we had a group of about 50 people taking part in coordinated raids – we would car share and blitz through bins together.
"We would then cook in the flat and redistribute it to people."
He explained food can be thrown out by supermarkets for being out of date, but items could simply be discarded simply for having damaged packaging or due to overstock.
Foodbanks are unable to take in items which are past their best-before date.
While dumpster-diving is not prohibited in Scotland, people can be arrested for trespassing if on a private site.
In practice, some supermarkets lock up their bins and have in some instances taken "skippers" to court.
Lasse hopes to break the stigma around repurposing food destined for the bin and encourage a circular economy.
He added: "I've been chased by guards a few times and it took my mum a while to be cool with it when I told her. But this food would be wasted otherwise.
"As long as you clean up after yourself, don't take more than you need and be respectful I don't see how it is wrong. We're in a cost of living crisis."
He said people and businesses should work together to reach the Scottish Government's a target of reducing waste by 33% by 2025.
"Companies will need to find a way to actively reduce food waste over the next two years," Lasse said. "It's not bad having it but if you don't do something to repurpose or redistribute it, that's when it becomes an issue.
"We've managed to save good produce from waste and make delicious wines from it. We hope we can break the stigma and help change people's mindsets."
The duo plan to open a bar in their winery in Glasgow in the coming months.
If you're an aspiring innovator, check out how Innovate UK could support you through their new Diverse Innovators Award.