Trucks packed with aid have set off from an Ayrshire dairy farm bound for the Poland-Ukraine border.
Mossgiel Organic Dairy Farm near Mauchline has received hundreds of bags and boxes filled with essentials such as tinned food, clothing, sleeping bags and nappies.
Donations have arrived from all over the country, with some contributors making the journey from Dundee and Edinburgh.
They will be delivered via a transit van, which is setting off from Ayr on Monday night bound for the Polish border with Ukraine as part of an effort to provide support for Ukrainians who have fled their homeland.
There have been enough donations to fill two large transit vans, the first of which set off on its journey towards Poland on Sunday evening.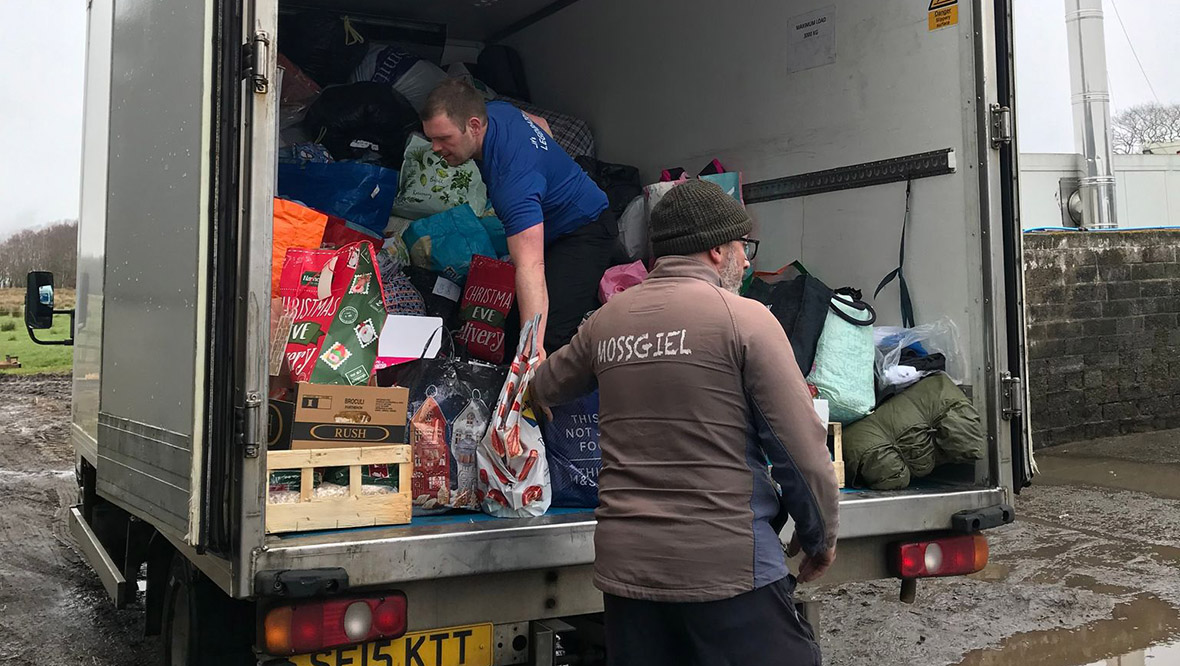 Olga Koza-zmysłowska helped set up the initiative along with her friend, supported by dairy farmer Bryce Cunningham and his team, who helped gain momentum online for donations as well as warehouse space.
A lawyer has also been involved in the process in order to iron out requirements during transit. Olga's friends, who are Polish natives, have been employed to make two journeys across the border.
Donations are being divided into categories and labelled. Sunday's cargo was mainly concentrated on providing items for vulnerable women and children, including essentials such as nappies.
Earlier on Monday, First Minister Nicola Sturgeon insisted that "words of support are not enough", as the Scottish Government announced it will provide financial aid and medical supplies to Ukraine.
An initial £4m will be provided to help with basic humanitarian assistance in the country following the invasion by Russia, including health, water, sanitation and shelter.
Officials are in discussions with humanitarian aid agencies to identify the best route to get the aid most quickly to those affected by the Ukraine crisis, including to those displaced by the invasion.
Medical supplies will also be provided based on a list provided by the Ukrainian Government via their Edinburgh consulate, of urgently needed medical equipment, supplies and pharmaceuticals.