Three more people have tested positive for coronavirus as part of a cluster in the Greater Glasgow and Clyde area.
The cases are linked to the M&D Green pharmacy in Port Glasgow and an Amazon warehouse in Gourock, both Inverclyde.
This takes the total cluster to 11, following the eight confirmed on Wednesday.
The three individuals – who were among known contacts of the earlier cases – are currently self-isolating.
In a statement on Thursday night, NHS Greater Glasgow and Clyde (NHSGGC) said some of the individuals visited a number of locations during the period in which they may have been infectious to others.
The Botany, Maryhill Road in Glasgow
Queen of the Loch hotel, Balloch
Lomond Woods Holiday Park, Balloch
Sweeney's Cruise Co., Loch Lomond
An Incident Management Team (IMT) is now contacting anyone who may be affected.
Dr Daniel Carter, consultant in public health medicine and chair of the IMT, said: "All those who have tested positive for Covid-19 are self-isolating and we are working with a number of businesses including a local pharmacy to trace any close contacts."
Dr Carter urged local residents to continue social distancing, to regularly wash their hands, and to keep an eye out for symptoms.
He added: "We would also ask that anyone who has been in any of these businesses to stay vigilant and alert to any symptoms suggestive of Covid-19.
"If symptoms arise, people should immediately self-isolate and seek a test. Otherwise, they do not need to do anything additional to these general measures unless they are contacted by the Test and Protect service."
Earlier on Thursday, Professor Jason Leitch, Scotland's national clinical director, stressed that people living in Inverclyde should not be scared to use pharmacies in the region.
Following a visit from Inverclyde Council's environmental health team, M&D Green pharmacy has made minor adjustments to its "already rigorous cleaning procedure". It has also undergone a deep-clean.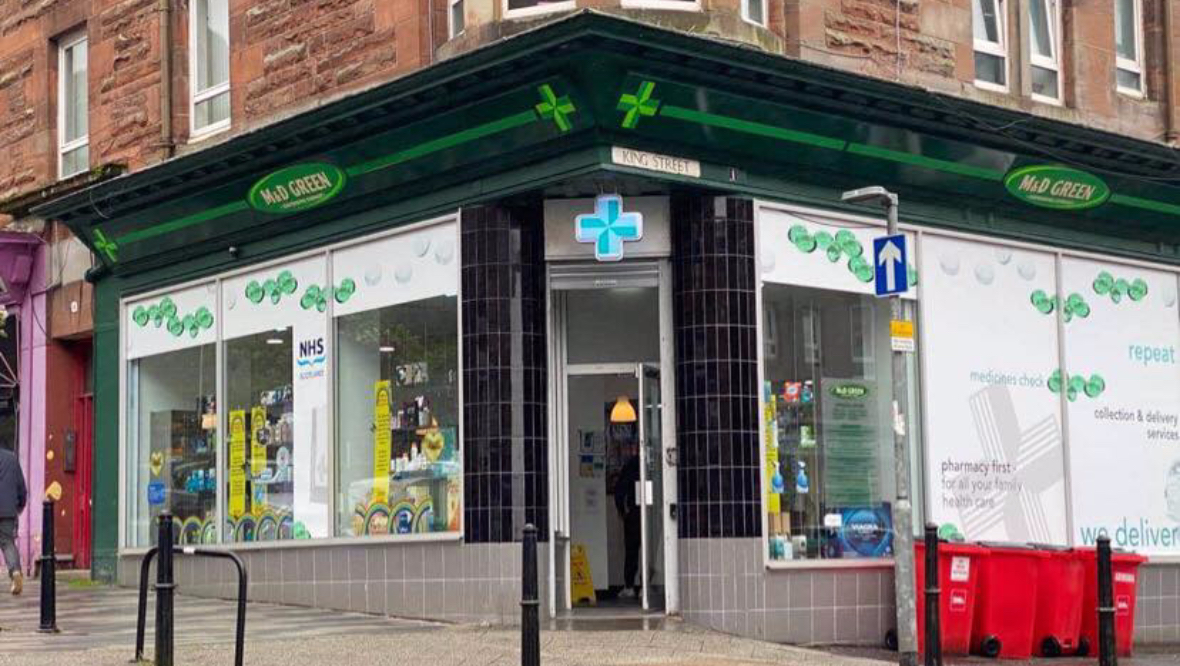 Speaking to STV News, the pharmacy's manager Campbell Thomson wished all those affected by the virus a "very speedy return to health".
He added: "We have had a massive commitment to all of our patients in Port Glasgow throughout the pandemic and we have worked on the frontline throughout the pandemic, delivering excellent pharmaceutical care to everyone in Inverclyde and the people who we serve, and I am very confident that will continue and will be built upon with the replacement team that we have drafted in whilst our staff return to health."
Dr Linda de Caestecker, the director of public health for NHSGGC, said the cluster is being "thoroughly investigated" and managed by the IMT.
Dr de Caestecker said: "All settings that these cases attended during their infectious period have been identified, assessed and are being supported with control measures, and everyone who may have been exposed to these cases is being followed up and given appropriate advice.
"We want to reassure community pharmacies and general practices in the area that no additional precautions are required beyond those already in place to protect patients and staff.
"The pharmacy, which has been named today as M&D Green, continues to provide a valuable service to the community and is following all the correct infection control protocols to ensure customers are safe."