Tens of thousands of music fans are set to descend on Glasgow Green for the TRNSMT festival.
Headline acts at this year's event include Pulp, Sam Fender, The 1975, Niall Horan, George Ezra, Becky Hill and Kasabian.
Pulp's performance will be part of the group's hugely anticipated comeback as 2023 sees the band, apart from bassist Steve Mackey, reuniting and playing live for the first time in about 10 years.
Ezra will take to the stage on Friday, the same day as One Direction's Horan, who will be making his TRNSMT debut.
Meanwhile, Fender will play on the Saturday in what will be his fourth year performing at TRNSMT.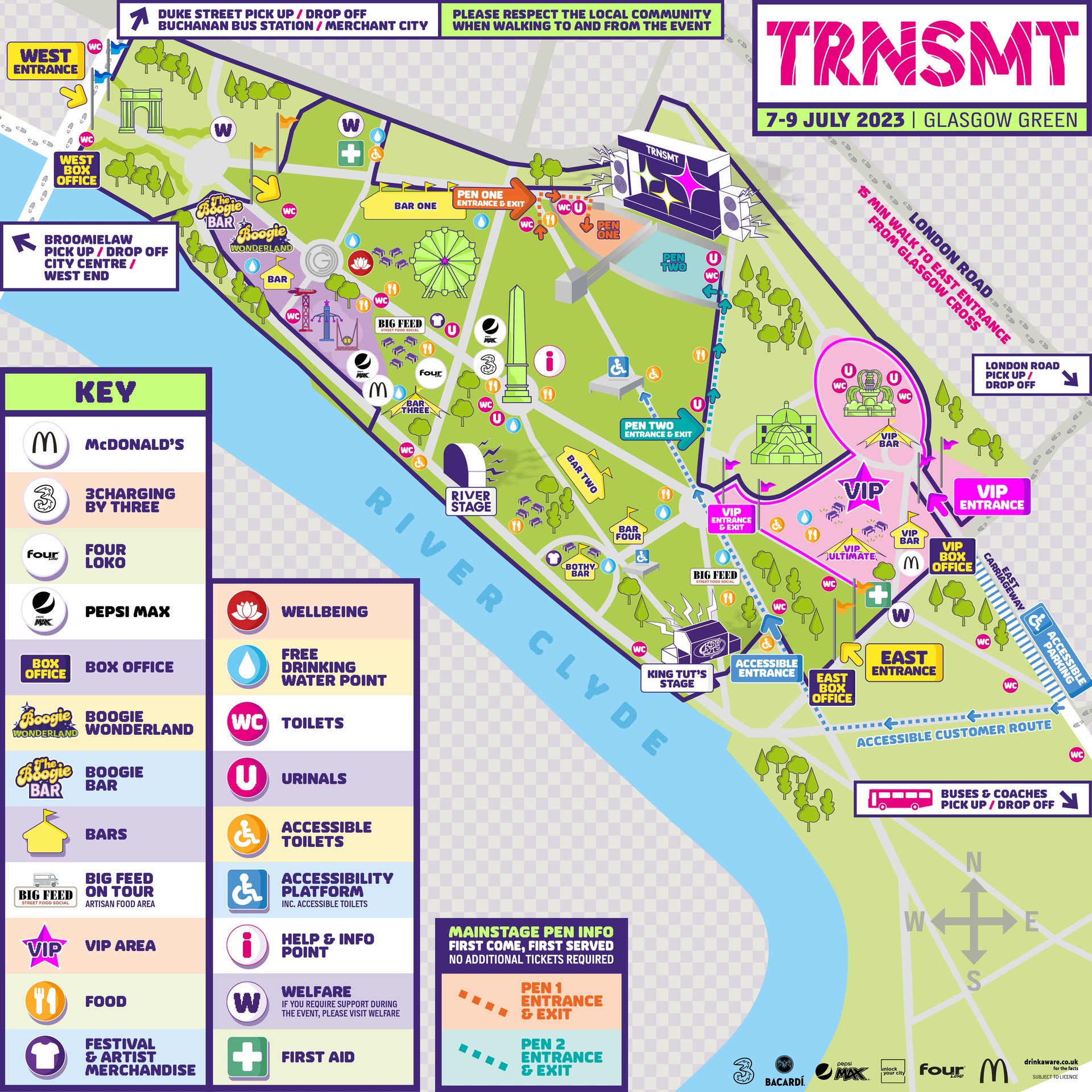 Festival-goers can plan their weekend of music with TRNSMT's app, allowing them to create a personalised schedule of their favourite artists set times.
Organisers have also revealed the new Boogie Wonderland section – made up of the funfair and "fan favourite" stage the Boogie Bar, where Bongo's Bingo will be appearing at the festival for the first time.
Festival director Geoff Ellis told STV News: "It's all coming together, every detail – the bars, finishing touches to the food units, all the fences are up, we're getting the decorative flags in position and what's great to see is no matter how much rain we've had in the last couple of weeks, the ground is in fantastic condition.
"It's a really well-drained site so we know we're going to have a great event."
Stage times
All timings are subject to change but will be updated on the TRNSMT app.
Friday, July 7 – Day One
Main Stage
Declan Welsh & The Decadent West – 12.15 – 12.35
Swim School – 13.10 – 13.40
Joesef – 14.05 – 14.40
The View – 15.10 – 15.55
Paul Heaton & Special Guest – 16.20 – 17.15
Niall Horan – 17.45 – 18.45
George Ezra – 19.15 – 20.25
Pulp – 21.10 – 22.50
King Tut's Stage
The Joy Hotel – 12.30 – 13.00
Dead Pony – 13.30 – 14.00
Hamish Hawk – 14.30 – 15.00
Hot Milk – 15.30 – 16.05
The Big Moon – 16.35 – 17.15
Warmduscher – 17.45 – 18.30
Dean Lewis – 19.10 – 20.00
Cat Burns – 20.45 – 21.35
River Stage
Slix – 12.45 – 13.15
High Vis – 13.50 – 14.20
SIIGHTS – 14.55 – 15.25
Cloth – 16.00 – 16.30
Flowerovlove – 17.05 – 17.40
The Royston Club – 18.20 – 19.05
Nati Dreddd – 19.50 – 20.35
Saturday, July 8 – Day Two
Main Stage
Brooke Combe – 12.30 – 13.00
Maisie Peters – 14.25 – 15.05
Inhaler – 15.35 – 16.20
Aitch – 18.10 – 19.10
Kasabian – 19.40 – 20.40
Sam Fender – 21.20 – 22.50
King Tut's Stage
Cassia – 12.30 – 13.00
Mae Stephens – 13.30 – 14.00
The Mary Wallopers – 14.30 – 15.00
Lucy Spraggan – 15.30 – 16.05
The Coronas – 16.35 – 17.15
Teddy Swims – 17.45 – 18.30
The Wombats – 19.15 – 20.15
LF System – 20.45 – 22.15
River Stage
Terra Kin – 12.40 – 13.10
The Big Day – 13.45 – 14.15
Heidi Curtis – 14.50 – 15.20
Finn Foxell – 15.55 – 16.25
Lauran Hibberd – 17.00 – 17.40
Afflecks Palace – 18.20 – 19.05
The Blinders – 19.50 – 20.35
Sunday, July 9 – Day Three
Main Stage
Crawlers – 12.30 – 13.00
Pale Waves – 13.30 – 14.05
Jamie Webster – 14.35 – 15.15
Ashnikko – 15.45 – 16.25
The Kooks – 16.55 – 7.45
Becky Hill – 18.15 – 19.05
Royal Blood – 19.35 – 20.35
The 1975 – 21.15 – 22.50
King Tut's Stage
Calum Bowie – 12.15 – 12.45
Lucia & the Best Boys – 13.10 – 13.40
Dream Wife – 14.05 – 14.35
Bob Vylan – 15.05 – 15.40
Lovejoy – 16.10 – 16.50
The Amazons – 17.20 – 18.00
The Enemy – 18.45 – 19.35
Nothing But Thieves – 20.25 – 21.25
River Stage
Cathy Jain – 12.50 – 13.20
Neive Ella – 13.55 – 14.25
Tommy Lefroy – 15.00 – 15.30
Andrew Cushin – 16.05 – 16.35
Uninvited – 17.10 – 14.35
Skylights – 18.25 – 19.05
Only The Poets – 19.50 – 20.35