Pioneering specialists in Scotland have carried out their landmark 500th robotic lung surgery.
Since using an Intuitive Da Vinci robot specifically for lung surgery in 2018, thoracic surgeons at the NHS Golden Jubilee in Clydebank, West Dunbartonshire, reached the milestone in August, and are now doing up to eight robotic procedures every week.
The first case was carried out by Consultant Cardiothoracic surgeon John Butler on Tuesday May 8 2018.
The Da Vinci robot works by inserting rods into the body which are operated by a surgeon on a separate control pod, moving the procedure on from conventional keyhole and traditionally invasive surgery.
The robot's wristed instruments can bend and rotate better than a human hand, and with more accuracy, as colleagues watch on highly magnified 3D HD screens.
The machine also has health benefits for surgeons, allowing them to carry out operations sitting down rather than bent over an operating table, which can prevent injuries such as back problems, potentially prolonging their own working lives.
The innovative technology, which helps patients to recover more quickly, whilst significantly reducing the potential for complications and nerve damage during surgery, will form a major part of the hospital's lung surgery programme going forward.
Thoracic surgeon Alan Kirk said: "Since the beginning we have gone from strength to strength.
"We've now done more than 500 cases, we are the busiest unit in thoracic robotics in the north of the UK.
"We've gone from two surgeons to all six using the robot, which is key in terms of equity of access, to ensure all of our patients can benefit from this technology.
"The year before Covid-19 struck we did 509 lung resections for lung cancer and we would anticipate that, in the fullness of time, 80 to 90% of these cases would be suitable for robotic surgery.
"Of the lung resections we do, around 80% are keyhole surgery – 60% robotic, 20% conventional video assisted thoracic surgery, and 20% is done by open thoracotomy."
The thoracic team at the Golden Jubilee can perform up to 1400 chest operations every year.
During this pandemic, their lung surgeons have continued to provide vital cancer care for patients across Scotland.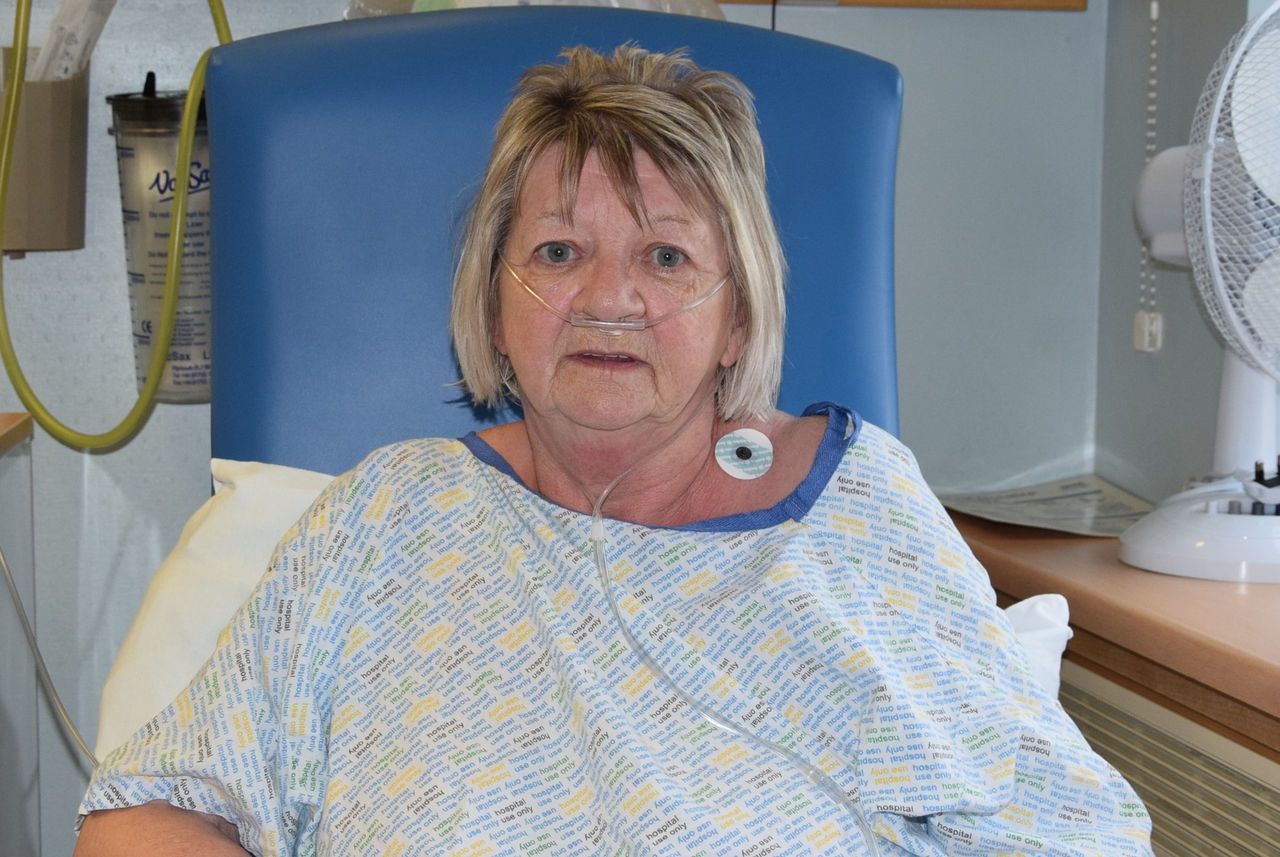 The 500th patient to receive robotic lung surgery at the Golden Jubilee National Hospital was Una Scotland from Clackmannanshire.
Lung cancer was discovered when she went for an x-ray for kidney stones at NHS Louisa Jordan in Glasgow.
Gran-of-four Una, 69, said: "I was really shocked when I found out.
"We've all lost someone through cancer, but you never think it will happen to you so I'm really grateful to have received this treatment.
"I have four grandchildren so it means I can spend more time with them.
"I would like to thank everyone throughout the NHS for my care, it has been first class."
There are also human benefits of robotic surgery, with the programme helping the team become closer and deliver better care for patients.
Mr Kirk added: "We have an absolutely brilliant team in thoracics.
"We socialise together, we support each other, and because of the interdependence and trust you need to have in your team and working through this pandemic, it has brought us even closer together and we're seeing better patient outcomes.
"The nursing staff value their jobs even more because they feel they are making a real difference to the patients they care for.
"Because of all of the additional activity over the past year that the theatre nurses have had to deal with, it has been a really challenging time for them, but we genuinely could not do this without them.
"It is human collaboration which makes this work and our theatre staff are extremely dedicated to delivering the best care for our patients and we are all extremely grateful to them.
"Our nurses and our allied health professionals (AHPs) come in here, do a great job and go home again, but I don't think they realise just how great they really are."
NHS Golden Jubilee Chief Executive Jann Gardner said: "We are constantly told by our robotic colleagues in the UK, France and Italy how good we are here in Scotland and how quickly we've developed.
"The last three years have been absolutely fantastic in terms of our robotic thoracic programme and it's not just the patients who have experienced the benefits.
"We will continue to help NHS Scotland continue and recover services during these challenging times, working in collaboration with other health boards.
"On behalf of myself and all of us at NHS Golden Jubilee, I want to offer my heartfelt congratulations to the thoracic team on this landmark accomplishment.
"The life changing work they do on a daily basis makes such a difference to so many patients and families across the country, and we are incredibly thankful for all that they do."