Parents studying at New College Lanarkshire will be forced to drop out of their courses if the institution goes ahead with a planned closure of two "lifeline" nurseries, staff and students have warned.
Early learning centres at both the Coatbridge and Cumbernauld campuses are set to shut their doors by the of the year.
The college said that both services have continued to operate at a substantial loss over a number of years.
But staff have urged bosses at the higher education institution to find a way to keep it open – or risk students dropping out.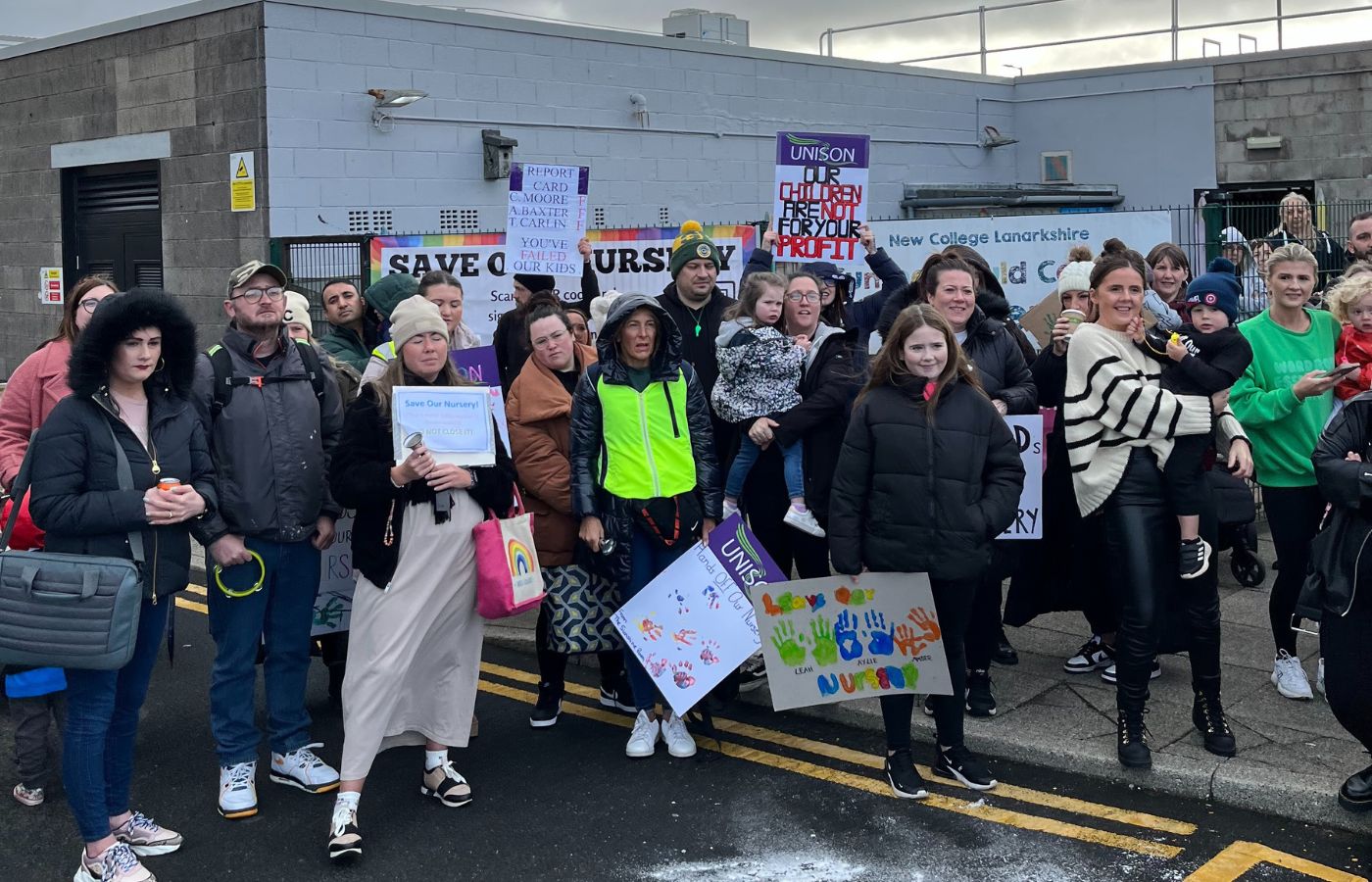 Jade Oliver has a three-year-old daughter who uses the nursery while she studies for her HND in sound production.
She lives in Cumbernauld and said if it closes she will be forced to drop out – just six months before she is scheduled to complete her diploma.
"I've worked for three years to get to where I am and I've put in a lot of work and a lot of time," she told STV News
"I am so dedicated but I will have to leave if it shuts in December because I have no other option."
The 21-year-old said every other nursery she has looked at in the area is at capacity.
She said the nursery, which is used by students and locals alike, has a "fantastic" reputation.
"The nursery has been praised by every person in this community," she said. "It's heartbreaking – it's devastating for us. We've put in so much hard work to get here.
"It's early learning years that matter the most. The kids matter most to us. We will always put them first before our education but if they do this parents will drop out. We need this service."
Emma Parsons studied at the college before following her mum and going on to work in the nursery for 22 years.
She said it's helped countless parents receive an education.
She told STV News: "This is absolutely devastating for us. It's not just a job to us – it's a family. We've built a community around this"
Ms Parsons said the 14 workers at the Cumbernauld nursery were told they would either be moved to another department or be given voluntary redundancy.
"Nothing about this is voluntary," she said. "We were told by the deputy principal that we didn't have to worry about our jobs, that we would be redeployed within the college.
"To that we were absolutely baffled. Where would the financial savings be if they just redeploy us?
"And where will we be redeployed? There is no nursery on campus. We are early years educators. We all have our HNCs, diplomas and degrees.
"There was previously a conversation about 40-odd people being offered voluntary severance in different departments so where are they going to put 30 staff to redeploy them?
"They told us the deficit was £140,000 for the last year but we were only made aware of that in May despite them telling us they knew it was in deficit for the last three years."
Ms Parsons said she doesn't yet know which department she could be transformed to in three months' time.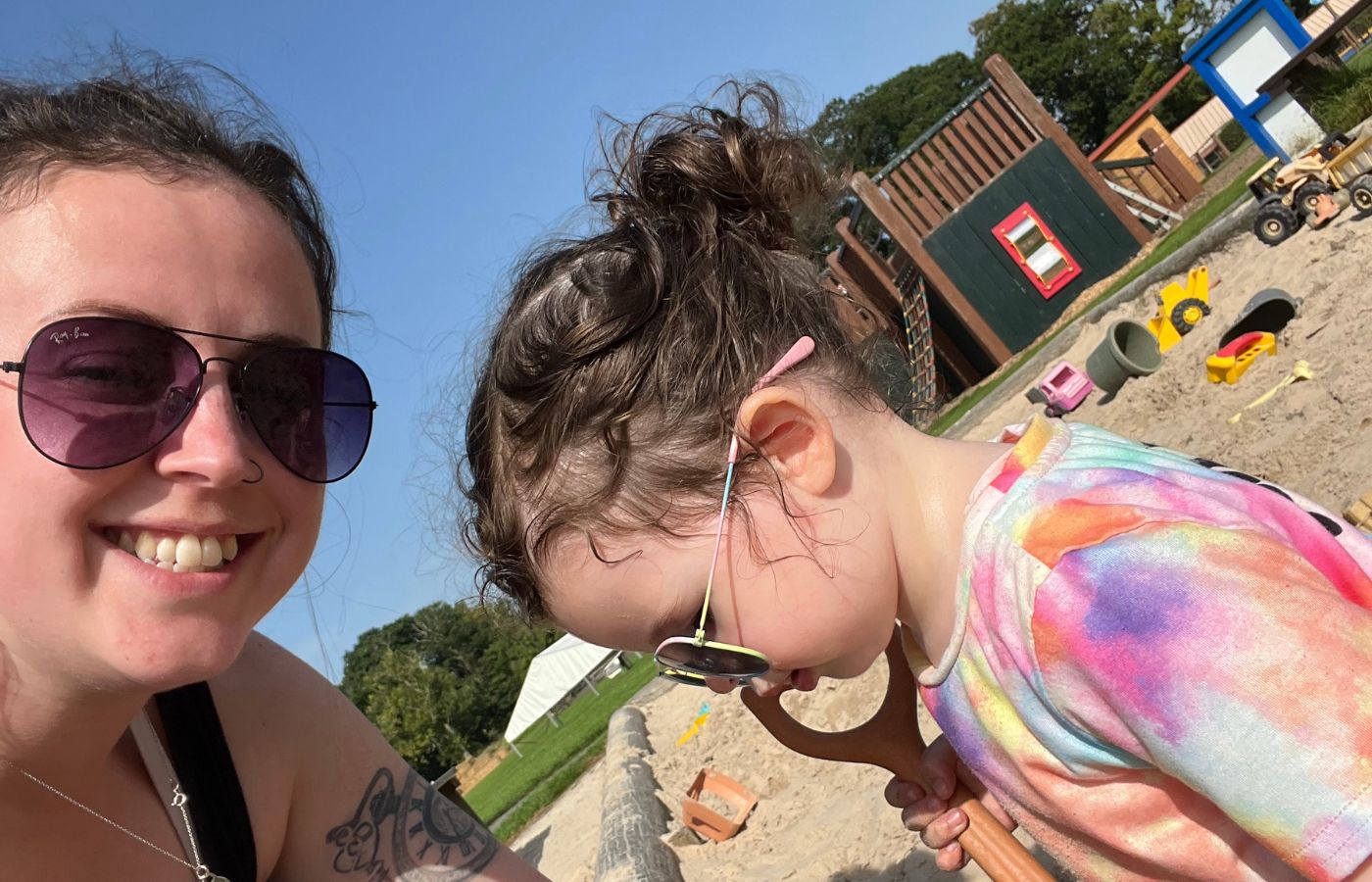 Sher Khalid-Ali first started using the nursery when she was attending the social sciences course in Cumbernauld.
She is now studying sociology at the University of Stirling but still uses the nursery.
She said the closure of the services is a "direct attack on working-class parents".
She told STV News: "The nursery is incredibly important. I personally wouldn't have been able to go to college if it wasn't for the on-campus nursery.
"A lot of parents don't have transport, or are single parents, and don't have the time to add an extra half an hour on to their journey in the morning.
"The on-campus nursery is essential to parents and taking it away will see people drop out.
"We already know three parents who have dropped out because of the nursery closing.
"For me, it means that I may have I drop out of my university course.
"It's so hard to find time spaces. They are telling us there are places in the area, and that may well be true with private nurseries, but trying to find a place for term-time children is a completely different kettle of fish."
Collette Bradley, a Unison steward at the college, said: "UNISON is calling on college management to halt plans for nursery closures at Coatbridge and Cumbernauld campuses.
"To date, failings around governance and process have allowed college management to steamroll ahead with what would appear to be a predetermined closure agenda without appropriate governance or meaningful trade union consultation processes being in place before the alleged consultation began.
"UNISON condemns the language of profit and loss being used by senior management to justify the closures. There seems to be a failure to understand that these are vital services and that if savings are required, nursery services should not be anywhere near first in line for the chop.
"UNISON members are angry about top heavy management structures and excessive senior salaries at the college and believe a proper review of these structures and costs could avert the nursery closures and continue this vital lifeline service for working class communities who depend on them to take up college places."
An NCL spokesperson said: "We are actively engaged in exploring all options to allow the nursery to continue operations.
"In May we postponed the closure of the nursery until December 31 to allow us to pursue every avenue that could lead to a sustainable future for it and we will continue to actively consider all possible options."
STV News is now on WhatsApp
Get all the latest news from around the country
Follow STV News
Follow STV News on WhatsApp
Scan the QR code on your mobile device for all the latest news from around the country