The "heartbroken" mum of a man who nearly died from alcohol abuse has backed calls to ban alcohol advertising in Scotland.
Karen MacDonald lives with her 55-year-old son, Neil, who has battled alcohol addiction for over two decades and was hours away from death when he was rushed to A&E following a relapse.
She shared her "anger and frustration" amid fears the government may not deliver on their promise to tackle alcohol marketing after the consultation was paused amid concerns from the industry.
The dad-of-three, who has retired early due to ill health, has made a number of attempts to detox but has eventually relapsed.
An open letter signed by over 100 family members of people battling addiction has been written to First Minister Humza Yousaf pleading him to press ahead with the ban.
Karen, who lives in East Dunbartonshire, told STV News: "I feel very strongly that the parents and loved ones, the family and friends of people suffering from alcohol use disorder and other addictions.
"Their voices are not being heard loud and clear. Big money is speaking louder than we can.
"We hoped strong measures would be taken to reduce availability and make the whole alcohol scene much less in our faces.
"You can't go anywhere without seeing alcohol, it's on TV, it's in the shops as soon as you go in. It's having a very harmful effect on society.
"I'm angry and frustrated that we can't do more to get the government to listen. Every bottle of wine and whisky is another nail in someone's coffin."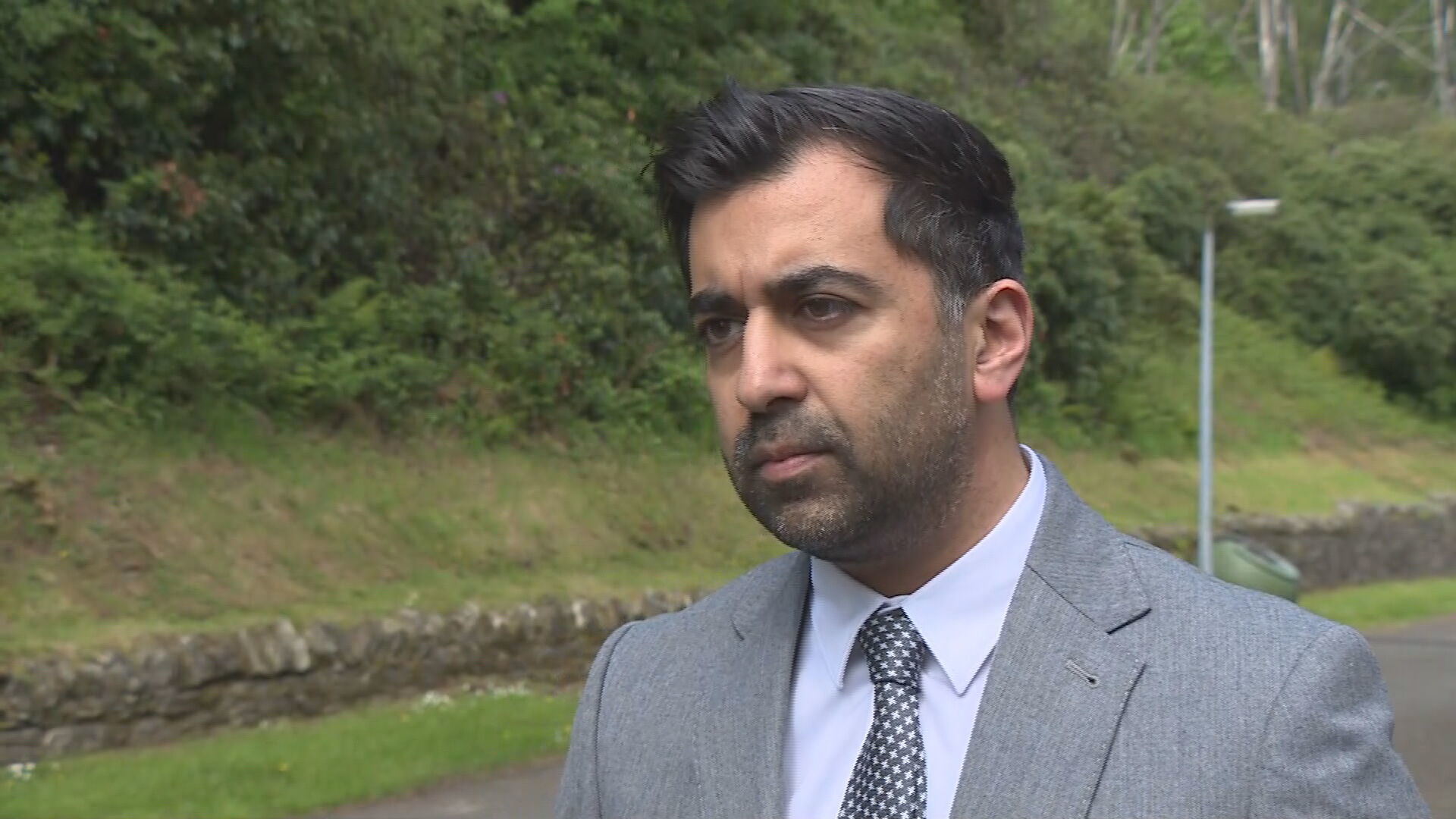 Neil is currently on a reduction plan to try to eat more and increase his activity levels with the support of his family.
He said: "I've lost a horrendous amount of weight and muscle strength. I've got other nutritional issues going on.
"I'm sticking to beer and gradually trying to reduce and then hopefully rehab.
"It was good in the past when you had the regime of going to work and commuting. I had to make sure I was sober. Now I'm retired, it's a case of starting whenever.
"I try to go out for walks and play computer games. I enjoy comedy programmes and cookery programmes, even though I don't eat very well."
Neil said he began spiralling into alcoholism in his mid-30s and blamed the "horrendous" stress of his job and lengthy commutes.
He said his drinking worsened when his marriage broke down.
"It was a hard life and I was just finding it impossible to switch off," he said.
"I remember there was one Saturday where I got up and thought 'okay, the kids aren't here, we're not doing anything today and I've got a four pack of cider – and I started drinking early on in the day.
"That's fatal, where the addiction really starts.
"I started to suffer from withdrawals and various other symptoms. That's really what the root cause is. By 2010, my drinking had become really problematic."
He added: "My mum and dad are great, my three sisters are very loving and caring. I know they worry about me. I've got a close relationship with my kids too. They are all absolutely brilliant."
Karen said she fears for her son's life every day – but said they are working together "as a team" to help him on the path to better health.
Mrs MacDonald added: "All my energy is focused on making my son well, in whatever way it takes.
"I don't want to stray far from home. Hardly a day goes by where I don't wonder if he is going to make it.
"The heartbreak of seeing someone you love so much, someone highly intelligent and very educated who's held down a responsible job for all these years.. To see them in that state is soul-destroying.
"It breaks your heart a little bit more every day. It sits like a black dog on my shoulder.
"But I have faith he is going to get better."
The Scottish Government announced plans to address alcohol marketing in November 2018. A consultation on was published in November 2022 and closed in March 2023.
On April 18 2023, the First Minister announced he would take "a fresh look at this issue" amid significant opposition from the alcohol industry.
The letter reads: "We do not have the power or influence of the alcohol industry. We do not have an army of lobbyists or a multi-million pound PR machine to amplify our voices.
"Our daily lives are shaped by chaos, exhaustion, disappointment, grief and loss. We do not have the time, energy or resources to compete with the industry. But you have let our voice be drowned out by those with money, power and influence.
"We need you to hear us and to hear our stories. We matter too – our families matter, our communities matter. In the past four years, since the Scottish Government publicly committed to tackling alcohol marketing, over 4,500 more people in Scotland have died directly through alcohol.
"They include our family members, our friends, our colleagues, our loved ones. How many more people will die, how many more lives shattered, how many more families destroyed before you hear our voice?"
Justina Murray, CEO of Scottish Families, who helped coordinate the letter on behalf of the signatories, said: "During the alcohol marketing consultation, the then Minister for Public Health, Maree Todd, made a commitment to me in person, that families' voices and experiences would have as much weight as industry voices. She recognised that families are less able to participate in these processes, given the chaos and exhaustion of living with alcohol harm every day.
"However to my knowledge, the First Minister has not spoken to a single person affected by a loved one's drinking before deciding to backtrack on this longstanding commitment to finally address Scotland's 'Alcohol Everywhere' culture.
"It is beyond disappointing that once again, loud alcohol industry voices, in search of greater and greater profits, have silenced those most affected by Scotland's unhealthy relationship with alcohol – children, young people and adults whose lives have been destroyed."
Drugs and Alcohol Policy Minister Elena Whitham said: "My deepest sympathy goes to all those affected by the loss of a loved one through alcohol.
"I had the chance to hear first-hand experiences from members of Scottish Families Affected by Alcohol and Drugs last weekend and the First Minister will shortly meet with a range of public health organisations to discuss alcohol policy.
"We're determined to do all we can to reduce alcohol-related harm – that's why we have introduced and champion initiatives such as our world-leading Minimum Unit Pricing (MUP). Recent research estimated it has helped reduce alcohol sales to their lowest on record, saved hundreds of lives and is having an effect in our most deprived areas.
"All of us want to reduce the harm, particularly to young people – without undermining Scotland's world class drinks industry or tourism sector."
STV News is now on WhatsApp
Get all the latest news from around the country
Follow STV News
Follow STV News on WhatsApp
Scan the QR code on your mobile device for all the latest news from around the country