A surgeon for more than half his life, Gareth Jones was well versed in delivering diagnoses – but nothing prepared him for his own.
In early 2021, Gareth was suffering from fatigue and a sore foot. The father-of-two was a keen triathlete and ironman – so whilst he knew something wasn't right, he passed it off as nothing more than a training injury.
"I thought, 'well, I've been overrunning, I've got some new running shoes, that's probably because they were cheap, and they weren't the right shoes for me'," he told STV's Scotland Tonight.
"The surgery I carried out involved standing for hours on end with a heavy lead coat on. That was never really an issue. But I found that operating the pedals… I couldn't really get my weight on my left leg as I used to, to operate the machinery.
"I got on my bike on Friday to come home and, usually, it takes half an hour. But this time, I just really couldn't get going and it took me about an hour to get home."
Eventually, Gareth, from Cambuslang, Glasgow, decided to investigate further – a visit to his GP led to a colleague taking his blood. When the results were available, what he originally thought was a precautionary check turned out to be the worst possible news.
"We had a look at the blood tests, and I was stood behind her," he said. "And all I saw was a field of red exclamation marks. That's not generally a good thing – it was evident that was something was up. And it was prostate cancer."
Further tests revealed the cancer had spread to Gareth's bones – and it was stage four. Whilst the 55-year-old's condition is treatable at the moment, it's not curable. Breaking the news that he had incurable cancer to his wife was one of the hardest things he's ever had to do.
"I think I was sort of crying," he said. "I blurted out, just said, 'I've got prostate cancer, I've got it everywhere. My life's going to change and our life's going to change. And we will get through it. We just have to'.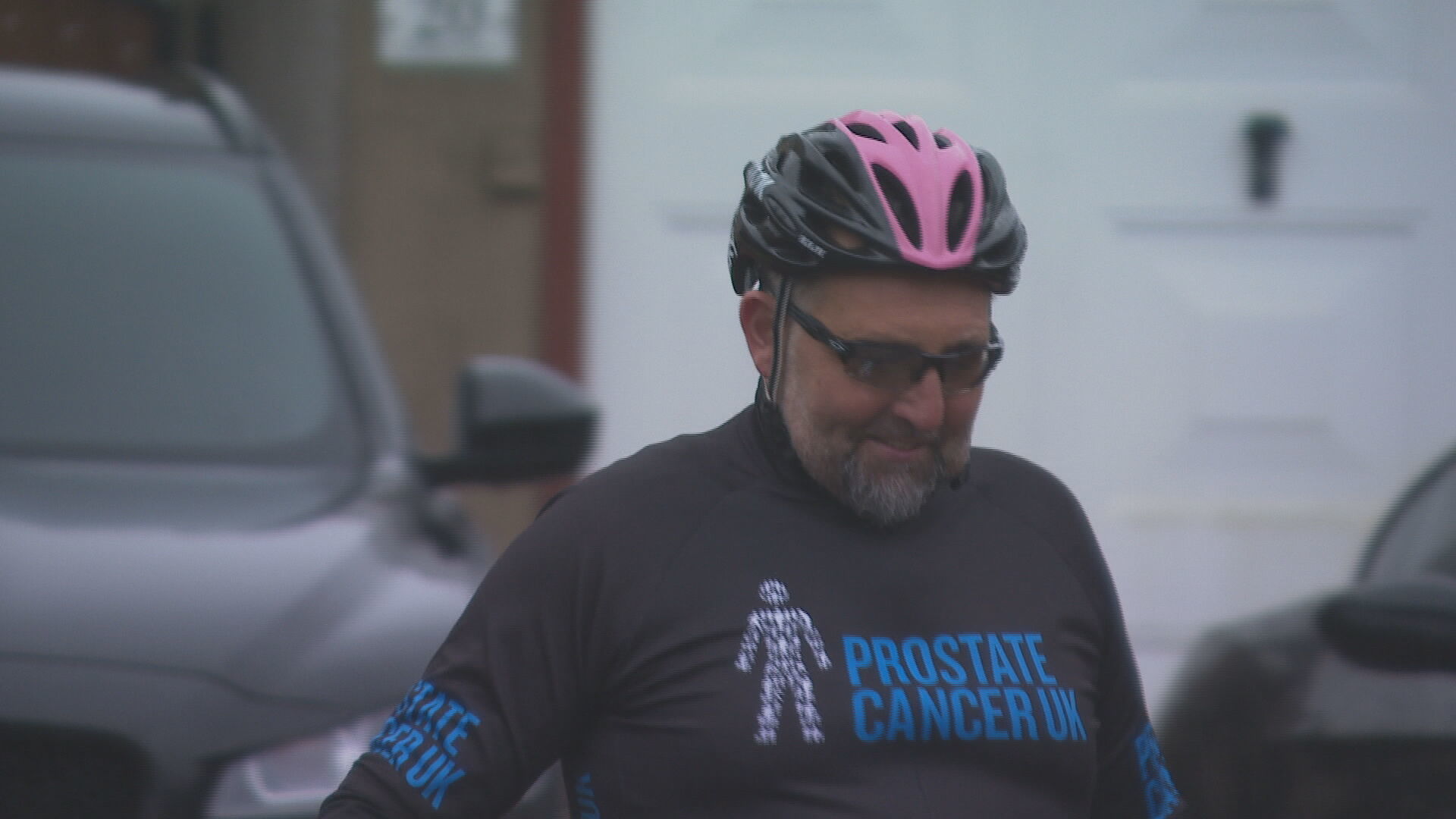 "I thought 'well, that's 20 months and I'll be dead'. I was reeling through all my old prostate cancer knowledge. My ward had five or six patients with advanced prostate cancer who were having complications. I was seeing myself in that bed in a year's time."
Unlike other cancers, prostate cancer doesn't have a screening programme. But in Scotland, every man over 50 can receive a free test from their GP.
Despite this, one in three men are diagnosed with prostate cancer too late to be cured. That is the highest rate in the UK, while in the south-east of England, only around 14% face the same fate.
Gareth knew testing was available – but admitted he didn't prioritise getting one himself; he has no family history of prostate cancer and assumed he wasn't at risk
"I really thought 'it's gonna be nothing' and that's a typical male thing – it's gonna be nothing. At the beginning of the journey, if you're worried, get your bloods checked. If, when I was 50, I'd got something through the post saying 'go and get your blood checked', I'd have thought 'all right, I'll do that'."
Gareth started treatment within hours of his diagnosis – he now has regular blood tests along with taking multiple tablets every day to help his body combat the effects of the cancer and the therapy.
However, he admitted the mental health impact has been just as hard.
"Any cancer diagnosis is horrific," he said. "Really, the time does stand still. You just think 'what's happening?. I've got to have all these tests. It hurts. I might need surgery. I'm going to have probes, I don't want to have all these things.' That's terrifying.
"So, in July last year, I was a mental wreck. I was a physical wreck. I couldn't really cope with anything. I needed support. I have awesome colleagues, awesome family. My friends were very supportive.
"I'd looked into all the support groups, and I thought, 'well, it's not going to do me any harm', so I went to the Prostate Cancer UK support group in Parkhead, that's run by a great guy."
Since beginning his treatment, Gareth has once again thrown himself into his fitness routine.
Last year, he completed an Ironman and continues to get out on his bike as often as he physically can.
"My job now is to present myself in the best physical state I can for really hard treatment," he said. "But hopefully that'll be in a long time. And maybe it won't be hard treatment, then it will be an easy drink.
"I've got time. I've got life to live. And I'll have every minute of it that I can."
Scotland Tonight is on STV and the STV Player at 8.30pm on Thursday, March 23.
STV News is now on WhatsApp
Get all the latest news from around the country
Follow STV News
Follow STV News on WhatsApp
Scan the QR code on your mobile device for all the latest news from around the country