A former patient at a Paisley hospital has thanked staff for helping her have the wedding of her dreams while she was admitted with a rare and serious condition.
Kathleen Swallow and her partner Eddie Eames had planned to marry before the pandemic, but after Covid foiled their plans four times, the pair rescheduled a fifth date for March 4, 2023.
However, on February 16, Ms Swallow began to feel a pins-and-needles sensation in her hands and feet.
Her GP thought it was an allergic reaction however she lost control of her legs by February 19 and was in intense pain.
At that point, she was taken to the Royal Alexandria Hospital – where doctors diagnosed her with Guillain Barre Syndrome.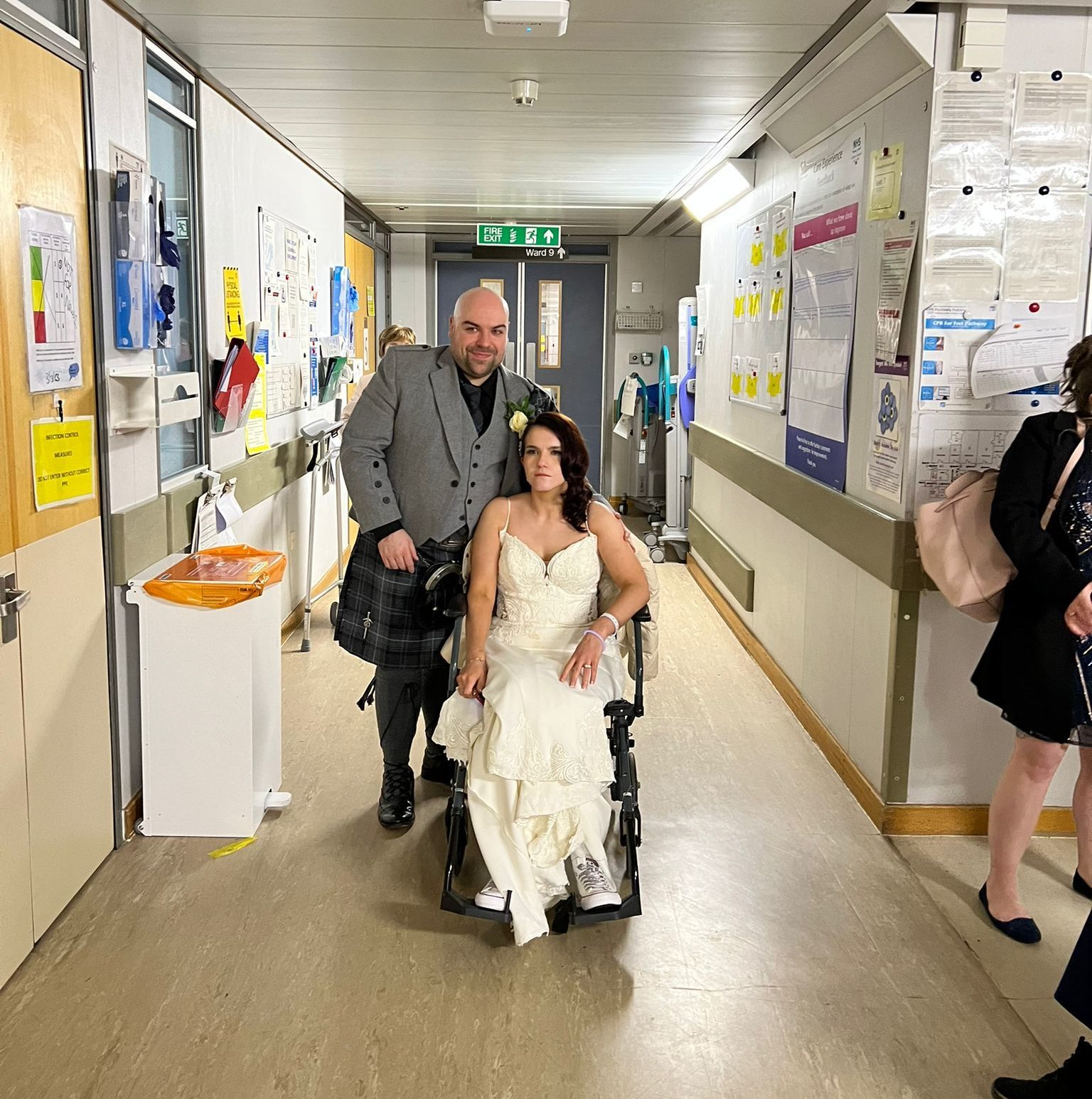 "I was sent for a test, Guillain Barre was confirmed and treatment was started right away," Ms Swallow, 33, said.
Guillain Barre is a very rare and serious condition that affects the nerves, causing problems such as numbness, weakness and pain.
It can be treated and most people eventually make a full recovery, although it can occasionally be life-threatening and some people are left with long-term problems.
"That doctor really did save my life. If they hadn't reacted so quickly and looked after me like they did, I can't bear to think what would have happened," Ms Swallow added.
However, that was just the start of the story – on February 20, she dropped a bombshell on staff at the RAH: "I'm due to get married on March 4, less than two weeks from now."
"When we heard what Kathleen had been through we thought, yes, we have to make this happen, to give her something to aim for," said Angela Thomson, senior charge nurse on the ward Ms Swallow was being cared for.
"We spoke to the neurologist, and when he said OK, it was all systems go."
Ms Swallow added: "The doctors said, 'If we can, we'll get you in the best condition for your wedding'. I was so happy, and it made me really determined to get there."
She was moved into a single room so she could have some privacy, and the whole team worked to get her well enough to make her wedding.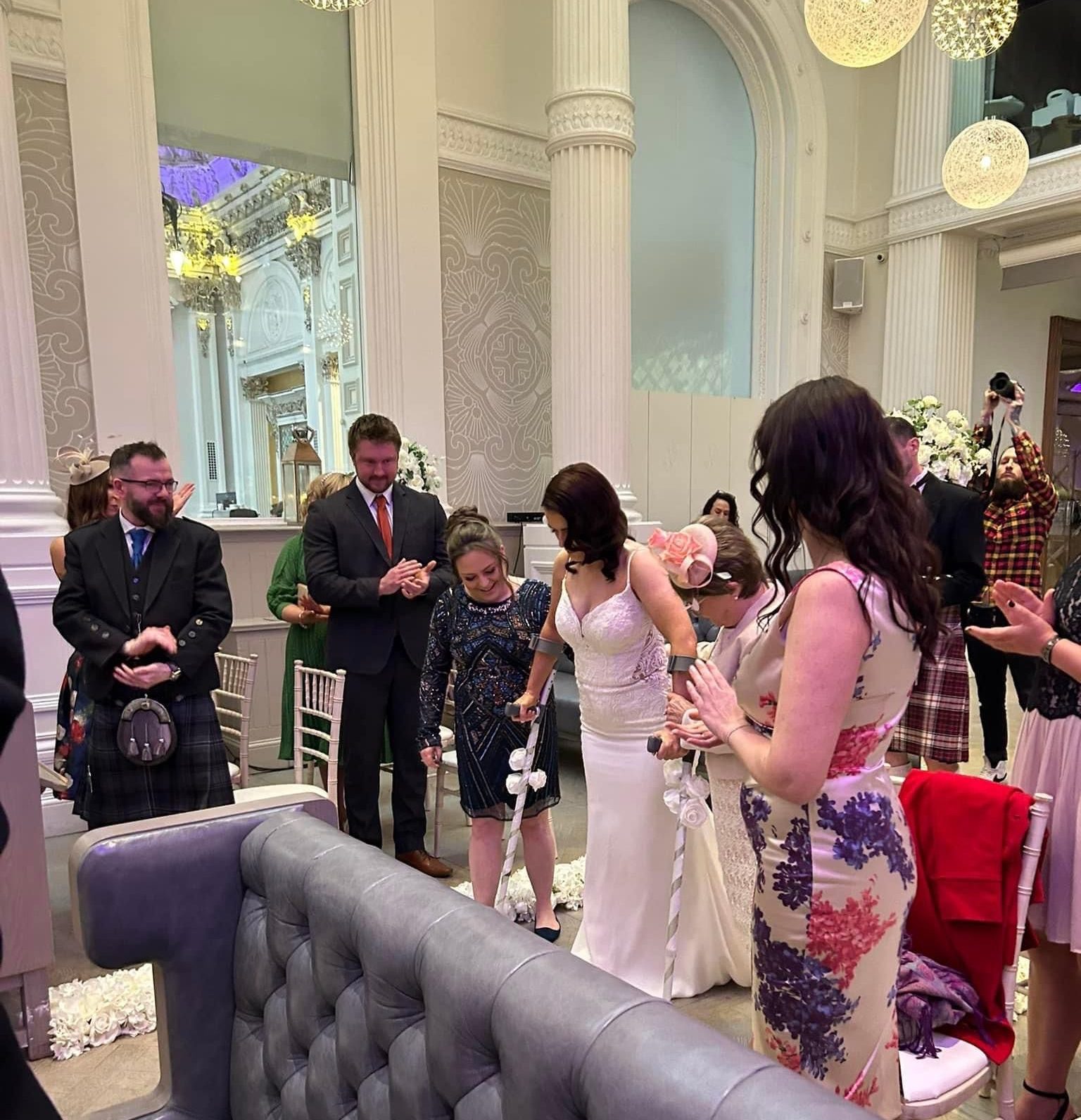 When the big day arrived, Ms Swallow was given the all-clear to attend the ceremony – although afterwards she would need to come back to the hospital to continue her treatment.
Once the couple were on their way, staff decorated her room with flowers, hearts and balloons, and they moved in a visitor bed so that Ms Swallow and Mr Eames, 34, could be in the same room after their wedding.
The new Mrs Eames said: "It was the perfect day. Even though I had to go up the aisle on crutches, and I was in a wheelchair at the reception, Eddie and I had such a wonderful time."
Just four weeks after she was admitted, she was discharged and is now beginning to enjoy married life – with a special message for the hospital staff who helped her.
"If it wasn't for the team at the RAH, none of this would have happened," she said.
"All I can say is thank you. Thank you for saving me, thank you for the wonderful care you gave me – and thank you for the best day of my life."
She also thanked her new husband, saying: "Eddie has been brilliant. He's had so much to deal with over the past few weeks, but he's handled it so well.
"Every day I'm feeling better. I have movement in my legs and am walking with crutches now. I can't wait to see what married life has in store for us both."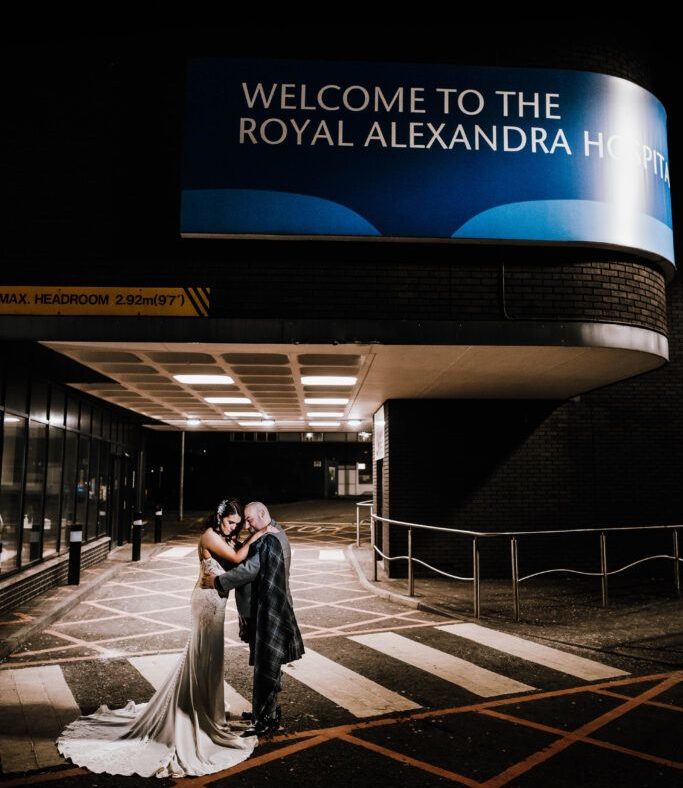 Ms Thomson congratulated the couple on their nuptials, saying: "Kathleen and Eddie are such a lovely couple, and we're all delighted to have been able to help. But, really, it was Kathleen's determination that got her there – the fight she put up was amazing.
"They really didn't have to go to all this trouble. We honestly don't look for thanks. We just do what we do. We're blessed with such an amazing team in Ward 10."
Lorna Loudon, chief nurse for the Clyde Sector of NHS Greater Glasgow and Clyde, said: "On behalf of everybody at the RAH, and across NHSGGC, I would like to extend my warmest congratulations to Kathleen and Eddie, and to thank her for her kind words.
"It is always very gratifying to hear when our staff go that extra mile to support our patients and their relatives, and I would also like to thank all the staff on Ward 10, and all other staff who were involved in Kathleen's care.
"While Kathleen's story is a particularly lovely one, every day our staff go out of their way to help those in their care, without any expectation of thanks or acknowledgement, and all of them deserve our appreciation, and our thanks.
"All of us at NHSGGC wish Kathleen and Eddie the very best for their new life together."
STV News is now on WhatsApp
Get all the latest news from around the country
Follow STV News
Follow STV News on WhatsApp
Scan the QR code on your mobile device for all the latest news from around the country