A cancer patient has become one of the first patients in Scotland to have a tumour cut out of his throat by a robot.
Peter Simpson was awake, talking and eating ice-cream just five hours after his tonsil and part of his tongue were removed.
The 63-year-old security guard was home within 24 hours of the pioneering surgery at the Queen Elizabeth University Hospital in his home city of Glasgow.
"I'm feeling good and I'm really quite surprised," he told STV News after the procedure, which our cameras were allowed to film.
"When you're told you're getting this kind of operation on your throat, you think 'am I going to be able to talk or eat?', but I can do everything.
"There is some discomfort when I swallow but it's much better than I expected."
'Big week'
Peter was shaving while on holiday in Skye last August when he noticed a lump on his neck, which turned out to be cancerous.
Tumours in such hard-to-reach areas would previously have involved a gruelling and invasive operation.
But medics were instead able to guide robotic arms – already used in urology and lung surgery – into Peter's mouth.
Ahead of the treatment, staff in the operating theatre told STV News it was a "big week" for them after six months of extensive Transoral Robotic surgery (TORS) training.
A doctor from London's Royal Marsden hospital was there to advise as the first of five such ENT (ear, nose and throat) procedures planned in Scotland took place.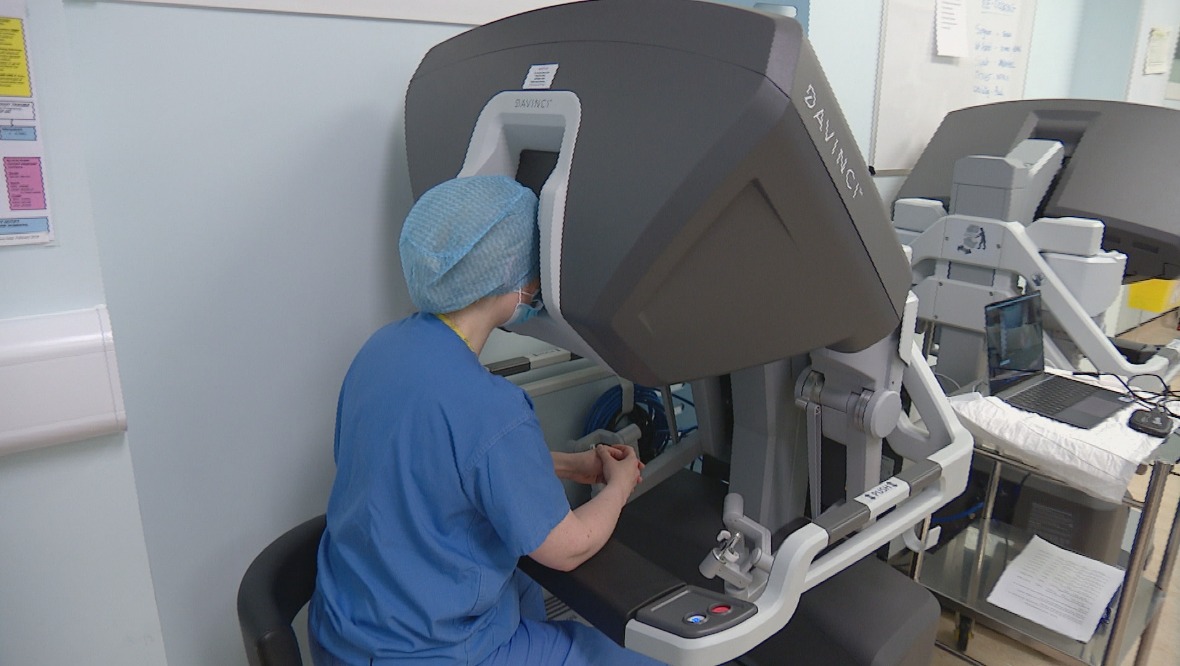 Jenny Montgomery, consultant for head and neck surgery, guided the robotic arm and communicated by microphone with a surgical team working on Peter.
Ms Montgomery was able to see the affected area in close detail using 3D magnified images
The 'arms' of the robot allowed the team to make tiny movements, while the hands can rotate 360 degrees.
Enhanced precision helps reduce side effects and the length of time patients have to stay in hospital.
"This patient will have probably a more effective identification of where their cancer originated from than they would have had with previous operations," said Ms Montgomery.
"If it's a small cancer, there is a possibility they might not need radiotherapy. That's not going to be the case in every patient, but it's certainly something that is associated with better outcomes."
NHS Greater Glasgow and Clyde aims to carry out around 30 robotic operations in the first year, mainly to remove cancers, but surgeons hope the service will be expanded.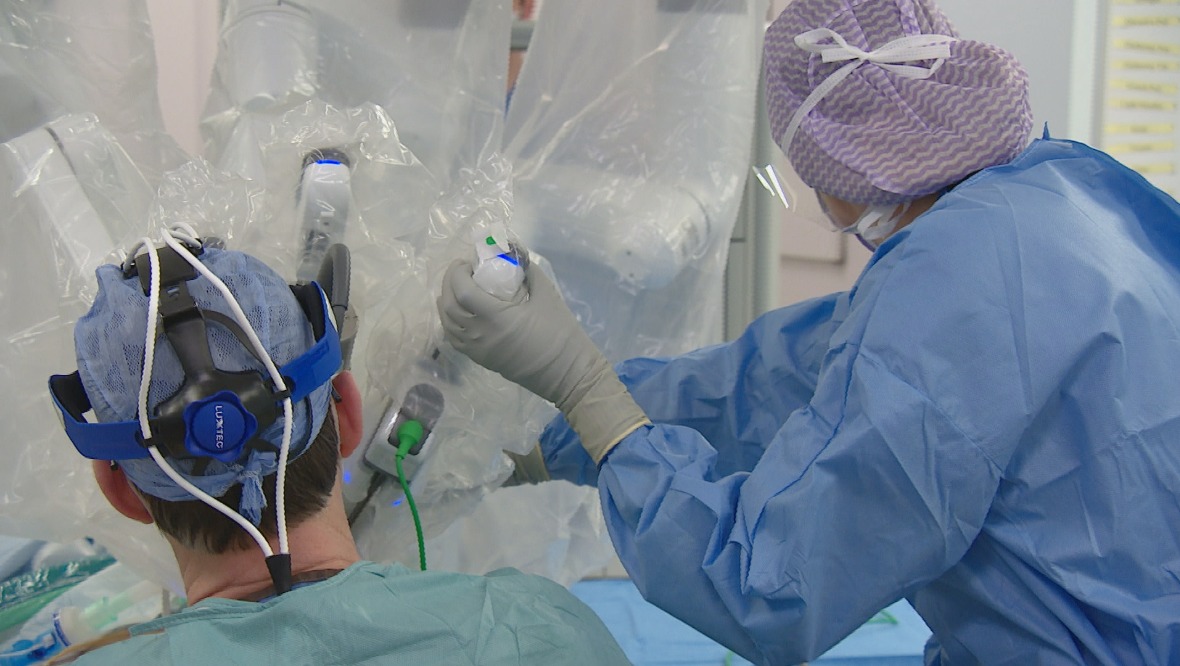 Ms Montgomery also warned the robot was mainly used for early-stage cancer and urged people not to delay getting checked.
"Sadly in Scotland we have a problem with late disease presentation," she said.
"We still see most cancers associated with smoking and if patients have any neck lumps that they are not sure where they came from, it's important to get them checked out."
As for Peter, the self-confessed 'foodie' will have to watch what he eats for a while, but is optimistic for the future.
"Technology is wonderful thing, and if it makes treatments better for people, then I'm all for it," he said.