Two Glasgow artists have claimed responsibility for the Banksy-style graffiti which appeared metres from the city's Gallery of Modern Art after the street artist's exhibition opened.
Days after Banksy's exhibition opened on Sunday June 18, a design of a Banksy-style rat with a Union Jack hat playing a broken drum with the phrase "God Save the King" written across it appeared on the walls of Springfield Court, a lane between Buchanan Street and Queen Street.
People flocked to the lane to photograph the piece as there was speculation that it may be a genuine Banksy, just metres from the Cut & Run exhibition.
However, less than 24 hours after it was first spotted, it had been spray painted over with blue paint and Bansky's team confirmed to STV News that the work was fake.
Glasgow City Council said the graffiti will be removed.
A video emerged on social media on Monday, June 26 from artists Ciaran Globel and Conzo Throb, who claimed responsibility for the "fake Banksy" and showed how they pulled it off.
The artists explained in their video series that they had created the "fake Banksy" as an "experiment"
Globel explained that they began by researching Banksy's work, past and present, before Conzo spent time designing the rat "to make it look genuine".
They turned the design into a multi-layered stencil before testing it multiple times to make it look like a genuine Banksy.
He said that the pair then went to Springfield Court to spray the piece and added: "As we were packing away, the building security had come down and began filming us on his phone.
"Our plan was to leave at that point and grab some coffee and on the way back get some better photographs.
"We returned to find it covered in fresh black paint."
Globel said that he had his water bottle and a glove with him, and the two were able to scrub off the black paint, unveiling their "fake Banksy" beneath.
While the piece was mostly intact, it had lost some detail due to being painted over.
Then, posing as a journalist, the artist called the building owner to say he believed that a Banksy had been painted on the wall before they went about spamming the image online.
Visitors began to flock to the lane to see the artwork and photograph it following speculation that it may be a genuine Banksy piece.
Within 24 hours of being painted, the rat was vandalised overnight with blue paint.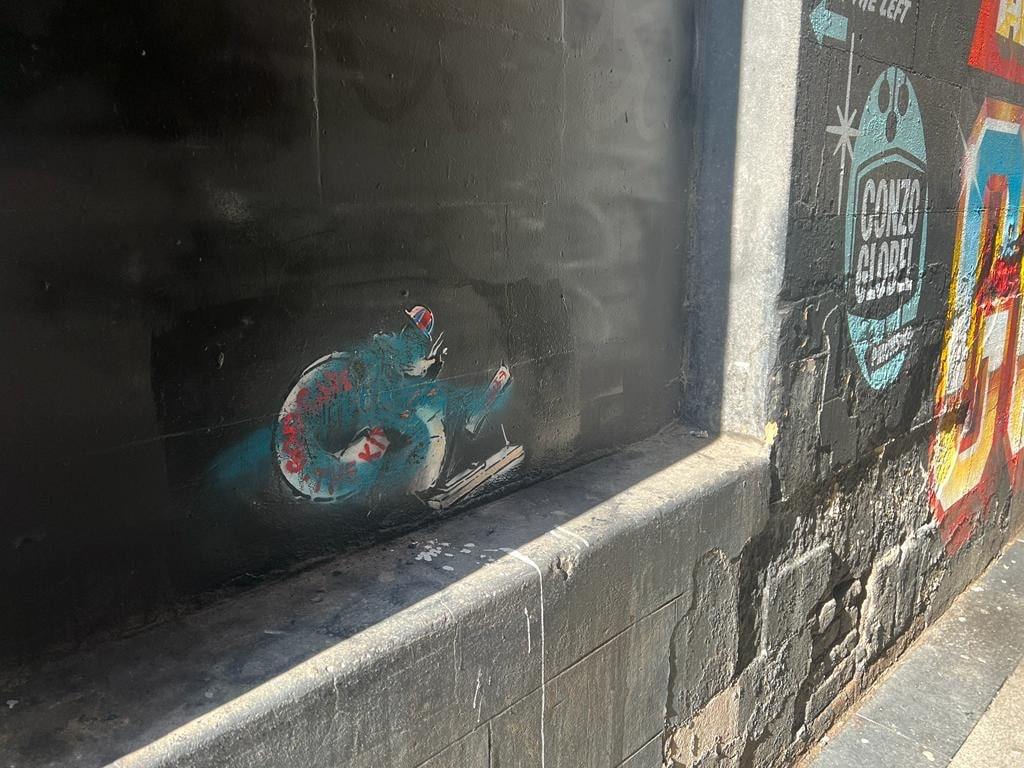 Globel said: "This was to be expected, and meant our experiment was almost complete.
"By this time, Banksy's team had confirmed that the artwork was not genuine so it was only a matter of time before it was removed.
"Photos began emerging of a completely blank wall, this signalled the end of our experiment, but graffiti kept popping up so Conzo and I headed up one last time."
Speaking about the point of their experiment, Globel explained: "It highlighted the hypocrisy within street art and graffiti, where some artworks are praised and others are removed completely, often without any consideration to their artistic value
"Glasgow spends the most on graffiti removal compared to any other city in the UK and while some of that cost may be warranted, it highlights a need for policy change around the issue."
Speaking to STV News after the artists were revealed, Globel said: "Given that Banksy was putting on the exhibition, we thought it would be a good opportunity to go forward with the experiment.
"We've had the idea for a while, but have never had the opportunity to put it in to practice of tracking the timeline, seeing how the public and the council react. We're both nearly 40 now so we're mainly focused on commercial artwork, but we do dip into street art.
"It's hard to judge the overall reaction, but from what I've seen it has been generally positive, people have understood the message of it.
"We were asking what would Banksy do, and what Banksy would think with the artwork, and not trying to stir up sectarianism."
Asked about what changes the council could make regarding street art, he added: "If Glasgow City Council were to open more legal spots for street art, I think that they would see the quality of the work skyrocket. Some of the removal of graffiti is warranted, you can tell the difference between something welcoming and something threatening, but its going to happen regardless so if there was a place to do it legally and safely it would make a difference."
Banksy's Cut & Run show at the GoMA is his first solo show in 14 years.
The exhibition showcases 25 years of his work, and unveils for the first time the stencils used to create some of his most famous pieces of art.
The artist said he picked Scotland's biggest city because of one of its most famous landmarks – the Duke of Wellington statue, with a cone on its head.