Rangers have accused Nicola Sturgeon of a "dereliction of duty" and a "lack of leadership" for not engaging with the club ahead of the weekend's title-winning celebrations.
In a letter to the First Minister, Rangers chairman Douglas Park says the Ibrox club are "at a loss" as to what more they could have done to limit the reaction to their Premiership victory.
Park also said deputy first minister John Swinney's remarks on Monday that the "silence was deafening" from Rangers is "inaccurate, unbalanced and unfair".
Speaking in parliament after the letter was revealed, Sturgeon said she shared the "anger and dismay" of the public at the mass gathering.
Addressing MSPs in Holyrood, the First Minister said she would be speaking to the Chief Constable of Police Scotland to address what could be done to ensure there is no repeat.
Sturgeon also said the government "could not turn a blind eye" and would "report back" before the Old Firm game on March 21 following talks with various authorities.
She said: "Let me be clear, in making these comments, I don't care about the colour of the shirts.
"I said some harsh things about Celtic's decisions at the start of this year.
"As far as I am concerned, in this case Rangers Football Club did not do nearly enough to help avoid this situation arising at the weekend.
"The fact is that elite sport is being allowed to continue just now so that fans – deprived of so much else in life right now – can continue to watch and support their teams."
Police made 28 arrests and handed out seven fixed penalty notices on Sunday after supporters broke lockdown restrictions and flocked in their thousands to the city centre to celebrate Rangers being crowned champions for the 55th time.
Memorial benches were damaged, while fireworks were set off and litter was left strewn across George Square.
Police said it was a "very difficult" night but that officers had planned for it.
Park said in his letter that Rangers engaged with the area's local MP, justice secretary Humza Yousaf, the Scottish Government, high-level police command and the chief executive of the Scottish Professional Football League.
He said: "Given the fact John Swinney has failed to mention a wide range of other public gatherings that you did not take such a strong line on, leaves you open to criticism that there is an unbalanced approach from the Scottish Government when it comes to Rangers Football Club, which happens to be one of the largest employers in your (Sturgeon's) constituency.
"I must reiterate my concern and displeasure at the claims of the Deputy First Minister that there is a lack of leadership at Rangers Football Club. This brings my reputation as Rangers chairman, the reputation of the Rangers board and management team into question.
"I trust that both you, the Deputy First minister and the justice miniser will clarify remarks in light of the facts now presented to you.
"That would allow the club's public response, issued today, to reflect the up-to-date position in the interests of all sides.
"Nothing will be achieved through megaphone diplomacy or using Rangers as political football."
At Monday's coronavirus briefing, Swinney criticised Rangers over "disgraceful" scenes which marred their title celebrations.
Swinney said the club's leadership failed to warn supporters to stay at home if the league was wrapped up on Sunday.
He also criticised them for not tell fans to go home as thousands gathered for celebrations – both outside Ibrox and in George Square.
Meanwhile, Sturgeon tweeted the actions of those flouting restrictions was "infuriating and disgraceful".
Glasgow City Council also condemned the "deplorable" behaviour of those who breached lockdown rules and destroyed memorials in George Square.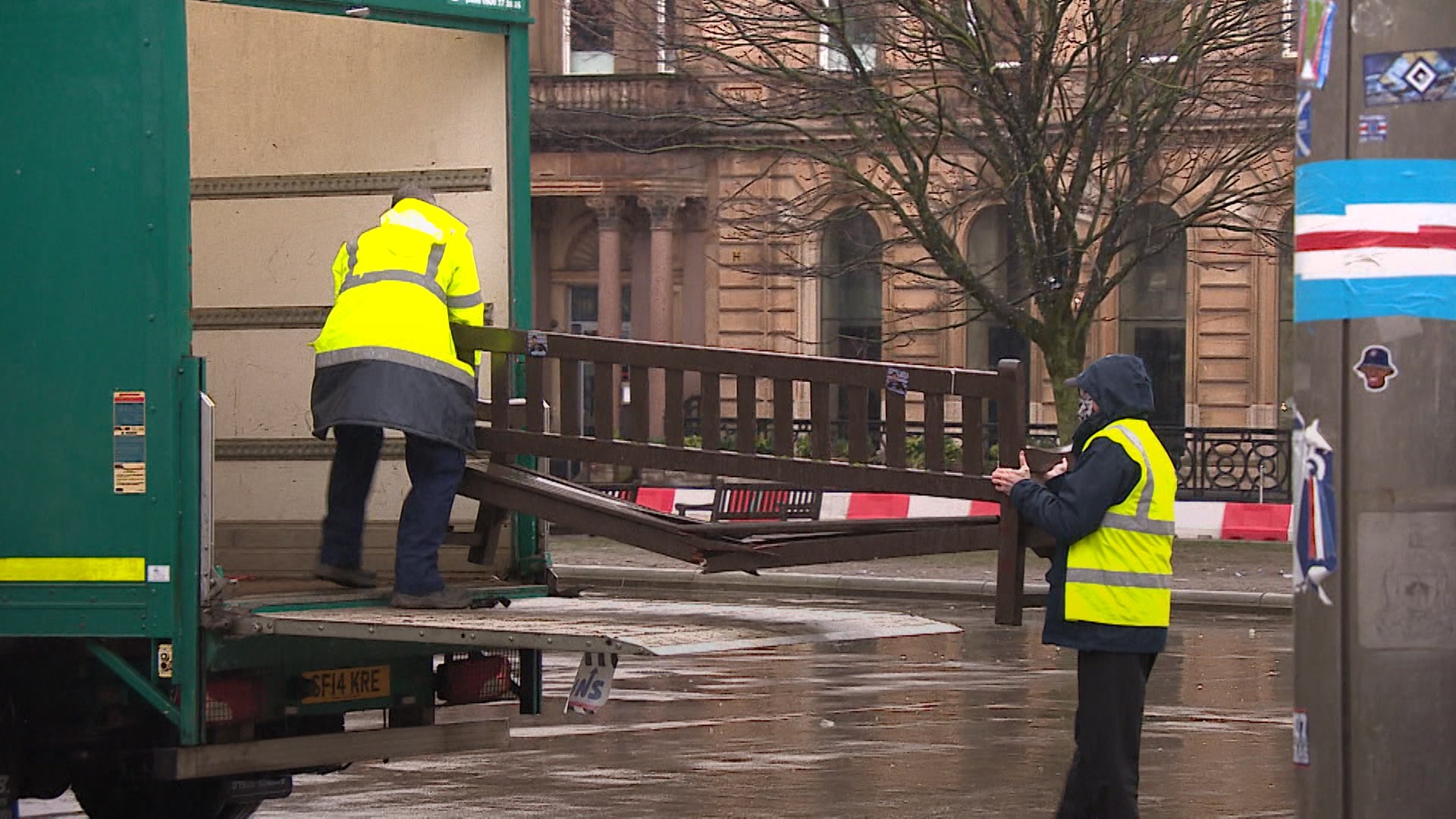 Police Scotland's response in managing the mass gathering of Rangers fans at the weekend will be reviewed by a top lawyer.
John Scott QC, who was commissioned by chief constable Iain Livingstone last April to independently scrutinise policing operations, is to consider the events of the weekend at the next scheduled meeting of the Independent Advisory Group – which look at the force's handling of coronavirus powers – on March 12.
Livingstone said: "Across the weekend, thousands of Rangers supporters in Glasgow participated in spontaneous and intense mass gatherings. This should not have happened given the continuing public health crisis.
"Experienced officers, highly skilled in public order management, took appropriate steps to manage these challenging circumstances to protect people and minimise disruption to communities.
"Officers and staff worked, as they have done throughout this pandemic, with impartiality, professionalism and selfless commitment to public service. They have my personal support and I thank them for all that they do to protect their fellow citizens.
"Policing has stepped forward to take on additional responsibilities to support the significant restrictions on people's freedoms of movement and association introduced by Parliament to combat the spread of coronavirus and save lives."