Thousands of Rangers fans have marched to Glasgow's George Square following their club's raising of the Scottish Premiership trophy as Police Scotland confirmed arrests have been made.
Huge numbers of supporters had gathered outside Ibrox ahead of the match against Aberdeen which saw Rangers defeat the Dons 4-0.
Police had urged fans to disperse and confirmed to STV News that arrests had been made during the operation surrounding the match.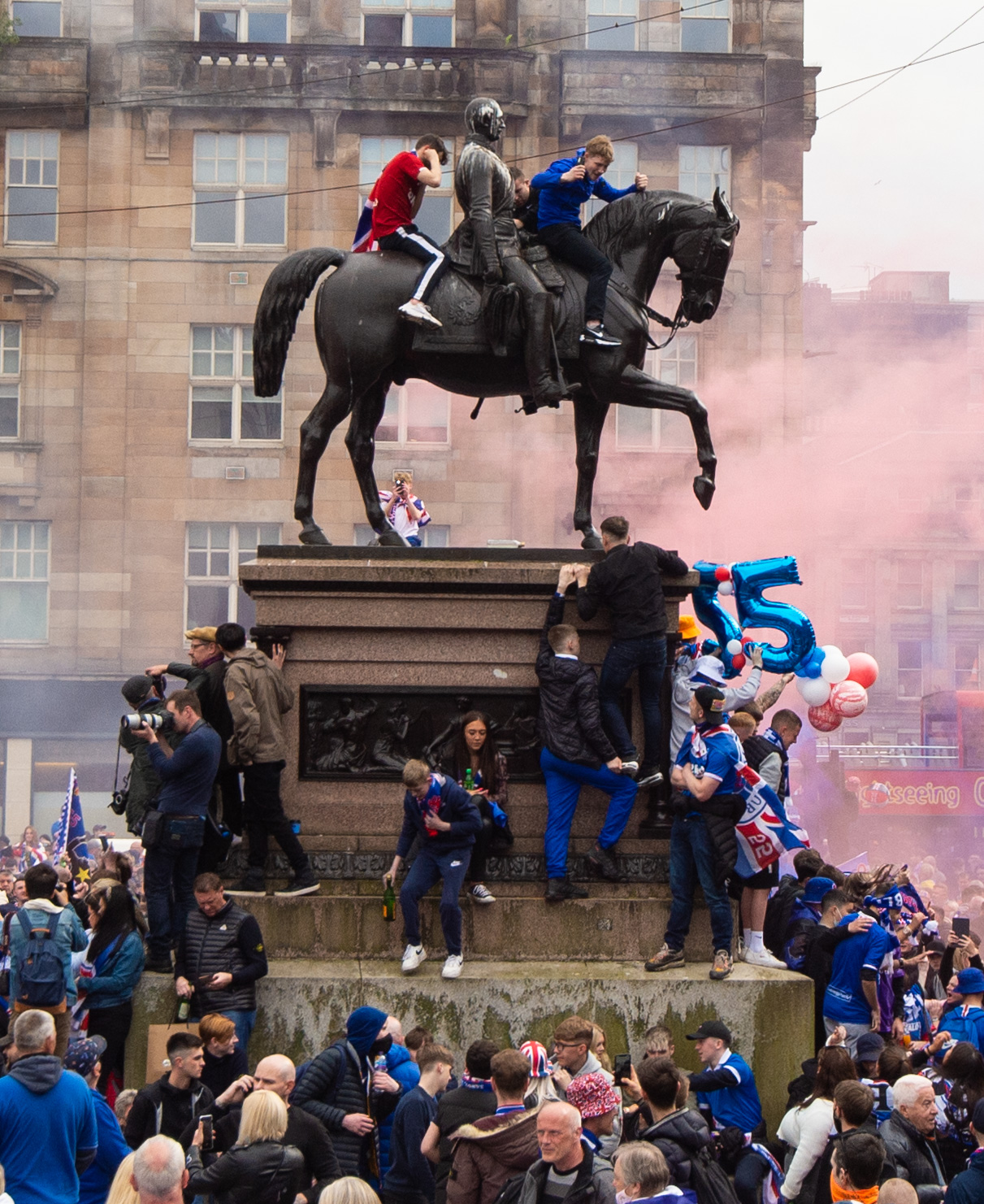 The club urged fans to celebrate in a "safe and sensible manner" and encouraged them to "disperse from Ibrox".
Crowds walked down Paisley Road West and could be seen travelling over the Clyde Arc, or Squinty Bridge, towards the city centre.
Shortly after 3pm on Saturday, a small group of supporters had arrived at George Square, but in the following hour, greater numbers congregated and blue, red and white flares were set off.
Police Scotland earlier said the pre-planned operation to deal with the event was already underway with officers deployed to locations across Glasgow including George Square.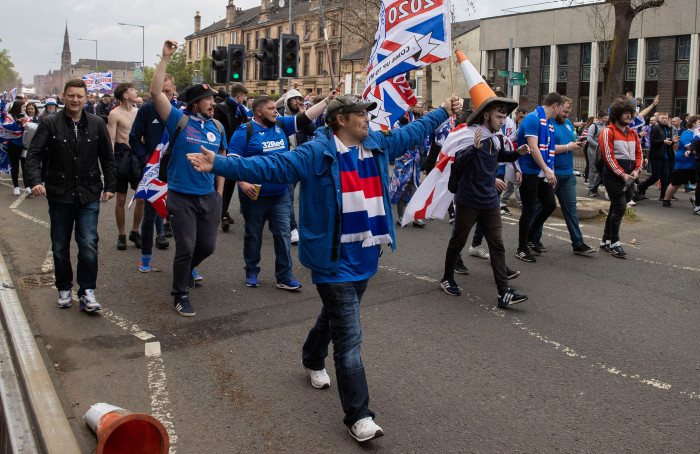 Fan group the Union Bears had organised a march to celebrate title day departing Ibrox when the trophy had been lifted and heading to George Square.
When Rangers fans gathered in their thousands before Glasgow City Chambers on March 7, police arrested 28 people.
The gatherings come as Glasgow is set to remain in Level 3 lockdown while the rest of the country enjoys an easing of restrictions from Monday.
Figures published on Friday showed Glasgow has overtaken Moray as Scotland's Covid hotspot with the city recording 80.4 cases per 100,000 people in the seven days to May 11.
Scottish justice secretary Humza Yousaf told fans to "take personal responsibility".
He said: "While there is a significant police presence at Ibrox and across [the] city, this is ultimately about personal responsibility. If you have gathered you should disperse, particularly given yesterday's announcement about Covid in Glasgow."
On Saturday evening, chief superintendent Mark Sutherland said: "Today is understandably a significant day for Rangers Football Club and its supporters.
"We understand the importance of football in Glasgow, how it connects our communities and, is for many, a culture and a way of life.
"We are however still in the midst of a pandemic and under coronavirus restrictions people should not be gathering for any reason.
"The overarching aim of Police Scotland's operation today remains public safety.
"Throughout the day we have seen crowds gather and anti-social behaviour including the use of pyrotechnics and drinking in public.
"Our officers are dealing with such offences where possible and have made arrests."
He said a request for a fan procession to the city centre had been declined, but police later decided to escort large groups of supporters as they made their way to George Square in order to minimise disruption.
The chief superintendent added: "Given the largely peaceful nature of the crowd, it would not be proportionate for our resources to use a high level of force through public order policing to disperse those gathering.
"We have seen some disruption to traffic, but no long-lasting disruption to our communities."