Protesters demanding action over the "catastrophic" disruption to ferries in South Uist, took their fight to the streets of Glasgow on Saturday.
The campaign, from The Glasgow Uist and Barra Association, is being led by the people of the island community with the backing of family, friends, colleagues and supporters on the mainland.
It comes as island business owners this week demanded compensation from the Scottish Government as ferry operator CalMac was recently forced to cancel sailings to South Uist for most of June.
The problem has been branded an "intense crisis for the Hebridean ferry system".
The march through Scotland's largest city is set to be followed by similar demonstrations in Edinburgh, Inverness, Aberdeen and Dundee in a bid to force decision makers to listen to the voices of islanders.
Demonstrators gathered in the city's Berkeley Street and march to St Enoch Square through Finnieston to highlight the impact "catastrophic" cancellations have had on the lives and livelihoods of those on and off the island alike.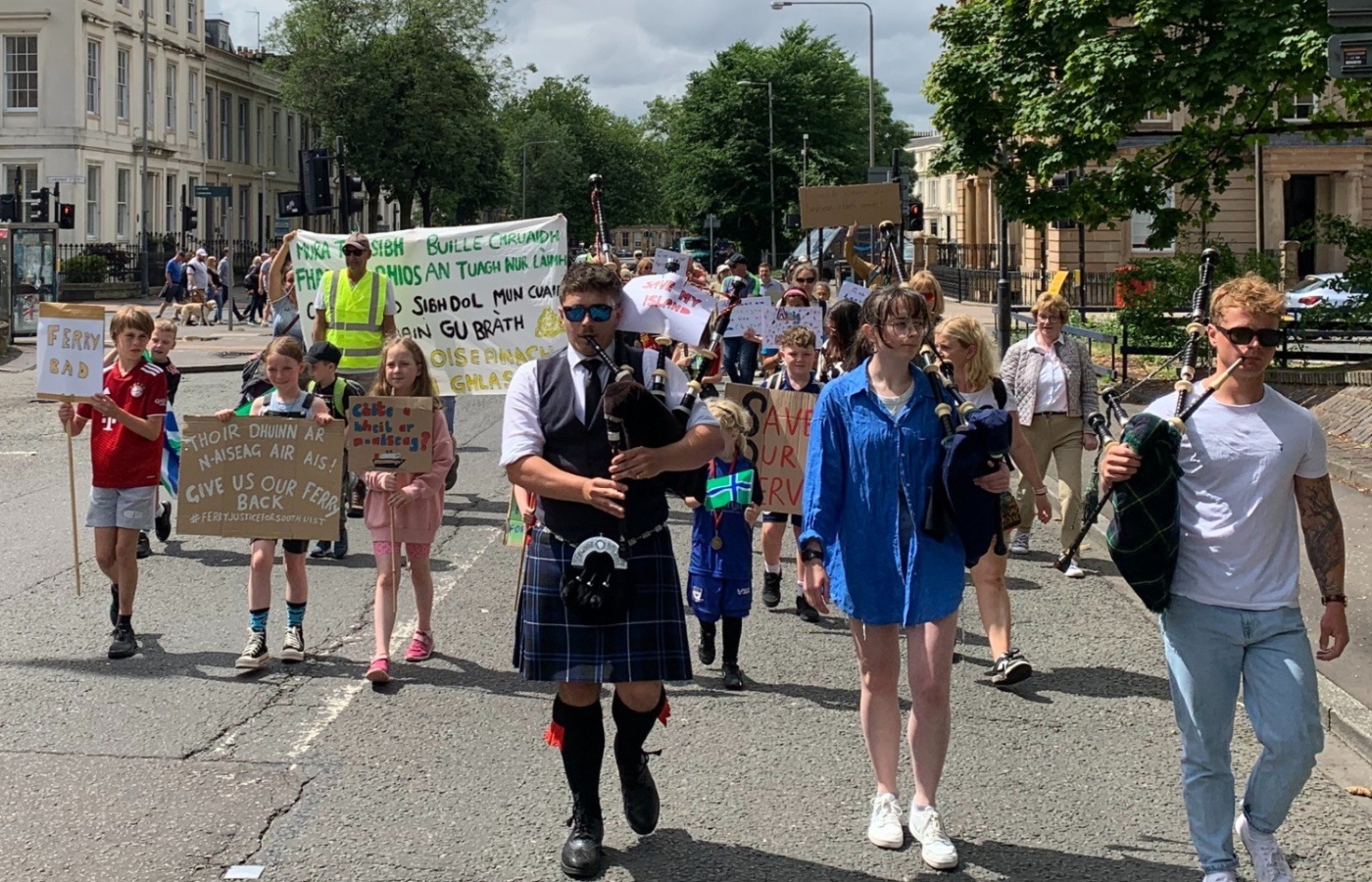 Last week, MSPs heard at Holyrood how one business owner described the affect of ferry disruption as bigger than the impact of the Covid pandemic.
Opposition parties have called for a compensation fund for islanders which First Minister Humza Yousaf has said is "not off the table".
Chair of Storas Uist, Mary Schmoller said "we have had tremendous support from individuals from across Scotland, people who have expressed that Calmac is no longer fit for purpose and that something drastically needs to change and fast!
"We are buoyed and delighted that the Glasgow Community are coming together in this way, in this positive direct action. The community will fight on and hope that this is the first in a series of direct actions in areas directly affected"
Glaswegian activist and tradesman John MacLean said: "We have had problems connecting with our families and businesses in South Uist since 2013, you can't help but feel how difficult it must be for local businesses actually on the island.
"Not to mention health services and the impact this has on further depopulation particularly with the young. It has been a slow incremental decline in the ferry service in Lochboisdale and it is now critical and on life support, we can't stand back any longer."
The protest was attended by families with adults and children of all ages making their voices heard.
Speaking to STV News on Saturday, demonstrator Rona MacDonald said the city centre march would be the first of many to come.
She said: "First and foremost we're here to stand beside the people of South Uist who have lost all ferry justice.
"They have no current working ferry to the island. This affects a lot of the Gaels in the city, it affects a lot of tourists in the city, it affects a lot of people who are visiting families, weddings, christenings, funerals.
"But actually, it affects a lot of peoples' ability to earn a living. After the lockdown, after the current cost of living crisis, this is another thing that's been put on the people of South Uist and those of us who support them. It's hugely unfair and there is no coherent narrative from CalMac, the Scottish Government or any of the organisations who run these ferries."
She added: "There's been many issues for years to do with heath services, education and the ferry.
"It would be like saying lets just stop all the buses into the centre of Glasgow, except you don't have the Atlantic to cross in the process.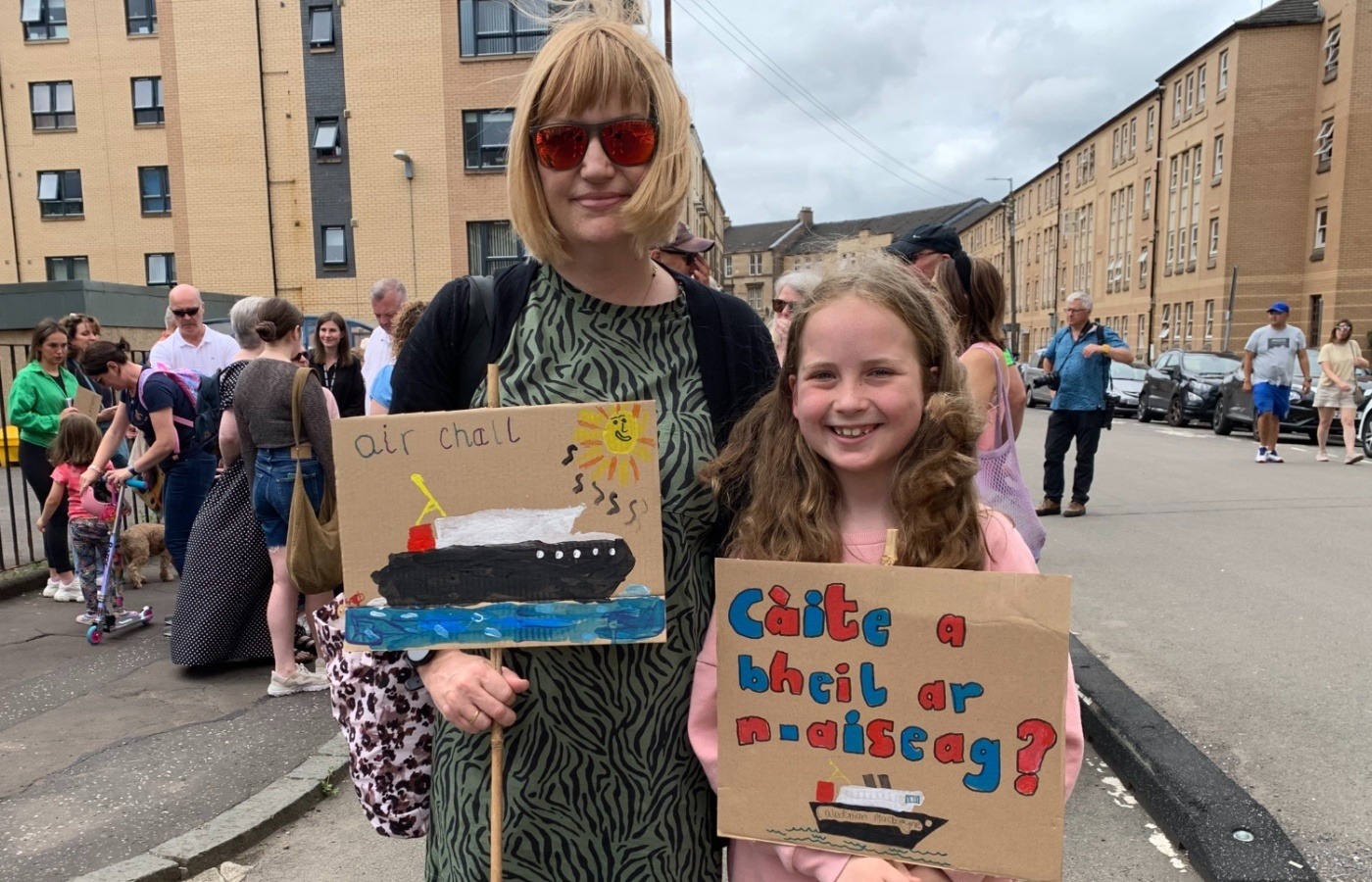 "The people of South Uist pay their taxes like everyone else and we should be able to travel across Scotland in an equitable way.
"I don't think it should just be about equality of travel for the South Uist people, I think it should be an enhanced service because they've already suffered."
She told how, during a public meeting last week, there were grown men "with tears in their eyes, who wouldn't normally protest" but they "need to make a living and they can't because they can't get people to and from the island".
She added: "For too long we've been hoping that someone would just see the injustice, politely just wait for someone to correct the wrong, and the time for that is over we need to fight and this is the first of many."
Another campaigner who is a member of the Gaelic Society at university in Glasgow said: "The things that are happening and the effects on the economy in South Uist, which is the most strongly Gaelic speaking place in the world, are making it increasingly difficult to make a living and have a thriving community.
"All of this is a necessity for the survival and preservation of the Gaelic language. I've heard from people that it is worse than the pandemic, it's affecting food shipments, it's affecting people who want to go home and visit family, it's affecting those dependant on seasonal tourism.
"I think this connects to a long, long history of marginalisation of the Highlands in general and the islands in particular."
Another protester told STV News how she was unsure if she would have the ability to see family on Uist and said the island appeared to be "penalised more than others".
She added: "People can't get home, people can't away, businesses are losing money. We're hoping to go up to see family in a couple of weeks but at this point we don't actually know if we're going to be able to see them or not."
The government-owned ferry operator cancelled the Lochboisdale route to redeploy the vessel to cover other routes due to breakdowns or maintenance delays.
Meanwhile, it waits delivery of two new ferries being constructed at the Ferguson Marine yard in Port Glasgow, which are years late and massively overbudget.
Labour's Michael Marra, the party's transport spokesman, previously said: "The ferry crisis is threatening livelihoods and pushing communities to breaking point – but the SNP/Green Government is missing in action.
"They are raking in millions in fines from this chaos while the communities affected are hung out to dry."
Scottish Conservatives leader Douglas Ross also previously called for island and coastal communities to be compensated for the ferry network failings.
After raising the matter at First Minister's Questions, he said: "The SNP's failure to deliver a working ferry network is ruining lives, damaging businesses, costing jobs and driving islanders to despair.
"Humza Yousaf doesn't seem to grasp how critical and urgent this problem has become. Jobs and livelihoods are on the line because of the SNP's failures.
"The disruption goes much further than the economy. The SNP's failures risk driving people away from island communities."
A Transport Scotland spokesperson said it recognised the "impact that delays and disruption have regrettably had on our island communities and are fully committed to investing in our ferry services".
They stated: "There have been ongoing technical issues with vessels resulting in delays to the annual overhaul programme and cancellation of sailings."