A suspect was shot dead by armed police after an officer was stabbed during a major incident in Glasgow city centre.
Six men are in hospital, including the 42-year-old police officer, who is in a critical but stable condition.
The incident at the Park Inn Hotel in West George Street is not being treated as terrorism.
Two sources close to police earlier told STV News that three people were killed at the hotel.
However, it was later confirmed that just one person died – the male suspect.
Police Scotland assistant chief constable Steve Johnson said: "Officers were on the scene within two minutes, and armed officers shortly afterwards, and the incident was quickly contained.
"A man was shot by armed police and has died.
"Six other men are in hospital for treatment, including a 42-year-old police officer, who is in a critical but stable condition. The officer's family is aware.
"The other men in hospital are aged 17, 18, 20, 38 and 53. Liaison officers have been appointed.
"Our thoughts are with the families of those who were injured, including our officer."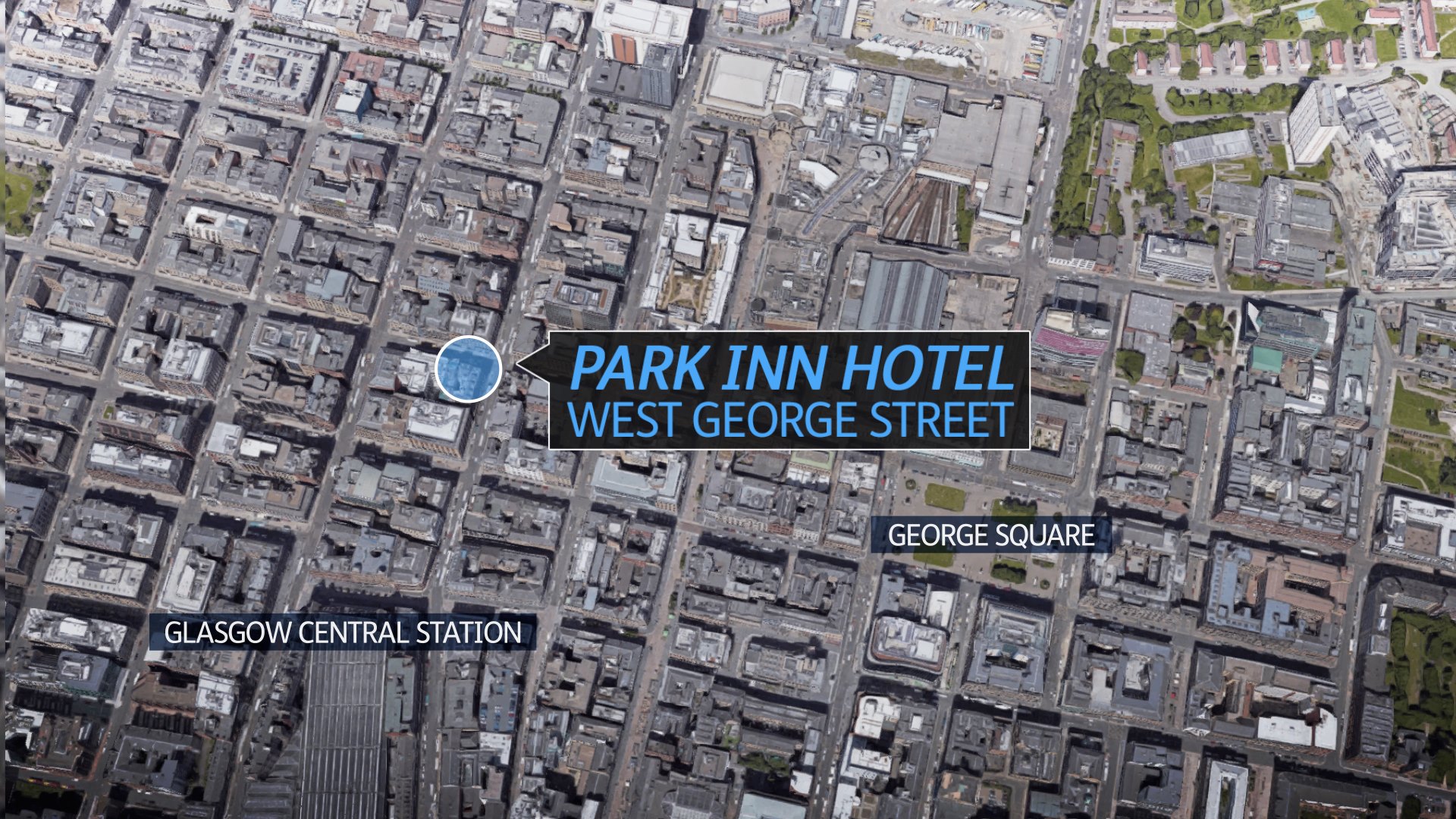 Scottish Police Federation chairman David Hamilton said they were helping the family of the injured officer.
He said: "Whilst there is understandable and considerable public interest in the major incident in Glasgow earlier today, our focus at this time is in assisting the family of our colleague who has been seriously injured.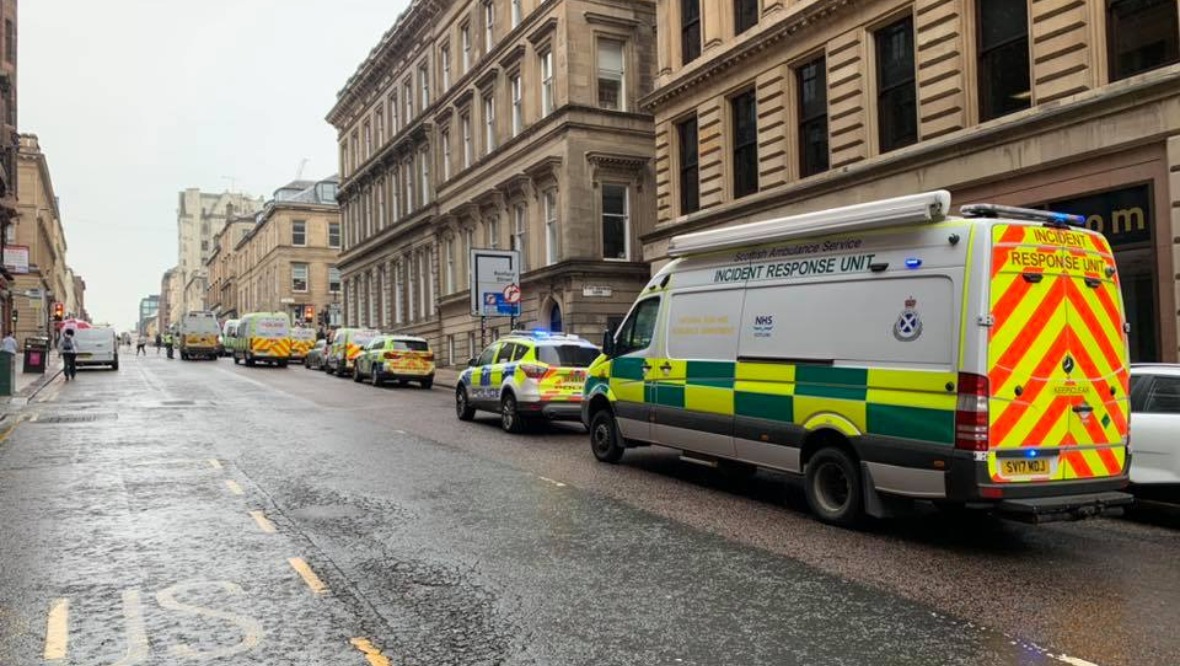 "This is obviously an anxious time for them and we ask that they be left alone as their attentions are very obviously directed towards the care of their loved one.
"Our thoughts, prayers and best wishes are with our colleague, his family and friends, and all colleagues affected by this incident at this time."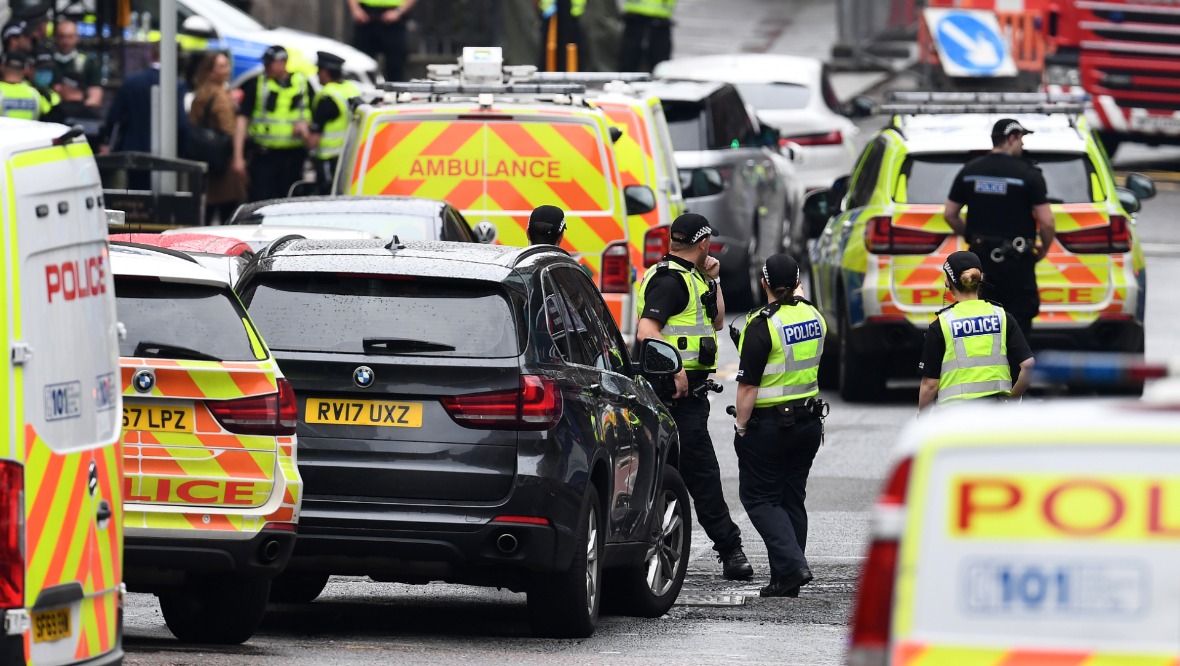 First Minister Nicola Sturgeon said her thoughts were with the affected families and praised the emergency services.
She said "First and foremost my thoughts are with all those people who have been caught up in this terrible incident, particularly the six injured people taken to hospital for treatment, as well as residents and staff at the hotel.
"I also want to thank all of those police officers whose quick and decisive actions contained the incident – one of whom was among those taken to hospital – as well as the work of the other emergency services."
A spokesperson for Radisson said the hotelier was "deeply saddened by the tragic event that happened today on West George Street in Glasgow".
Tom Flanagan Karttunen, Area Senior Vice President for Northern & Western Europe at Radisson Hotel Group, said: "We are working with the hotel owner and all the relevant local authorities, including Police Scotland, to support the investigation.
"Police Scotland has confirmed the incident has been contained and there is no further threat to the public."
The Park Inn hotel has been used to house asylum seekers during the coronavirus pandemic.
Radisson confirmed it was partly being used as temporary accommodation, a policy which has received criticism from campaigners.
Positive Action in Housing has criticised private housing provider Mears, which is subcontracted by the Home Office, for moving refugees from self-contained accommodation to hotels.
A spokeswoman for the campaign group said the 91-room Park Inn hotel was housing asylum seekers for the Mears Group, which moved them there during the coronavirus lockdown.
A Mears Group spokesman said: "We are referring all inquiries to the Home Office as this is an ongoing police operation."
A Home Office spokesman said: "We are aware of an incident at West George Street in Glasgow, which is currently being investigated by the police."