A petition has been launched to name a new bridge over Glasgow's River Clyde after comedian Billy Connolly.
The planned pedestrian and cycle crossing would connect Water Row in Govan and Pointhouse Quay in Partick.
It is part of the Glasgow City Region City Deal, where the Scottish Government and the UK Government have provided £500m each for infrastructure projects.
Andrew Kane, the author of the petition, said naming the bridge after Connolly would be a fitting tribute as it links two areas "so indelibly connected with one of Glasgow's and Scotland's most beloved sons".
He said: "With his formative years spent in Stewartville Street and at St Peter's Primary north of the river before attending St Gerard's Secondary (commuting from Drumchapel no less) and becoming an apprentice at Alexander Stephens south of the river, there can surely be no more fitting name than entitling this bridge after the legendary Sir Billy Connolly.
"With the Big Yin suffering from Parkinson's Disease, such a tribute within his lifetime linking two areas of the city so indelibly connected with one of Glasgow's (and Scotland's) most beloved sons would be no more than the great figure deserves."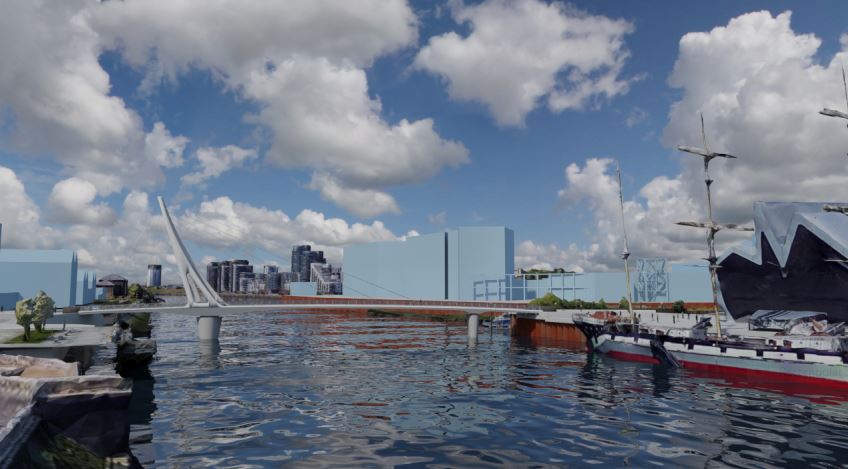 Work on the bridge is expected to start in January and be completed towards the end of 2023.
The £29.5m includes the operation and maintenance costs of the bridge for two years and the upkeep of bridge lighting for a period of five years.
It also includes the cost of the extension of the quay wall at Pointhouse Quay, which is needed to provide a landing point for the bridge on the north bank.
The original estimated project budget was £17.5m but that has already soared to almost £30m.
A report released last month by Glasgow City Council cited price "volatility" in the construction market, including the cost of steel, and the ongoing impact of Covid-19 and Brexit as reasons for the increase.
The report also stated the original budget was based on an "early version" of the scope and "did not reflect the final scope of works which was tendered".