People trapped in conflict-hit Sudan have said they feel they now have "no future".
More than 550 people have died in the conflict, including civilians, with almost 5,000 wounded according to the Sudanese Health Ministry.
Intense violence has continued since April 15 as the country's two generals battle for power in the African nation.
Almost 2,500 people were moved to safety from Sudan on 30 UK evacuation flights, the Government has said.
But there are still thousands more British citizens in Sudan.
There is increasing concern for those trapped and displaced by the fighting, and aid workers and civilians have said there is a dire lack of basic services, medical care, food and water.
Glasgow-based Fatima Rushwan says she speaks to her family in Sudan's capital Khartoum as often as she can.
Her niece Duha Asam Aldin, 28, told STV News: "Right now Sudan is in a mess, it's extremely dangerous. People cannot find food or water, no electricity.
"We are afraid that even though we've not lost our lives, we hear someone else who has and we know them."
Fighting erupted between rival militias in the African nation on April 15 and more than 100,000 people have fled the country since.
Sudan is experiencing renewed violence, displacement and an unprecedented need for humanitarian aid.
She added: "We can't stay like this, waiting for more people to die. If we have any chance to leave of course. Most people have stopped their studies. For kids, their futures are on hold."
The major effort to evacuate more than 2,300 British citizens and their dependants out of Sudan has now ended, with the final rescue flight leaving the country on Wednesday night.
The UK Government has ruled out any safe and legal routes for Sudanese people to claim asylum.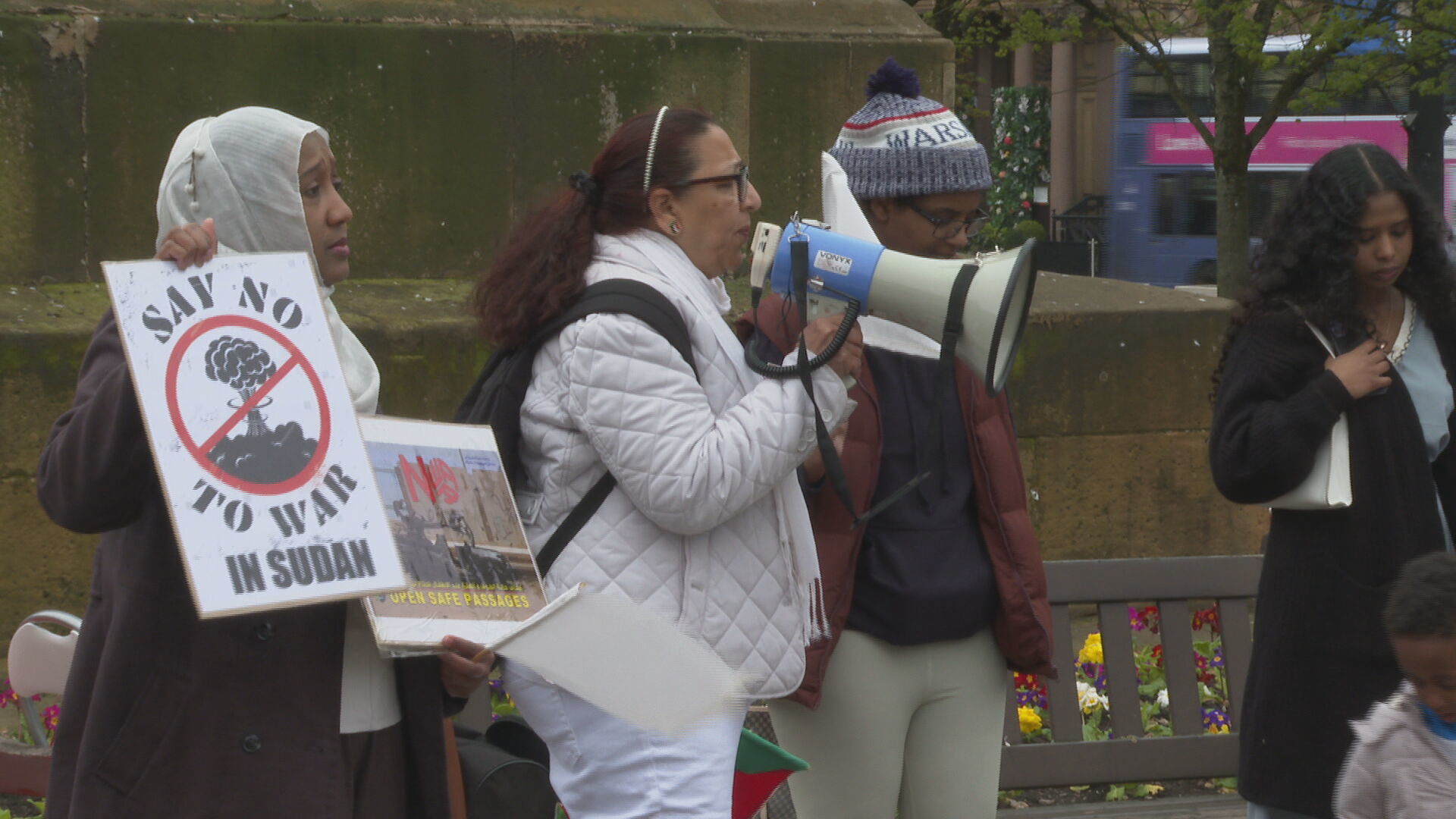 "A programme, similar to what has been offered to Ukrainians offering fleeing the war should be offered to Sudanese people too," Fatima told STV News.
"A hosting programme where we would happily host our own people and be able to support people fleeing war would be helpful.
"We were told there was a difference between the war in Ukraine and the war in Sudan. There isn't really. War is war. Human suffering is the same."
Fatima is one of more than 1,000 Sudanese people living in Scotland. She says the focus now needs to be on getting vital aid into the country.
"My concern is there has been a great delay in the UK sending aid and allowing routes for aid to get to the country.
"We need a route so our community groups in the UK can send our own supplies through that programme.
"My fear is after three weeks of war, whatever stock we have of life-saving medication, and food supplies will be running out. If there's nothing coming into the country then a humanitarian crisis which is already evolving is going to explode ever further."
The United Nations refugee agency said it was planning for an exodus of more than 800,000 people from Sudan.
It said nearly £357m would be needed to support them over the next five months.