Parts of western Scotland were shaken by an earthquake in the early hours of Tuesday morning.
The tremor, which measured 3.1, occurred shortly before 1.45am around 11 miles from Lochgilphead, in Argyll and Bute.
According to the United States Geological Survey (USGS), the earthquake happened 10km beneath the earth's surface.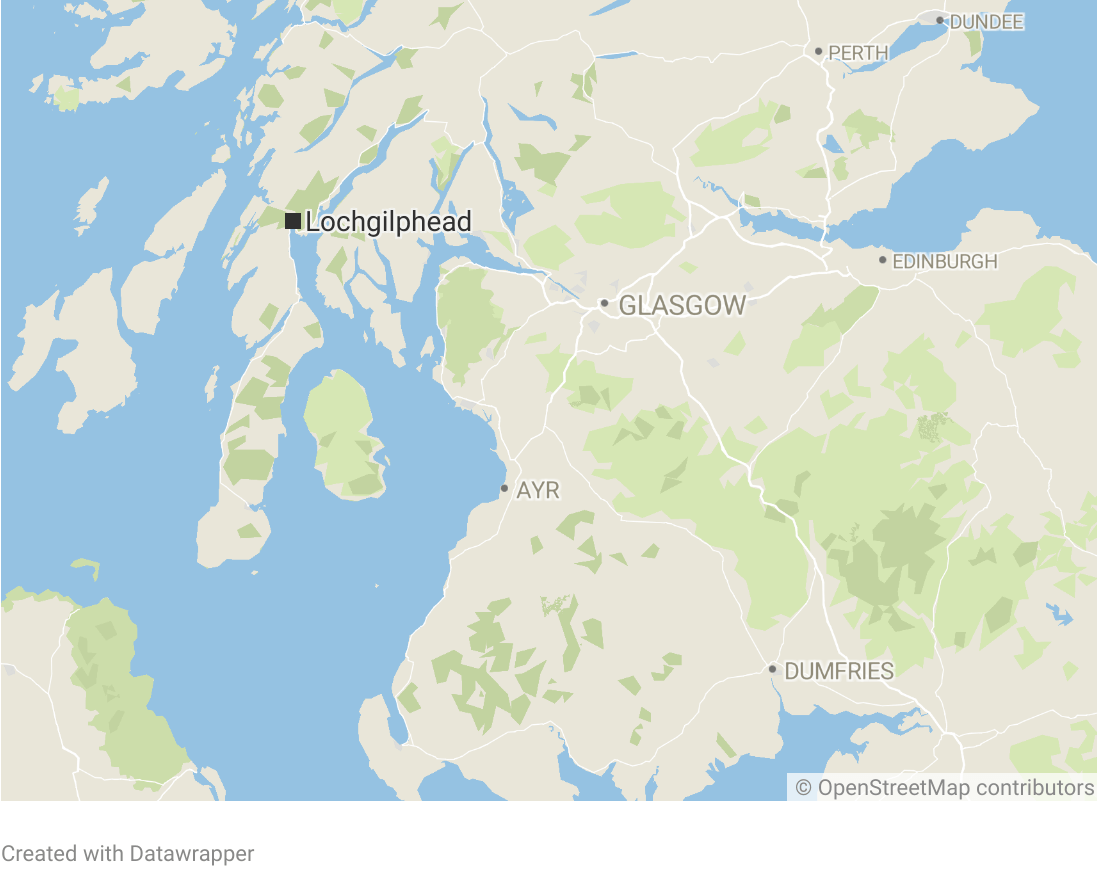 More than 40 members of the public reported the earthquake to the USGS, including residents in Tarbert, Ardrishaig, Oban and Inveraray.
The tremor was also felt as far away as Edinburgh, the Isle of Man and Cork in Ireland.
Data from the British Geological Survey shows between 200 and 300 earthquakes are detected in the UK every year, with tremors of between 3.0 and 3.9 magnitude occurring on the mainland once every three years on average.
Police Scotland said they "received a report of a possible explosion and the ground shaking" in the village of Tarbert at around 2am.
A spokeswoman added: "Following inquiries, it was confirmed an earthquake had taken place in the Lochilphead area.
"There are no reports of any damage to properties or utilities."
Victoria Winters, 53, felt the earthquake rumble through her home "like a freight train", waking her and husband John, 73.
The couple lives in an isolated old stone farmhouse in a valley at Loch Fyne near Minard, which Victoria, a management consultant and vice chairwoman of the Heart of Argyll tourism board, thinks is particularly susceptible to tremors.
She said: "We were woken with a bit of a start.
"It sounds like a freight train appearing all of a sudden and then it starts shaking.
"It sounds like something really big is hurtling towards you.
"I live in a big echo-y old stone house, so it makes quite a noise when it comes through.
"It's not the first time I've experienced one here, so I knew what it was.
"I can imagine if you hadn't experienced it before then it could be quite scary.
"I've felt about four in the last ten years.
"It lasted five or six seconds, enough to wake me up, carry on and then I could tell when it was coming through the house.
"It came through where the bedroom is.
"It got louder and then the bed shook from side to side and the noise carried on veered up the ridge.
"Nothing feel but it is a creaky house so it made a few noises."
Alison Suter, 59, lives about a 50 mile drive away in Oban and was also woken by the earthquake.
The mother of two, who works in a jewellery shop said: "I was half-asleep.
"My bed actually rumbled but my cat Marlie was asleep at the foot of the bed and she took a terrible fright and dived in beside me.
"It was a low rumble, it sounded like a lorry going past.
"It was more of a deep growl.
"We've had smaller earthquakes in the last three years or so.
"There was one that was 2.2 on the Richter scale but this one definitely felt more violent."