Parents in North Lanarkshire are opposing plans to combine oversight of multiple schools under a single headteacher.
North Lanarkshire Council (NLC) intends to introduce a Multi Establishment Leadership Model (MELM) at schools across the local authority area.
A "pilot" of the model has been operating at Chryston High School and Chryston Primary School following the retirement of the primary's headteacher over a year ago.
The primary school has seen five leadership changes since its head retired in 2020.
Parents say the system is not working and are campaigning against the change becoming permanent.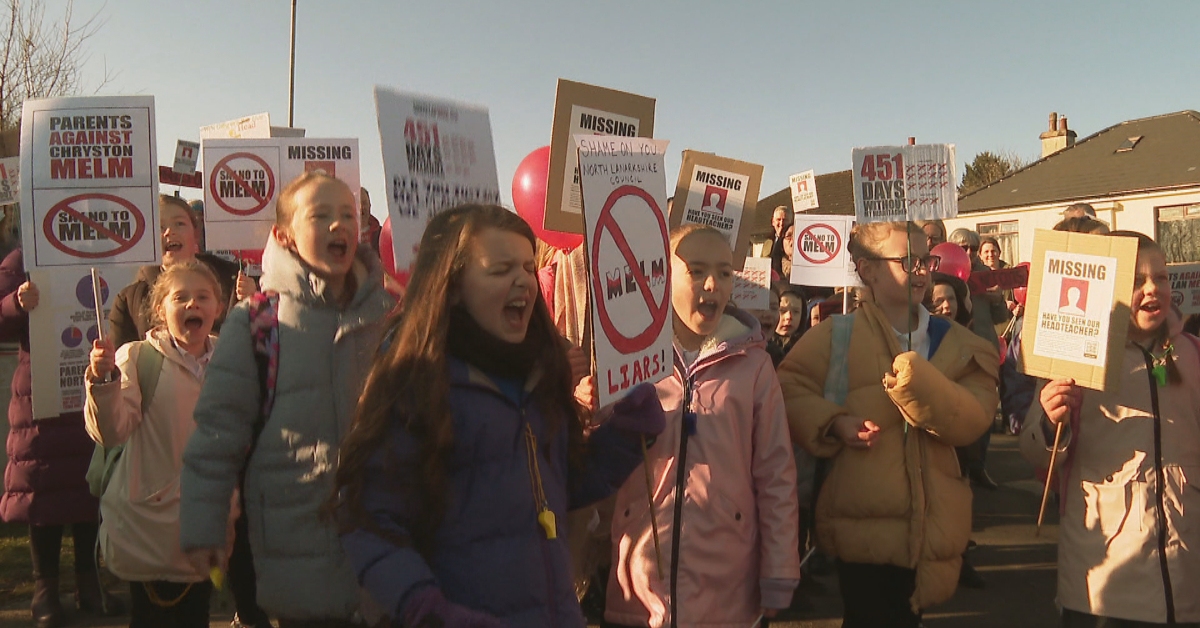 "We can see the impact this is having on the kids, we find our kids are having a second class educational experience with the model that we have had by default since the primary headteacher retired 15 months ago," said Levi White, of campaign group Parents Against North Lanarkshire MELM.
"We don't feel it's working, we don't feel like it works as part of the Covid recovery."
Similar systems are in use in other parts of the country often in rural areas where school rolls are very small.
However, there are fears that with major homes developments the school roll in Chryston will exceed 2000.
"We feel like NLC have prioritised the value of a secondary school head versus the special relationship that a primary head has," said Ms White.
"It's a completely different relationship, that primary head will know every single child at their school. We don't feel like they have someone fighting for each individual child"
Deborah Fraser, who has children at Chryston, is worried about how the standard of education will suffer.
"The staff at the primary school have been amazing since they lost their headteacher – but it's a bit like steering a ship without a captain," she told STV News.
"They cannot fill the void that has been left and do their own jobs and they're under stress and so is everyone else.
"I'd say to NLC, please please change your mind – we've been told this was voted on at a budget – why is a budget more important than the needs of our children?"
NLC said it had, like many councils, faced challenges recruiting headteachers.
It said that the MELM model would help attract "high quality candidates" and was supported by Education Scotland national documents.
Following the decision to have Chryston High's headteacher assume responsibility for the primary school, the council said it was undertaking a consultaton process on making the change permanent.
A council spokesperson said: "This proposal is subject to a current and ongoing consultation, which involves engaging with parents/carers, pupils, staff, partner services and community members.
"Importantly, no decisions will be taken on the future leadership of the two schools until the consultation closes. We would encourage all parents to take part in the online survey which has been developed to support the consultation.
"Analysis of Achievement of a Curriculum for Excellence level data for session 2020-21 shows that pupils at Chryston Primary school continue to perform well against local authority and national average figures.
"They are in line with or above [local authority] and national average performance levels in almost all areas. In this period, attainment in Chryston High School has continued to improve."