A newly-refurbished facility for Police Scotland's mounted unit has been named in honour of a late colleague who died after being diagnosed with a rare cancer.
The Greig Steven facility in Stewarton, East Ayrshire, has been upgraded with a new surface, lining, lighting and bird netting.
Around 30 officers and 12 grooms work at the facility looking after 20 horses.
The facility is named after former groom Greig Steven, who joined Strathclyde Police in 2009.
Shortly after his 25th birthday, he was diagnosed with a rare and aggressive cancer and died six months later in 2015.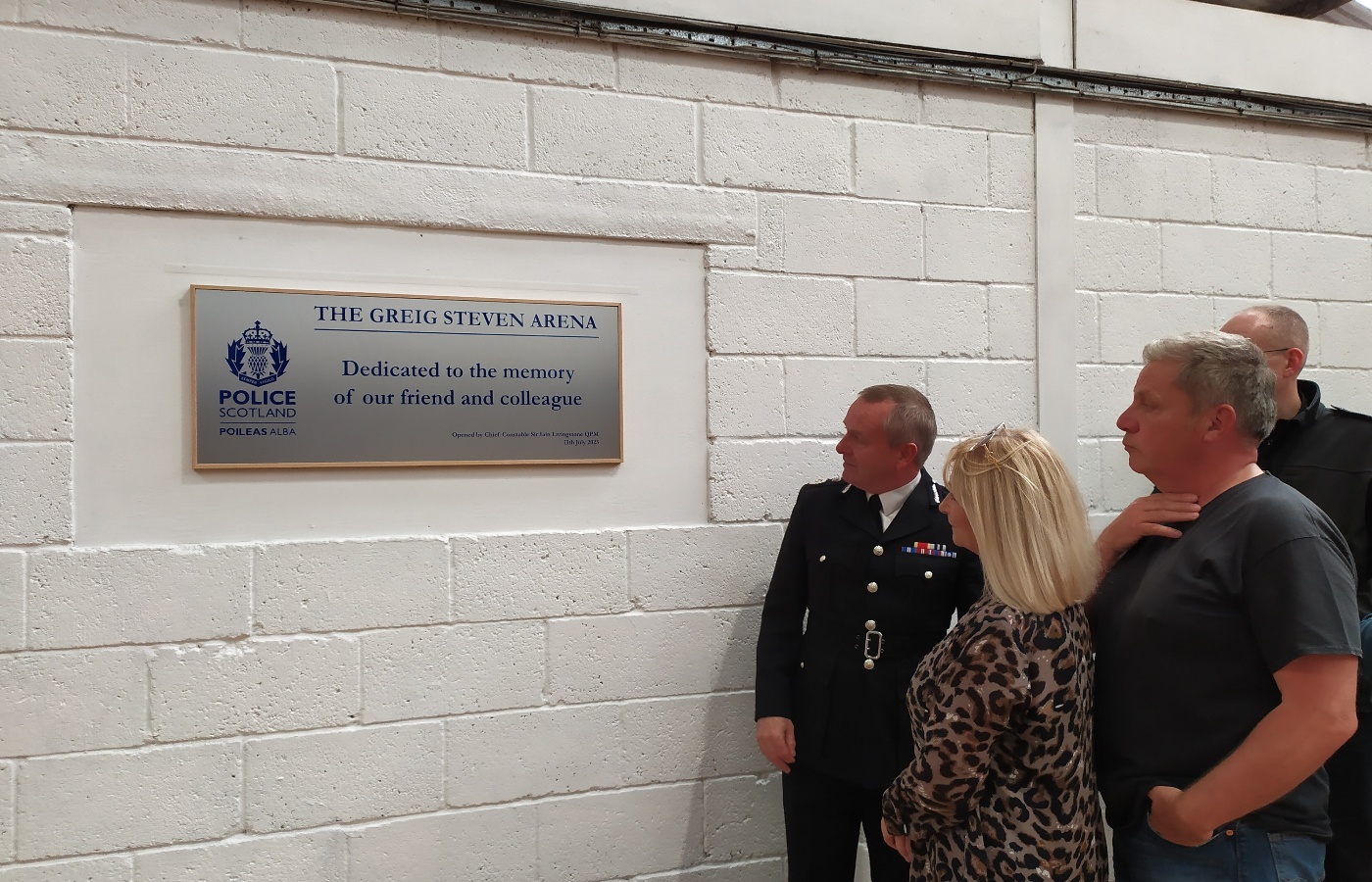 The new arena was opened by outgoing Chief Constable Sir Iain Livingstone, who said: "I'm grateful for the important work of our Mounted Unit and it is important they have this modern, fit for purpose facility to enable them to provide our public service.
"Those who knew Greig have underlined his commitment to public service, his professionalism and compassion. Naming this facility in his memory is a fitting and deserved tribute to Greig."
A statement released by Mr Steven's family said: "We would like to extend our most sincere thanks to Police Scotland and all of Greig's wonderful colleagues and friends at the Mounted Unit in Stewarton.
"Greig was proud to work for Police Scotland at the Mounted Unit, fulfilling his passion for working with horses. He made incredible friends who were a wonderful support to Greig throughout his illness and they have remained part of our family after his passing.
"The support, encouragement and warmth extended to our family means so much and has allowed us to keep that connection to a part of Greig's life that meant so much to him as well as get to know the people who he called friends.
"Greig is missed by all of us, every day. His character was larger than life, mischievous, welcoming and magnetic. Police Scotland and the Mounted Unit Stewarton have created a legacy by honouring Greig with the naming of the new arena.
"It is a testament to the bond that colleagues form and that, even after his passing that bond remains and his friends continue to honour him."
Pc Claire Knowles, who worked with Greig and knew him well, said: "Greig was extremely hard-working and popular. He had a lovely manner with the horses and was dedicated to providing the best care for them.
"Horses were Greig's life. He had three horses of his own, one a retired police horse, Inverkip, who Greig gave a loving home to in his twilight years.
"It was a complete shock when we learned of Greig's illness. We kept in touch with him and were devastated when we heard of his passing.
"He remains a massive loss to the department and is in our thoughts daily. It is fitting that the indoor arena is now named after him."